Our Trek to Ambrym's Volcano – Mt. Marum
Ambrym's Volcano – "The Greatest Show on Earth"
On only our second day here on the volcanic island of Ambrym, we have decided to attempt the 11-hour round-trip trek to Ambrym's largest active volcano: Mt. Marum. 10.5 of the hours are walking. We are extremely nervous in the morning, as we are unsure if we are both fit and/or equipped to complete such a journey. We are also told that there is only about a 50% chance that it will be clear enough to see anything once we get there. The thought of walking six hours through a hilly jungle to see clouds does not excite me. Mt. Marum is one of the few active volcanos in the world that people can get this close to, and we know that we cannot leave this island without giving this a try.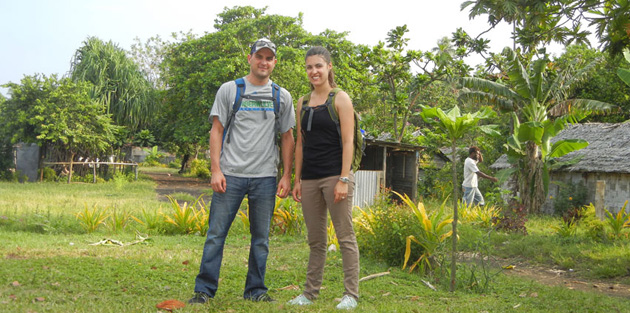 Neither if us got much sleep last night thanks to a odd combination of rooster crows, dogs howling, mice running through walls, and nervousness of the coming day.  We can see the unease on each other's faces as we suit up in our make-shift trekking gear. Most people who come to Ambrym to complete this journey come prepared. Waterproof hiking boots, expensive hiking clothing, rain coats, tents, and other fancy gear is considered to be the norm here. Alissa and I are wearing casual jeans, ultra-light running shoes, and dry-fit t-shirts. Alissa was able to borrow an extra rain coat from our guide, but I'm stuck with a towel.
Hour One
There are only three of us on this trek. Alissa, myself, and John (the man whose guesthouse we are staying in) who also happens to be the island's most-experienced volcano guide. The first hour of the trek goes by smoothly and is filled with non-stop chatter. I try and get a better sense for just how long this day is going to be by asking for more details on the length of each journey segment. He tells us it's four hours(uphill walk) from the village to the campsite. Then one and a half hours from the camp to the volcano's crater. The campsite is located on the rim of the volcano's ash plain, and is only used on overnight treks. He also says the trek from camp back to the village goes quicker since it's mostly downhill. I do the math: 4hrs to campsite, 1.5hrs to crater, 1.5 hrs back to campsite, then 3.5hrs back to the village. 10.5 total hours of walking. I wish I never asked…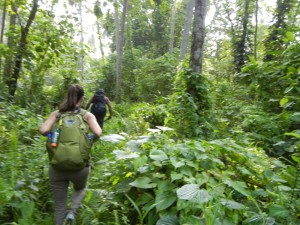 We also hear about the history of the volcanos. The last major eruption was in 1913, and John tells us the story of how it all went down. Two tribes had gotten together for a celebration, and during a ceremonial dance, one of the village's chief had his holy necklace broken by the other chief. Out of anger, he used black magic to put a spell on the volcano, causing it to erupt. As the lava slowly creeped it's way to the other chief's village, he used a counter-spell and was able to divert the lava away from the village, and into the ocean, saving everyone and their homes. You can even see on the map of the lava's path where it mysteriously diverted. It is eerie hearing this story as we trudge along on cooled lava path that is exactly 100 years old.
John tells us of the other people from all over the world whom he has led on this same trek. The roster includes a 72-year-old Frenchman, Brad Pitt, and Ian McKellen (Gandolf from Lord of the Rings). We find out we are the seventh and eighth Americans that he has taken to the crater of Mt. Marum. But later he corrects himself saying we are technically eight and nine if you count the American who died during the trek. Not really what I want to hear right about now, but based on my translation of his rough English, it sounds like the man who died either had asthma or diabetes, and did not disclose the condition to John prior to trekking. Many people, including us, tend to underestimate the physical requirement and stamina this trek requires.
Hours Two – Four
At around one hour in, we reach a steep blockage of rocks and vines. Alissa and I assume we will be going left or right, but we are startled to see John begin to climb the rocks. This is the first moment of the Trek where we start to doubt whether we can handle it. I've climbed rocks this steep before, but never without a safety harness. It's about 20 feet high, and John has pointed out each foothold and finger hole to use. I let Alissa go first. The want-to-be hero in me thinks I would actually be able to catch her if she falls, but the real me knows that my only ability to help would be to cushion her fall by hitting the ground first. As we complete the first climb, and move onto many others, some less steep but longer, some alongside jungle cliffs that overlook 40+ foot falls, some just long, all I can think about is how we have to do every single one of these again in a few hours, except in reverse. The thought haunts me with every step we take further towards the volcano. By the time we reach the campsite, we've trekked up and down numerous jungle mountains, walked alongside a mud-filled river basin, and walked across a shade-less, natural black ash pathway lined with bats the size of hawks. Alissa and I are both drenched in sweat, exhausted, and already too far into our water supply.
Hours Five and Six

Our first sense of accomplishment comes as we finally leave the damp jungle and emerge onto the ash plain. The ash plain is a few degrees hotter than the jungle, and provides no shade for comfort, yet we are so relieved to no longer be heading uphill that we don't even notice the change in heat. Our sweat-soaked clothes tell another story. We now face an hour-long flat trek across the ash plain to reach the bottom of the crater. It's such a bizarre landscape. It looks like we have walked onto another planet. There are no living creatures, and very few plant life can survive the continual acid rain that falls on these plains.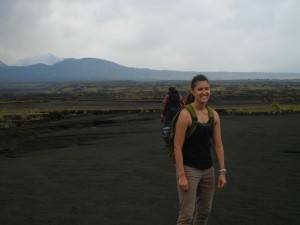 It only takes about 20 minutes of penetration into the ash plain before we begin seeing rain. It starts gradually, but we can feel the intensity pick up with each step. At first it feels refreshing… until I get a splash of it in my eye and feel it burn like a hot pepper. In the distance, 25 meters away, we can actually see a downpour of acid rain creeping towards us. I've never seen rain move this slow. So slow we can actually see where the light rain stops and the heavy rain begins. This gives us time to get out Alissa's raincoat and cover her and our backpack with the camera and phone. Two minutes later, the rain crosses directly over us. I put a towel over my shoulders and pack, but for me, I'm wet within seconds. The towel only helps to keep the contents of my bag a little less wet, and helps keep the acid rain off my exposed skin. We now face an hour walk to the crater and an hour back, in a torrential acid rain downpour.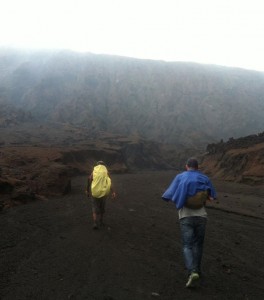 We reach an area that is nicknamed "Entrance to the Moon", and we can see why. The ash plain is no longer a plain, but a mountain range of ashes and cooled lava rock. I'm surprised that the moon landing hoax conspiracy theorists haven't brought up the possibility of the landing being shot right here in Mt. Marum's shadows. We pass holes in the sides of the mountain that are producing hot steam and releasing it into the air, creating sort of a doomsday environment.  Like walking around NYC after the aliens attacked it in the movie Independence Day. The acid rain continues its onslaught, and now heavy winds have added more misery to the climb.  We have also had to put on our gas masks thanks to the toxic gases that appear when you get this close to the volcano.  At about 5.5hrs into the trek, we start feeling like we'll never make it. I'm cold and wet, and we are simply walking over what feels like a never-ending amount of black hills. Plus, we still have to repeat the entire march in reverse… Our morale is low.
The Crater
Out of nowhere, John bolts ahead and runs up the next hill. As he reaches the top he waves excitedly and gestures for us to come on up. At this point, my sunglasses are so foggy, that I can barely see, but I am unable to take them off because of the stingy rain. We make our way up and John points to two sticks that have been buried at the top of this hill, with the end sticking out to about chest high. He tells us to grab ahold of the stick before leaning over the cliff. I'm not afraid of heights, but leaning over a crater of lava, with loose gravel for footing is enough to make any daredevil cringe a bit. If our mothers could see us now, they would go crazy.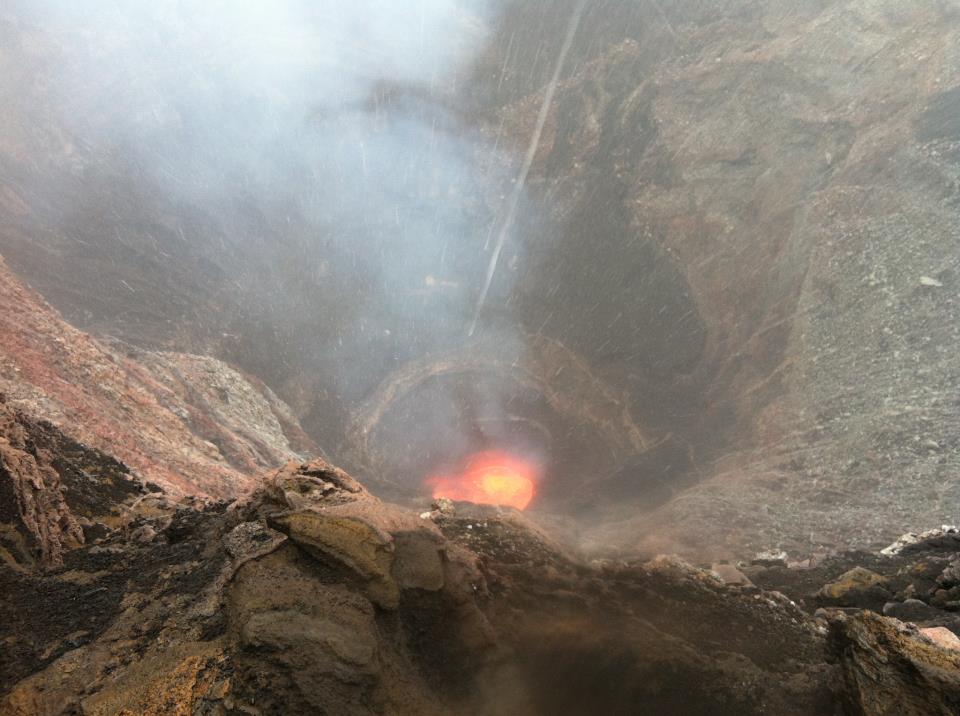 The site of the lava is surreal. Seeing the fake stuff in the movies is one thing, but watching liquid rock boil as if in a large natural pot is just intense. Every few seconds, we see an explosion and a burst of lava flies into the air. Each time it happens, we all yell out in excitement, as if we're little kids yelling for more. The view feels even more amazing to us as we ponder what we had to go through to get here.
Hours Seven – Eleven
It is so windy at rainy at the top, that we are only able to enjoy the view for about 10 minutes. We now must start the five hour trip back to the village, walking on the identical path we took to get here. The walk to the crater was filled with conversation, wildlife-spotting, and laughter, but the walk back to the village is much quieter. We slowly trudge along, resting every hour for a few bites of food and sips of water. We pass the same snake and bat habitats, climb down the same cliffs at we just climbed up hours earlier. The riverbed we walked has now become a small river, and soon we are both walking with wet shoes. Alissa and I talk of beer and pizza, and how nice it would be if we could head to a bar tonight to celebrate our successful trek. And although it isn't exactly a Four Seasons, we still crave the comfort of the guesthouse. Our journey has turned into a cycle of walking, checking Alissa's watch, walking more, stopping for a break, checking Alissa's watch, and walking more. Going downhill is easier to a point, until we reach the steeper climbs, where going down is sometimes more difficult.
Home Again
After eleven hours, we slow,y trudge back into the village where we started. When we take our shoes and socks off, we feel relief, but our feet are damp, wrinkled, and hurting. We limp around and get into drier, more comfortable clothes.  Sessie, John's wifer brings over our dinner about an hour later, and we light some candles to enjoy and celebrate.  It is only now that we realize today is February 14th, and that it is Valentine's Day.  It's easy to lose track of what date it is when there is no internet or TV, but now tonight we can celebrate Valentine's day with a candle light dinner of local food, reminiscing of our successful trek to "Earth's Heartbeat".
The afternoon after our trek, I was standing by the village church, staring in awe at the skyline filled with blue sky, black ash, and the fiery orange reflection of lava. I was most amazed at how this phased not one of the village children, as they continued about their day without a worry in the world.