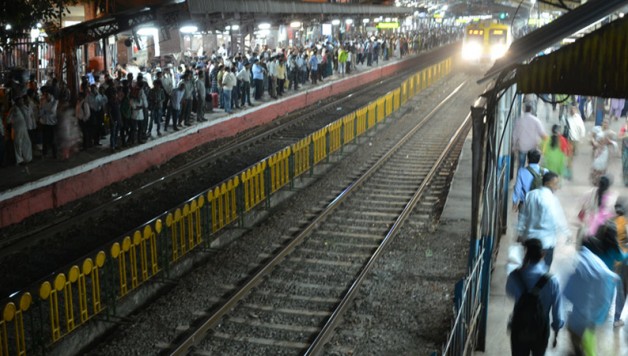 UPDATE:  Sorry for the delay in picking the winner.  Our overland truck got stuck in the mud yesterday and we spent an unplanned day in a remote Mozambique campsite with no WIFI.  Anyways, on to the important part:
This was the first time we've won this competition, and I always assumed bloggers must struggle to pick the winners each round.  I was right.  Picking this winner was very difficult, but after a nice discussion, Alissa and I have settled on one.  I don't know if the first photo submitted in a round has ever won, but this round that is exactly what happened.
WINNING PHOTO: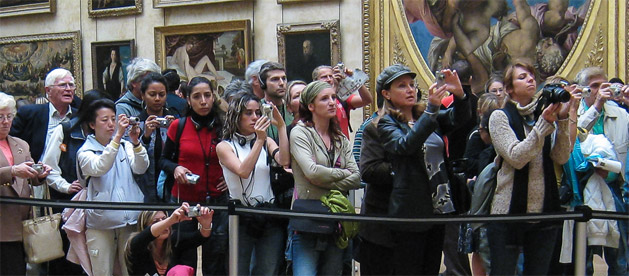 Tom from Travel Past 50 submitted the photo above within the first day, and I absolutely loved the photo right away.  The reason I picked crowds for this theme is that I love a photo of people, animals, or things where each individual person or thing looks different and is unique.  The crowd outside the Mona Lisa is always a zoo, but Tom's photo does an amazing job of capturing about 20 people all doing something different within the chaos.  Even the people who are taking photos are all doing it just a bit differently.  My favorite two people in the photo are the white-haired guy on the far left and the younger guy with headphones.  They don't need a camera to enjoy the Mona Lisa!    I also love the lady squatting down to sneak a picture below the barrier.  Congratulations Tom!
Honorable mention to: Charli and Debbie for two amazing under water photos, as well Kathryn from Travel with Kat for a crazy cool African festival photo.
Look for Tom to host round #74 in the next week or two on TravelPast50.com!
 —–
Every two or three weeks, travel bloggers from all over the world participate in what is called Travel Photo Roulette.  It's an ongoing contest that allows travel bloggers to feature their best photos in a wide range of categories.  I've entered the contest a number of times, and I'm excited to say that last week we won!  Winning the contest means you get to host the next round hence why you are seeing this unusual post on our site.
Last week, Calli and Travis of Have Blog Will Travel hosted the 72nd round of the competition with the theme "Light".  Below is our winning photograph of the Sea Music Festival in Busan, South Korea.

So now it's time for round #73!
Round #73: CROWDS
This round we have chosen a theme that has constantly been popping up in our photographs: CROWDS.  Crowds of people, crowds of vehicles, crowds of animals, crowds of basically anything you've ever captured on camera.  This round is about submitting photos that depict crowded places, organized chaos, and beauty in numbers.  I want to keep the interpretation of this theme as open as possible, so if you have a photo you think lines up with the word CROWD, go ahead and submit it!
About Travel Photo Roulette:
Travel Photo Roulette is a competition started by Jeremy at Living the Dream way back in November 2010 as away for travel bloggers to connect and share their photos. Last week, Calli and Travis of Have Blog Will Travel hosted the 72nd round of the competition with the theme "Light".
The Competition
The contest is pretty straightforward. The winner of the previous round chooses a new theme and hosts the competition on their blog, inviting others to share their photos over the course of a week. As the end of the week, the host selects a winner and the process repeats itself.
The Rules
1. One submission per blog please
2. Unfortunately you will need a personal blog or website to participate (in order to host should you win!)
3. Post processing, cropping, correcting for red eyes and other flaws is fine for this round.
4. Abstract submissions are welcome. But if you want to win, it's probably best that the judge understands your interpretation
5. Hosts should keep themes general so all bloggers can participate. Avoid specifics like 'Eiffel Tower'; instead choose a more open theme, like 'monuments' or 'monuments at night'
6. Abstract themes can be fun, as long as everyone can understand. 'Overlooking creation' is good, 'Kafkaesque' is not
7. No obscene photos or themes allowed. Suggestive themes and photography might be accepted, but be careful. Remember, the host is all-powerful
8. Themes may be reused after a period of time; however new photos must be submitted. Keep it fresh!
9. You do not have to take the photo within the week of the contest period to submit it
10. Most importantly: ALL PHOTOS MUST BE YOUR OWN.
11 . Spread the word about Travel Photo Roulette and use the hashtag #PhotoRoulette
12. Last, but not least: It's a game, so have fun with it.
How to Enter
To enter the competition, simply leave a comment below with a link to your photo and it will be added into the post (or send us an email using the "Contact" tab above). A brief description of the picture is always welcome to provide some background and context. Also, please don't forget to include your name, link to your blog, and any pertinent social media information so everyone can come see what you're all about (and we can contact the winner!).
The contest will run until January 26th, 2014, after which time we will select the winner – the results of which will be shared right in this very post.
Spread the Word
Tweet about this contest using the hashtag #PhotoRoulette and feel free to share this page with your friends on social media – the more the merrier! We love seeing your comments so please don't feel bashful about sharing your thoughts and opinions.
Previous Winners
Finally, here are the past winners of the contest – as you can see it's been running for a while! Click on the link to take you to some great travel blogs and wonderful themed photos.
| | |
| --- | --- |
| 1. Nov, 2010 – Living the Dream – "Animals" | 2. Nov, 2010 – Skinny Backpacker – "Road Signs" |
| 3. Nov, 2010 – Dream a Little Dream – "Street Art" | 4. Nov, 2010 – Flashpacker HQ – "Festival" |
| 5. Dec, 2010 – Over Yonderlust – "Landmarks" | 6. Jan, 2011 – Don't Ever Look Back – "Beaches" |
| 7. Jan, 2011 – ThePlanetD – "Portraits" | 8. Jan, 2011 – Travel with a Mate – "Motion" |
| 9. Feb, 2011 – Johnny Vagabond – "Water" | 10. Feb, 2011 – Ken Kaminesky – "Urban" |
| 11. Feb, 2011 – Travels of Adam – "Friday Night" | 12. Mar, 2011 – Itchy Feet Chronicles – "The Journey" |
| 13. Mar – Brendan's Adventures – "Changing Seasons" | 14. Apr, 2011 – Shutterfeet – "Storytelling" |
| 15. Apr, 2011 – 10 Times One – "Piousness" | 16. Apr, 2011 – Beached Eskimo – "Learning" |
| 17. May, 2011 – Travel Junkies – "Architecture" | 18. Jun, 2011 – Destination World – "Transportation" |
| 19. Jun, 2011 – Living the Dream – "Paradise" | 20. Jun, 2011 – Vagabond Quest – "Clothes" |
| 21. Jul, 2011 – The Unframed World – "Symmetry" | 22. Jul, 2011 – Beached Eskimo – "Home" |
| 23. Jul, 2011 – BackPackerBanter – "Inspiration" | 24. Aug, 2011 – WanderingTrader – "Darkness" |
| 25. Aug, 2011 – Finding the Universe – "Tranquillity" | 26. Sep, 2011 – Fearful Adventurer – "Food" |
| 27. Sep, 2011 – Adventures of a GoodMan – "City" | 28. Oct, 2011 – Globe-Trekking.com – "Reflections" |
| 29. Oct, 2011 – Scene With A Hart – "Framing" | 30. Nov, 2011 – Vagabond Quest – "Silhouettes" |
| 31. Nov, 2011 – Hecktic Travels – "Music" | 32. Dec, 2011 – Globetrotter Girls – "Love" |
| 33. Jan, 2012– Man on the lam – "Humor" | 34. Jan, 2012 – My Walkabout – "Winter" |
| 35. Jan, 2012 – The Art of Slow Travel – "Blue" | 36. Feb, 2012 – Ten Times One – "Depth of Field" |
| 37. Feb – Runaway Juno – "My Digital Nomad Moment" | 38. Mar, 2012 – Nomadbiba – "Sunshine" |
| 39. Mar, 2012 – Travel With Kat – "Local Character" | 40. Apr, 2012 – The Travel Bunny – "Street Scene" |
| 41. Apr – Adventure Crow – "Spirit of the Country" | 42. May, 2012 – Food Travel Bliss – "Evening" |
| 43. May, 2012 – Matt Gibson – "Adventure" | 44. June, 2012– Flashpacker HQ – "Once In A Lifetime" |
| 45. July, 2012– Skinny Backpacker – "Surreal" | 46. August, 2012 – 2away – "Smile" |
| 47. Aug – Bridges & Balloons-"Splendour of the Universe" | 48. Sept, 2012 – The GypsyNester – "What the ?!" |
| 49. Oct, 2012 – Runaway Juno – "Sweet" | 50. Nov, 2012 – GQ Trippin – "Play" |
| 51. Dec, 2012 – Breakaway Backpacker – "Face" | 52. Jan, 2013 – Fly, Icarus, Fly – "Serendipity |
| 53. Feb – Travel Transmissions – "Lost in Thought" | 54. Feb, 2013 – Wanderlusters – "The Natural World" |
| 55. Mar, 2013 – Travel Junkies – "Patterns" | 56. April, 2013 – Living the Dream – "Your First Time" |
| 57. May – Getting Stamped – "As The Sun Goes Down" | 58. Jun, 2013 – The GypsyNester -"Cheesy Tourist Diversions" |
| 60. June, 2013 – Boomeresque – "Revolution" | 61. July,2013 –Breakaway Backpacker – "Colorful" |
| 62. Aug, 2013 – Around This World– "Mountains" | 63. Aug – Passports & Pamplemousse – "Hands at Work" |
| 64. Sept, 2013: TurtlesTravel – "Dance" | 65. Sept, 2013: Keep calm and travel – "The sea" |
| 66. Sept, – Travel Photo Discovery – "The Market" | 67. Oct, – Am I Nearly There Yet? – "Travel Fails" |
| 68. Oct, – The GypsyNester – "Weird Regional Foods" | 69. Nov, – Sophie's World – "Trees" |
| 70. Nov 2013, – SHOuTography – "Party" | 71. Dec 2013, – Adventures of a Goodman – "Ruin" |
| 72. Dec 2013, – Have Blog Will Travel – "Light" | 73. Jan, 2014, – This World Rocks – "Crowds" |
NOTE:  We are currently in Africa on an overland trip with really spotty internet access.  Please be patient with us as we add all entries onto the page, as well as giving us time to pick a winner and update this page.  Thanks!!!  – Dan and Alissa
This round's entries:
1. Tom Bartel from Travel Past 50
2. Charli from Wanderlusters
3. Jeremy from Living the Dream RTW
4. James from Fly, Icarus, Fly
5. Jacomijn from Jacomijn's Travel Blog
6. Lisa from Around the World Food
7. Jennifer from Sidewalk Safari
8. Sam from Indefinite Adventure
9. Travis from Have Blog Will Travel
10. Suzanne from The Travel Bunny
11. Tash from joulet gallery
12. Gianni from Nomad is Beautiful
13.  Kathryn from Travel with Kat
14. Zara at Backpack ME
15. Shane at The Working Traveller
16. Lina from Divergent Travelers
17. Jade from Our Oyster
18. Debbie from Round the World with Deb
19. Donny from Turtles Travel
20. Cassie from Ever in Transit
21. Kathryn from RTW Travel Guide
22. Anil from Travellers Footprint
23.  Tony from 20 Years Hence
24. Brandon from The Yoga Nomads
25. Adam from Getting Stamped