A Drinking Tour of Yufin, Japan
When we take our first steps off the bus from the Oita airport to Yufuin, Japan, it's obvious how small this town really is.  The main street is really the only street with anything to do, and the beautiful mountain at the end of the street looks so close that the whole town could fit in its shadow. My first thought is of Golden, Colorado, another small mountain town that we like (home of the Coors Brewery).
We walk around the town, eat a late lunch, then settle into our room at Hotel Big Bear.  Our travel day started at 4am, so we take a nap and work for a bit before heading out to get dinner.  It's clear that we are not in Tokyo anymore – everything is closed, and it's only 8:30!  Even the places with beer ads in the window are dark.  We find a fast food place and manage to get two orders of pork and rice in before it too closes, at 9:00.
Self-Catered Booze
The next day, we've learned our lesson and decide to stock up on snacks and drinks at the grocery store (its hours are 10am to 6pm, by the way).  We buy instant noodles in case of another late dinner emergency, and find a cheap local spirit and juice to mix it with.  I don't have a photo, but with no English words at all, I think we got lucky in our choice. We enjoyed some mixers in the hotel's onsen, Japanese for hot spring.
The Undiscovered Yufuin Winery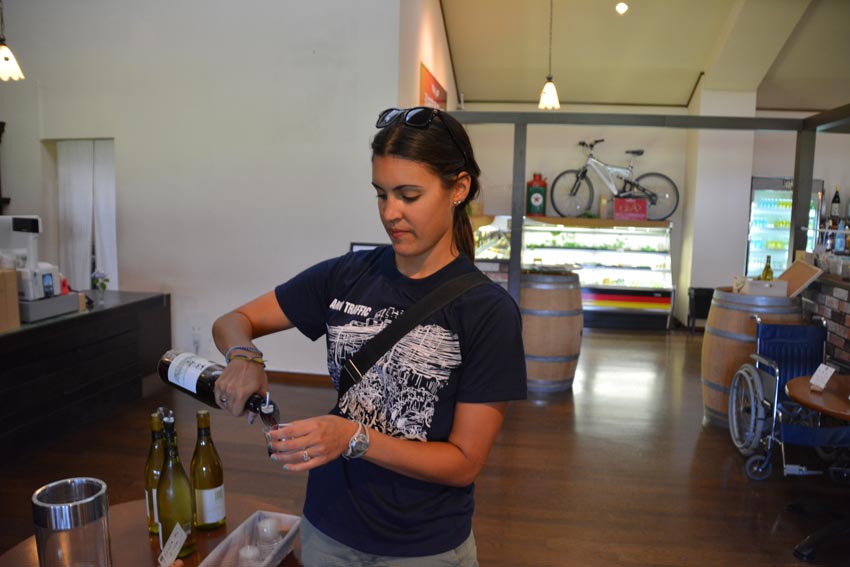 On our third day in Yufuin, we keep the party going with a visit to a local winery.  We rent electric bicycles, much to the delight of the 10-year-old in Dan.  We set out into the countryside, against the advice of the so-called information booth, whose staff tells us it's 'very very far', then estimate only 30 minutes by bicycle (it was actually closer to 20). I guess it's not as common to bike everywhere here like in Cambodia or Vietnam.
The ride to the winery is beautiful, and the hills are manageable with the help of our electric bikes.  With only two wrong turns, we find the tall building with barrels out front.  There is no tour of the grounds, but we have the rustic, comfortable tasting room to ourselves, complete with pour-your-own sample bottles.  The views from the balcony of the building look nothing like our previous winery visits in Washington, Australia, or even Myanmar – all we see are rice fields.  The grape vines must be around here somewhere….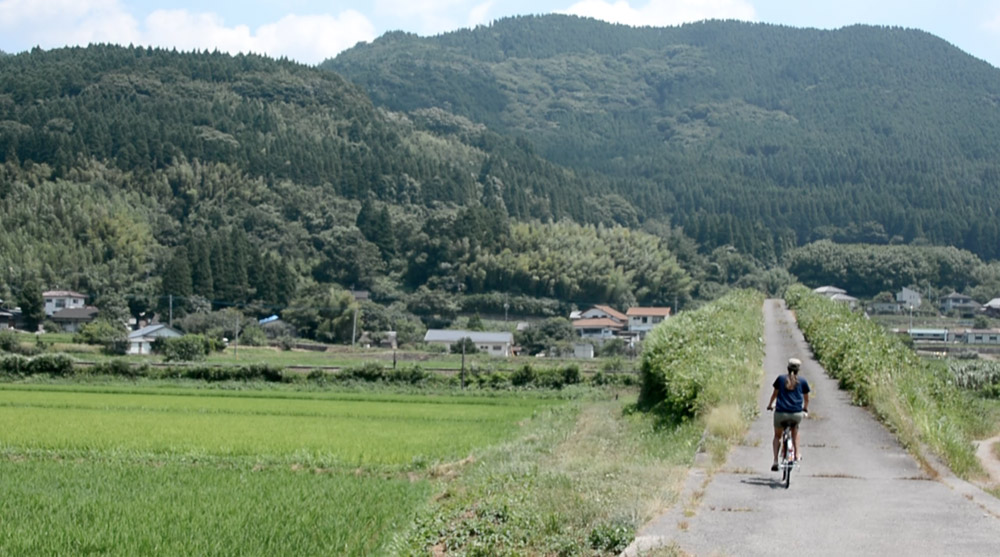 The other strange thing about this place is how little tourists seem to know or care about it.  There are no signs in town, and no one else is here today; we only knew about it from a dot on the map of the town.  If you are in the area, I'd recommend a visit to Yufuin Winery!
A Local Beer Hotspot
After several generous self-poured samples of the different wines, we buy a bottle of red and head back into town to return the bikes.  Our on way, we see a sign that reads 'Beer Hall' with the large metal tanks of a brewery in the window.  A perfect pit-stop opportunity.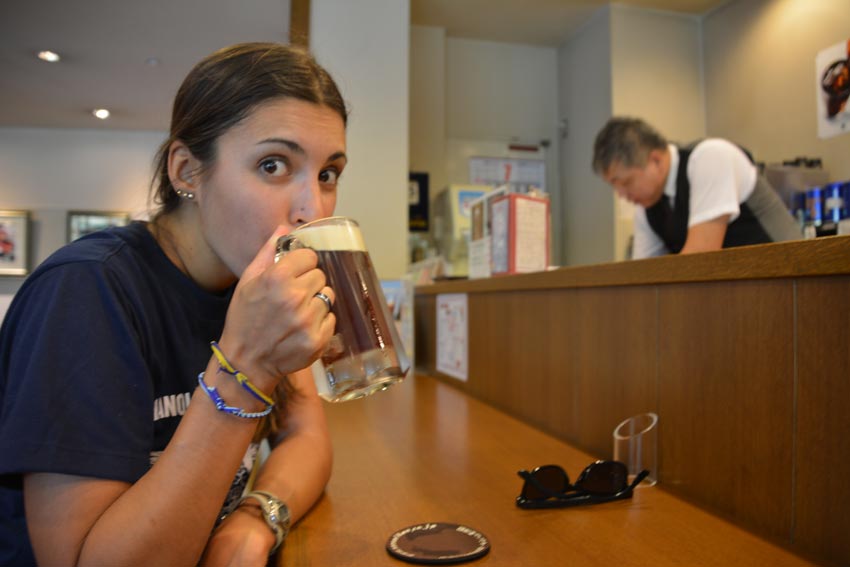 The main entrance first opens into a gift shop, then through it, a busy cafeteria-style buffet complete with long tables with attached benches. Definitely not what we were expecting, so we walk toward the beverage section of the line, and ask if they have beer.  A helpful manager walks us back through the gift shop, down a long hallway to a cozy room that feels like a hotel bar.  Two posters advertise the two types of house-brewed beer – much better. We order one of each, a red lager and a pilsner-type light brew and cheers to finding the best thing to do in small towns anywhere in the world – drink.