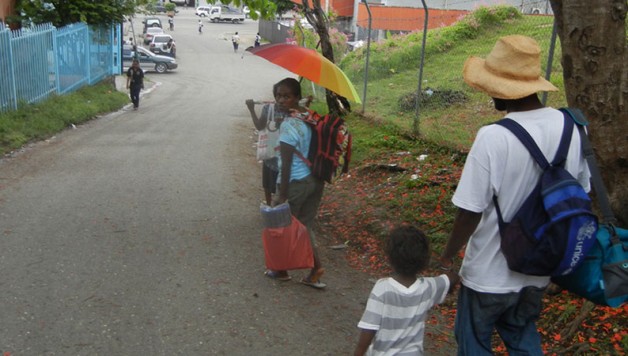 Your Solomon Islands Cheat Sheet
Not planning on going to the Solomon Islands anytime soon? No problem! Here is your quick guide to becoming a Solomon Island travel expert in the unlikely event it ever comes up in a conversation.
The Solomon Islands are safe… IF you're smart
I was a little nervous entering a country with a recent history of violence (civil war 1999 -2003), especially since there is relatively no tourism industry in the Solomons. The only danger in Honiara is theft. At no time did we ever feel unsafe, and as long as you protect your valuables and don't walk around in dark areas at night, the Solomon Islands aren't any more dangerous than big cities in the U.S. and Europe.
If you visit the Solomon Islands, head somewhere other than Guadalcanal
Sure, most of the WWII history is in the capital city of Honiara on Guadalcanal(or what's left of it), so are the ATMs, internet access, decent restaurants, and hotels. But there is little to nothing to do in Honiara and not much to see. If you go to the Solomon Islands, I highly recommend taking a Solomon Air flight or local boat to another island and spending a few days there. The outer islands have not been infected with the Westernization or violence that Honiara has, and offer much more beauty, adventure, and village life.  We originally planned to head to a village called Roderick Bay (picture on the left is from that village), but were unable to make it due to time contraints.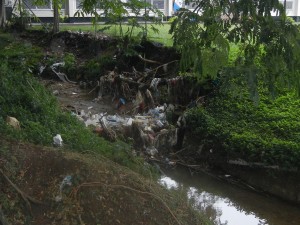 Honiara is not a clean city
There seems to be little respect by the government for the cleanliness of the streets here. Everywhere we go, there is garbage. Garbage in the street gutters, garbage in the rivers, garbage in the woods, and garbage in the ocean. The city even dumps their untreated sewage directly into the ocean, polluting the water with E. coli and who knows what else.
Restaurants are surprisingly good
When walking the garbage-littered streets of Honiara, it is hard to work up an appetite or expectations. But we never had a bad meal. I'm sure there are some bad places to eat, but every time we ate out, we were treated with great service and great tasting food. The Chinese restaurants are particularly good!
Betel nuts and their residue is everywhere
The chewing of betel nuts seems to be the tobacco of the Pacific, and it has hit Honiara pretty hard. There is man, woman, or child selling betel nuts and cigarrettes on every street corner. To chew the nut, you need to spit out the juice, just like chewing tobacco.  The juice is bright red, leaving the sidewalks stained all over the city. About half of the people have red-stained teeth and gums as a result of their habit. We tried kava in Vanuatu, but I just couldn't bring myself to try the betel nut. We also noticed some of the betel nuts stands were selling gasoline in plastic water bottles.
Slow and expensive internet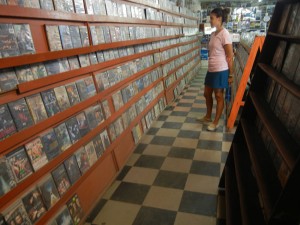 We found a few internet cafes, and the rates were similar to that of Australia, but much slower. As with most developing countries, the internet speeds will slowly rise, but for now, don't expect to be streaming any movies from Honiara. We did find a DVD shop selling bootlegged copies of nearly every movie you can imagine. (We didn't buy any because it's illegal. Wink wink.)
Chinese shop owners have invaded the town
95% of the shops on the main road are owned by Chinese shop-owners, and they all sell the same stuff. Some times we saw three shops in a row, all with the exact same products and prices, and all with a check-out girl sitting four feet above the ground in what looks like a cash register DJ-booth.
The people are extremely nice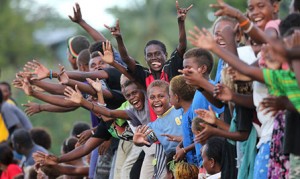 Don't let the few pick-pocketing gangs of the Solomons skew your perception of the whole country. While the people here don't randomly say hello, like we experienced in Vanuatu, they still treat visitors extremely well. We had many great conversations, and everyone from the workers at our guesthouse to the taxi drivers were very kind and generous to us.  We stayed at the St. Agnes Mothers Union Transit House, and everyone who worked there as well as the other guests were friendly and helpful to us.
The Solomon Islands are home to world-class diving
We were probably some of the only tourists in Honiara that weren't there for diving. We've scuba-dived before, but we have made a decision not to dive on this trip due to budget constraints. If there were a reason for us to come back to the Solomon Islands, it would be to dive and visit the outer islands.