It's our fourth day here in Sydney and we spent the entire morning walking around the city center, exploring the urban parks and weaving our way through the hordes of business people.  At about 1:30pm we notice a group of eight younger guys dressed in green and gold, each carrying a case of beer on their shoulder.  Alissa and I are immediately reminded of our college days and without a hesitation we've caught up to them and began questioning their leader on their destination.  His answer: CRICKET.
Getting In
My current knowledge of cricket is sluggish at best, and we just can't pass up the opportunity to both learn about cricket and have a two or three (or ten) drinks at the same time.  We've hopped on the bus to the game when I realize there's only one problem left… we don't have tickets.  The ticket window's cheapest ticket is $60 ($51 if we use our student ID's).  I don't see any scalpers selling tickets anywhere (they call them touts here), so I start looking for cardboard to make a "I need tickets" sign.  I'm a little disappointed to see the parking lot is only filled with parked cars.  In the U.S., at nearly every sporting event, the parking lot is filled with cars, grills, chairs, tables, coolers, and a lot of food and beer.  My idea of walking through tailgate parties looking for extra tickets will not work either.
I resort to asking every person who passes by… "Any extras? Anybody selling? Any extras?".  Within five minutes we're approached by a bachelor party (bucks party in Australia), and am told they have some extra tickets in their party section.  Another gentleman approaches with two extra tickets of his own.  The bidding war begins and I have successfully negotiated a lower price from the bucks party that also includes two free beers.  We're in!
Inside the Stadium
This cricket crowd feels more like a halloween party than a sporting event.  I ask around and find out that this costume party game is a tactic used by the team to lure more younger fans to the stadium.  It seems to be working, as nearly every person is in some sort of costume, and if you don't have a costume, they hand you a cardboard melon-head and offer to paint your face for free.  We find our seats, which have an amazing view, and we settle down at 2:00pm, just in time to see the first bowl.  Fifteen minutes into the game, one of the bachelor party members arrives with two beers, as well as his face painted as an American flag.  His way of thanking us for buying some of their spare seats.  He instantly starts taking crap from his buddies about the choice of face-paint, and as he starts sweating in the sun, he looks more like a sad Uncle Sam than an American patriot.  It is the thought that counts!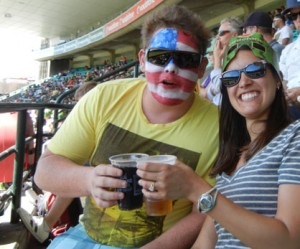 The bachelor party is going a good job of explaining the game to us, and we are learning fast.  The first thing to learn was that this game is expected to end about eight hours after it starts.  Yes, EIGHT hours.  Some cricket matches last up to five days, but lucky for us, today's game is only an eight-hour affair. We immediately find new seats in the shade.
The best I can do to explain cricket would be to compare it to baseball, except teams score hundreds of runs instead of just a few, each player can only get out once, and each team only bats once.  So maybe it isn't quite like baseball.  The strategy of choosing who's going to bowl to who seems pretty close to choosing which pitcher will pitch to what batter in baseball and how they'll pitch to them.  An eight-hour match is giving us plenty of time to catch-on and learn.  By hour six, we are experts.
Beer Snakes
This crowd is one of the craziest I've ever seen at a sporting event.  They don't cut-off beer sales in the 7th inning like they do in the U.S., in fact they just keep selling and selling.  They have to sell medium-strength beer here to try and keep the crowd under some sort of control, but it doesn't seem to be working.  We reach hour seven, and the party really seems to begin.  The crowd has a tradition of collecting all the empty beer cups and creating the longest beer snake they can.  We are told of previous match days in which a Guinness Record was set for the world's longest beer snake.  The beer snakes have to be made in secret down by your feet, out of view from one of the hundreds of patrolling security guards.  Once a snake reaches five-ten feet, it is raised triumphantly into the air and the crowd roars in approval, as well as throws hundreds more empty beer cups at the snake to help make it longer.  The snake then grows as fast as possible before the security guards can get over and break it up.  We've seen at least ten attempts, including one that made it from the lower deck to the upper deck before toppling over.  Here is a video of one of the longer snakes from the day:
Finally a Victory
We sat down at 2:00pm.  Now, at 10:12pm, we are standing at clapping as Australia is one run away from victory.  It's amazing that of the 18,000 that were here at the beginning, at least 15,000 are still here… and many in our section are planning to hit the local pubs afterwards to party more.  We are excited to have finally learned this game, although I don't think we'll be shelling out a lot of money to attend any more cricket matches in the future.  It is nice to finally know what is going on in a game that has always looked so confusing to me on TV.  We do want to see a cricket game when we're in India next year, so it was nice to learn the game here in an English-speaking country.  I have a feeling a cricket match in India will be a whole different experience…
The view from our seats: