Interview: GQ trippin finishes their first RTW trip
Gerard and Kieu (G and Q from GQtrippin.com) left their jobs in 2011 and embarked on a round-the-world trip through 20 countries.  We have been following their journey over the last year and I was thrilled when Q agreed to chat with me a bit about their trip.
You just finished a 12+ month run of non-stop travel, what it is like to be back home?
It definitely feels good to sleep in my own bed, hang out with friends and eat my mother's home cooking. But we equally miss our life on the road too. We do look at things a little differently now, like comparing a tank of gas to a day on the beaches of Thailand sipping mango smoothies. You know, stuff like that. But it hasn't been too much of a reverse culture shock being home. We're lucky enough to live in the Bay Area – there's still much to explore in our own backyard which has helped quenched our wanderlust urges.
Is there anything you packed for your trip, particularly in Oceania/Southeast Asia that you wish you hadn't?
Yes. In fact, we wrote a post about our packing mishaps for Australasia that we hope to release soon. For now, I'd have to say my biggest packing regret is medication. We carried around unnecessary weight for months before having to take one malaria or cipro pill. Plus, meds are readily available and easily accessible in Australasia, so there's no need to bring any. We had no problems getting our hands on them at the local pharmacy.
Same as above, but the opposite: Is there anything you didn't pack that you wish you had?
Hrm.. not really. We had everything we needed in our backpacks. But the girl in me wouldn't mind a few more outfits, a dress or two would have been nice. Then again, if I really wanted one, I could have bought it abroad too.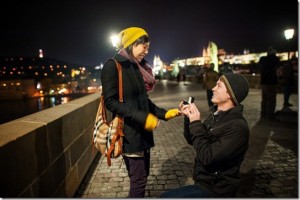 Now that you're engaged, have you decided whether you're going to get married at home or if you're going to fly away and elope to somewhere exotic that you visited on your trip?
It's funny we've been getting this question often since we announced our engagement. The wanderlusters in us would love to have a destination wedding, but there's also something great about tying the knot at home. We're still on the cusp on this one but I think it's leaning more towards an intimate affair here in California with our closest friends and family.
What is your biggest tip for fellow couple travelers?
Talk it out. It's hard when you're with someone 24-7 and in stressful, unusual circumstances outside the comforts of home, it's even harder. You've got nowhere to run, no one to talk to. All you have is each other so it's important to talk things through and equally important to listen to one another to make it work.
Finally, one of the destinations we're most excited about is Vietnam and we really enjoyed reading about your time there. What are the three things we need to eat, see, and do in Vietnam?
Oh gosh, only three?! Let's see, for food you have to try an authentic bowl of pho, a traditional rice plate and for something a bit more exotic, snails sautéed in coconut milk. For must-see, Ha Long Bay, Sapa and something along the Mekong Delta. For must-do, make sure you try your hand at bargain shopping at the markets, take a motorbike ride through town and sign up for a cooking class and learn how to make some of your favorite Vietnamese dishes.
Follow GQ trippin's blog at: gqtrippin.com