Four Hotels You Won't Believe Are Out There
We've all stayed in hotels and whether they're luxury hotels or the Motel 6, they tend to be all cut from the same cloth. What I've found here are a slew of hotels that definitely throw that cloth right out one of their windows made of ice, sand, and mirrors. You can book these & many other hotels directly on the Accor website.
9 Hours – Kyoto, Japan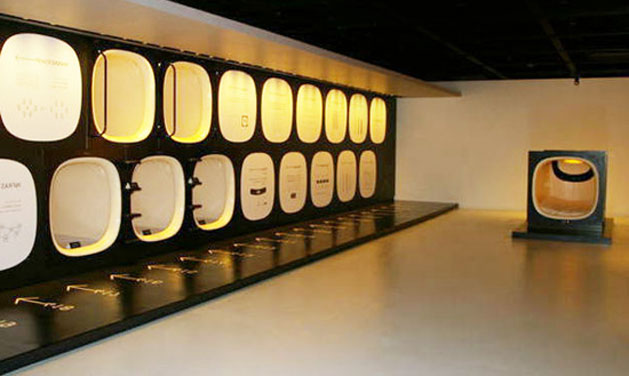 $63 per night
In 1979, the very first capsule hotel opened in Osaka and it's become a commonplace concept in Japan ever since, catering to business travelers of all kinds. If you're unfamiliar with capsule hotels, they're simple cheap lodgings that essentially only provide an enclosed bed.
9 Hours, however, offers the capsule concept with amenities one would find in a four-star hotel:
Rain-Forest Showerheads
Complimentary Mineral Water
Posture-Perfecting Pillows
Sleep-Inducing Technology
Sounds delightful, doesn't it? So, what's so weird about this hotel? It's all in the name – 9 hours is exactly how long you have to get in, sleep, and get back out again. They're actually quite strict about their time table providing an hour to shower, 7 hours for sleeping, and one last hour to prepare for check out.
Additional amenities include: computer lounge, locker rooms, and lobby.
Seaventures Rig Resort – Malaysia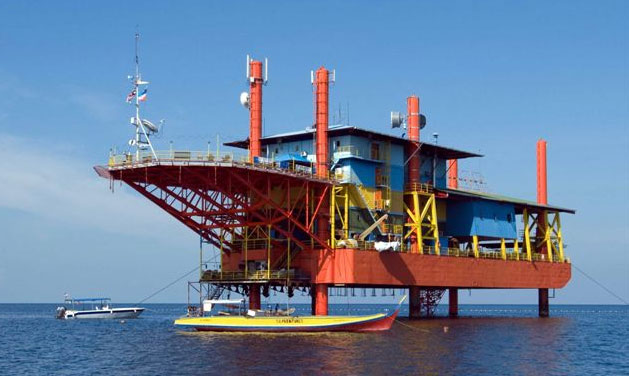 $433 per night
An ecofriendly, completely immersive, resort on board an… oil rig? No way! Believe it, or not, this floating resort did used to be an oil rig, but now instead of harming underwater life, it harbors and protects it — all while allowing the inhabitants of the hotel to swim and interact with all manner of gorgeous sea creatures.
Amenities of the Seaventures Rig Resort include:
Standard Hotel Fare
Scuba Diving Gear
Cuttlefish, Sea Turtles, Eels, and Barracudas for Viewing
23 Rooms
Sundeck – Provides 360-degree view of surrounding islands
Nightly Band & Outdoor BBQ
Airplane Suite – Netherlands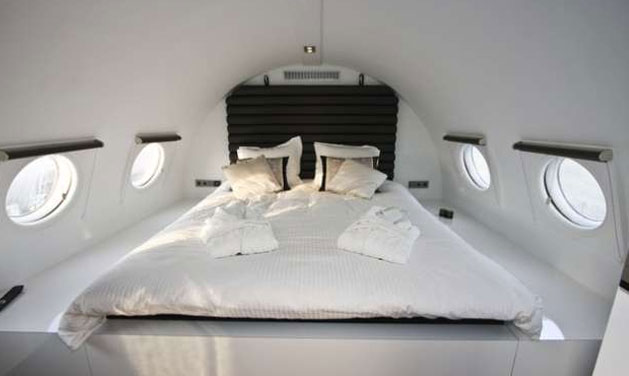 $472 per night
Once upon a time, this 5-star hotel was exactly what the name suggests – an airplane! To be exact, it was a government-owned Ilyushin 18 aircraft that was once used to transport former East German officials – such as Hans Honecker.
Now, this airplane is retiring in the utmost style, perched permanently on the outskirts of the Teuge International Airport's runway. Amenities include:
131 Feet of Cabin Space
Whirpool Bath
Sauna
Flat-screen Televisions
Wireless Internet
Queen-sized Beds
From a bed-side window-seat, guests can watch planes arrive and depart from Teuge from their lap of luxury – nice and safe on the ground. It's all the first class amenities and then some without ever having to fly.
Mirrorcube – Harads, Sweden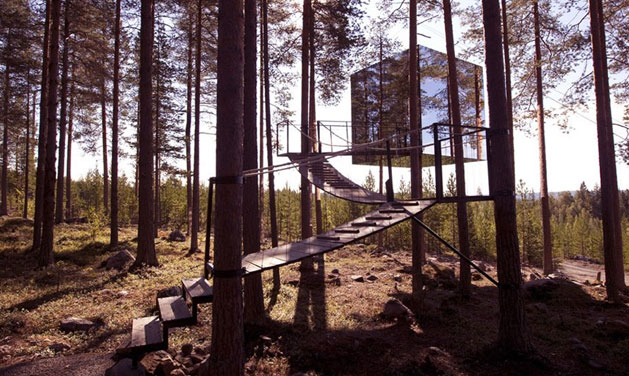 $150 per night
The Mirrorcube is actually part of a bigger concept within Sweden's Tree Hotel – as you can probably imagine, all of the hotel's units are suspended up in the tree canopies! One of the weirdest units is the Mirrorcube – a very lightweight 4x4x4 meter box made entirely of aluminum and one-way mirrors.
Amenities don't include much for such a small space, but it does provide the hotel basics, plus a roof-top terrace and a rope bridge to enter the unit with connected to a nearby tree.
An interesting fact about the Mirrorcube is that it's very environmentally friendly – since it's made of mirrors and resides up in the trees, ultra-violet coloring is embedded into the glass that is visible only to birds to keep them from flying into it.