Yufuin: Hot Days in Japan's Hot Springs
Three days of rural Japan
With only 10 days in Japan, Alissa and I had to narrow our list of cities to visit down to three.  Tokyo and Hiroshima were on the list from the beginning, so finding a city to visit in between those two was the challenge.  To be honest, I knew very little of Japanese geography, other than it is cold in the north and hot in the south, and that the country is much bigger than it appears.  After a hectic four days in Tokyo, we settled on a small, hot spring-filled mountain town called Yufuin (aka Yufu, not to be confused with YOLO).  It is in an area known as the Oita Prefecture, the area of Japan with the highest number of hot springs.  Oita's biggest town is called Beppu, but we have decided to go another hour west of Beppu to experience as much of rural Japanese life as we can in three days.
The city of Yufuin
When we get off the bus in Yufuin, we are pleasantly surprised by how similar it looks to a small town in the United States, specifically one in Colorado.  It is exactly what we were looking for.  The walk to our hotel only takes about 10 minutes, and we have been able to explore the entire city center in less than an hour.  This town is mainly a tourist destination for Japanese tourists, and any language barriers that existed for us in Tokyo feel like nothing compared to this.  The owners of our hotel speak no English, and we've already had a few fun sign language exchanges.  The name of the hotel is also interesting: City Hotel Big Bear.  Maybe that should have been a red flag, but we seem to have actually lucked out with this hotel choice.  Compared to the sardine can hotel rooms in Tokyo, this room seems huge, and we have our own fridge to stock booze to enjoy while swimming in the hotels indoor hot spring.
Visiting the hot springs
I never did hear when the busy season is in this town, but I do know it isn't now.  It is 85ºF (30ºC) or higher during the day here, and one of the last things I think of doing in heat like this is jumping into a hot pool of water.  However, these hot springs supposedly have some natural healing powers and other health benefits, none of which have been proven, but I'll take the placebo effect.  We also can't come to one of Japan's famous hot spring towns and not go in any of the hundreds of hot springs this town has.
We head to the local information booth at the train station, and after another round of sign language, we are given a walking map.  We decide to head to the hills to try and find a hot spring with a view.  On our way to the springs, we notice a lot of Japanese runners with rickshaws lined up looking for tourists to give rides to.  Although, apparently they prefer Japanese tourists, as not one of them asks us if we want a lift.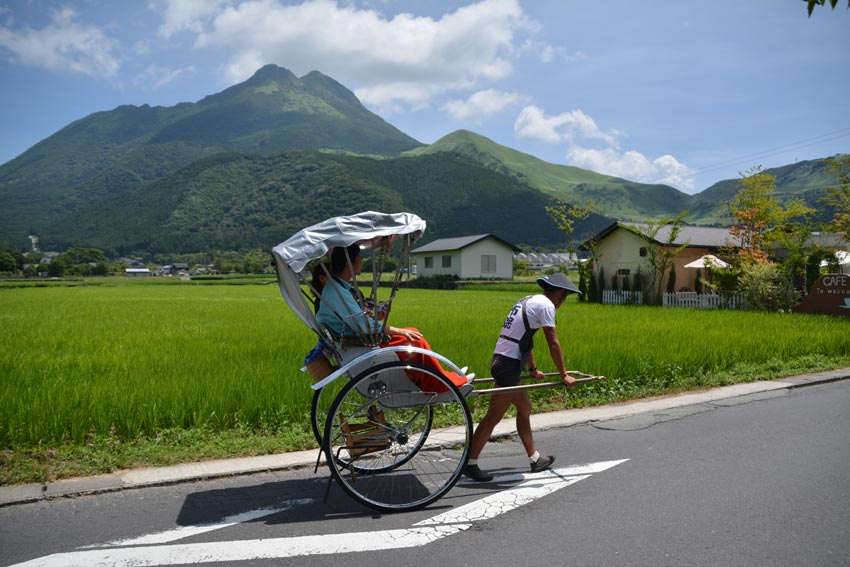 The first hot springs we get to seem smaller than the pictures we've seen, and after we pay, we find out there are separate springs for men and women.  So we each head into our own rooms to change and enjoy some quiet time by ourselves… under the hot sun… in hot water… with no alcohol.  After about 30 minutes, Alissa yells over the wall, "You ready to go?"  Little did she know that I was already changed back into my clothes and playing a Suduko puzzle on my iPhone.
Hot springs with a view
After our first hot spring encounter, we decide we need to find a "nicer" place, one that has a view of this amazing mountain town.  I searched on Google and found that there was a fancy hotel that allowed non-staying guests to purchase a day pass to their hot springs.  After another 20 minutes of walking uphill, we find ourselves at Baien Inn, one of the town's most popular resorts and springs.  Of course the first thing they tell us is that they have gender-separated pools.  So much for a romantic dip in the hot springs, as Alissa and I again head our separate ways.
These hot springs are much nicer than the first place, and the view is amazing.  All that is missing from the Men's spring is colder water, a DJ, 50 more people, and women in bikinis.  Other than that, it's beautiful.  I am the only one in the entire men's complex, which features two natural hot spring pools and one shaded hot spring marble pool.  The water does feel amazing, but after 10 minutes in the hot water, I have to get out and take a cold shower.  The rest of the time is spent just soaking my feet in the hot water and staring at the mountains.
Yufuin's famous food
A few nights ago, at a small bar in Tokyo, we got into a discussion with a man at the end of the bar who seemed intrigued about our travels.  He spoke very little English, and the conversation ended up being a series of pictures drawn and passed back and forth.  I told him that this week we would be visiting Yufuin.  His eyes lit up and he began drawing a very intricate picture and handed it over with pride.  It was a picture of a hamburger.  He said that Yufuin is known for having an amazing hamburger as well as amazing pastries.  Two things you can't come to Yufuin and not eat: 1. A Yufuin Burger and 2. A Yufuin Roll.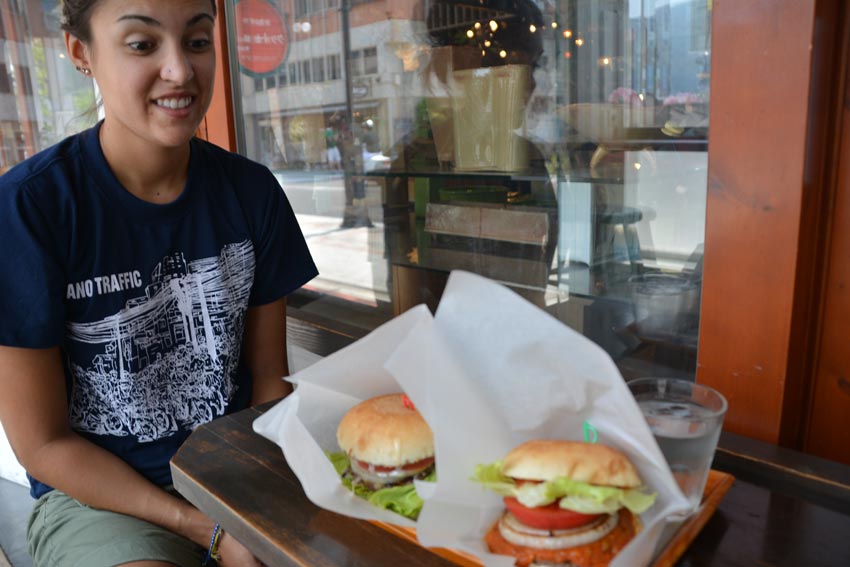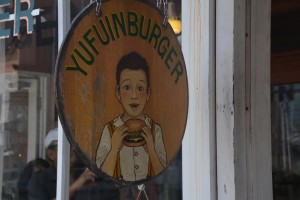 It is not difficult to find either of these two items in town.  The Yufuin Roll is served at nearly every cafe, and the burger seems to have three or four good places to get one right in the center of town.  We tried Yufuin burgers at two different places this week.  The first place made the burgers with steak, which I can't stand.  The steak was tough, so when I took a bite of the hamburger, an entire peace of steak would slide out of the bun.  Soon, I am left with just a bun full of lettuce, onions, and tomatoes.  The second burger place was much, much better.  They used real ground beef, the way a burger should be.  They had two different types, the original or teriyaki.  The original is the famous one:  A ground beef patty with cream cheese, thick tomato sauce, onions, tomatoes, lettuce, and mayonnaise.  One of the best burgers I've ever had!  The Teriyaki is nearly the same, minus the tomato sauce and cream cheese, adding teriyaki sauce of course.
After our burgers, we head down the street to give a Yufuin Roll a chance for desert.  We actually had a hard time finding a place that would sell us just one slice.  They all want to sell you the entire roll for $25+.  After finally finding a place that would sell it by the slice, we get to pick one of three flavors from the case.  Alissa of course picks chocolate.  We decide to share it, and it's gone in seconds.  The cake part of it is a little less sweet than cake we are used to, but the cream is perfect for our Wisconsin taste buds.  It is the exact same type of cream used in cream puffs at the Wisconsin State Fair.  I love the food in this city!