Learning to Surf at Surfers Paradise
Ok, not exactly AT Surfer's Paradise, but near it at a sandbar at Currumbin Alley, a bay known for good beginner waves and a little further out, one of the world's best point breaks.–Everywhere in the world, there are places where you can seek out the views and the adrenaline that can make your surfing experience superior to any destination that you may have surfed in before. To find the best surf destinations, you will also need to find out what kind of beaches and waves you like since each destination has a distinct vibe, you may prefer certain conditions more to others. Whether it's big waves and cloudy skies or small waves with a more tropical atmosphere, both are great for aspiring surfers that want to relax on the waves.
Its our last day in Gold Coast, and the conditions are finally good enough for us to have our first surf lesson. Sam from Currumbin Alley Surf School emails us to let us know, and we are pumped.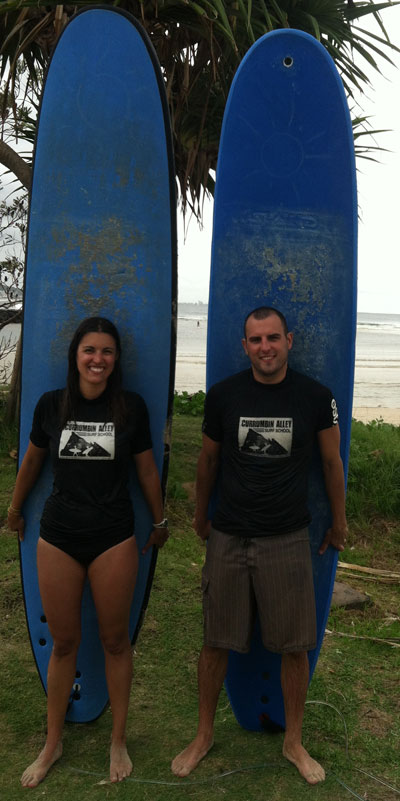 We find the designated spot, meet Sam, and get our big, soft, beginner boards. He teaches us how to wax them, then the basics of the waves we might see today. We head to the beach to fake surf on the sand for a few minutes to get the basics. There is another surf school nearby with 40 or so kids under the age of 12. Great….
We drag our boards to the water and its time to surf. The break we are learning on is shallow, which is nice on one hand when Sam can hold my board and push me into the wave, but on the other hand, some of my falls (and there are many) are in 2 feet to 6 inches of water.
My first few attempts result in nose dives, when there is too much weight on the front of the board and it goes under water before I can catch the wave. After about 6 or so missed waves, I catch one with Sams help and step up, back foot, then front foot. I'm up! For 5 seconds or so, then my arms swing in backwards circles as I lose my balance. But still, I feel great.
I see Dan catch a few waves and ride in pretty far. Woohoo! We're surfers!
We try over and over, learning how to time the waves, keep our balance, and extend the ride time. We stand up on half of them (maybe less), and ride for seconds at a time because the distance from the break to the really shallow water is so short. I can see why surfing requires so much time to get even remotely profienent. Unlike snowboarding, you can only really work on balance for a short amount of time. When you fall, its not that simple to just get up and try again, you have to wait for a wave that is right for your level and catch it at the right time.
We had a great time today and a great instructor from Currumbin Alley Surf School. We recommend them for anyone looking for a great spot to learn and great instructors for a reasonable price.