Football Without Helmets? The Beautiful Game
My brother and I have been soccer players and fans our whole lives, but it wasn't until college that we really took the time to dive into the world of international and professional soccer leagues.  Sure, the U.S. has the MLS, and while it's growing and gets better each year, it still doesn't get close to the quality and beauty of the leagues in England, Spain, Germany, and Italy.  Yes, it's called the Beautiful Game, and I think the nickname fits perfectly.
I'm not going to get into a debate about what sport is the best, mainly because the answer to the question depends on where a person grew up and each person has the right to their own opinion.  I've met people who would rather die than say cricket isn't the world's best sport and I know Americans who will never talk to you again if you even dare say baseball isn't the world's greatest sport.  The point is, everyone can have their own opinion, and without asking for a debate, I'll just give you the main reason why I think soccer (football) is the best sport in the world:
Why is soccer the best sport in the world?  
Because, EVERYONE can play it.
Not everyone chooses to play it, but everyone in the world has the opportunity to.  This causes the best players in the world to slowly be discovered and rise to the top no matter where they live.  A poor kid in Ghana has no way of getting a basketball hoop, a baseball bat, or a bobsled, but he or she can find and kick around a ball.  And guess what, although Ghana would be terrible at a baseball, they are able to, and do, have one hell of a soccer team.
That is why the World Cup is truly the only fair international competition where countries can easily find their best athletes and play a game that requires both physical and mental greatness.  (The only other real international sporting competition is probably sprinting/running in the Summer Olympics).  Baseball and basketball are slowly becoming great international sports as well, but neither sport is as widespread as soccer, and neither will ever have a competition where countries all over the world, no matter what resources they have, can at least field a decent team.  American football is important to me because I grew up with the Green Bay Packers, and although I still love it, it gets a little harder to watch each year.  It is difficult to truly enjoy a sport that has more commercials and injuries than minutes of action.
Which team to follow?
Since the World Cup only come around once every four years, football fans all over the world turn to their local pro league teams to follow with a passion, not unlike the passion of SEC Football fans in the U.S.  I prefer to follow the English Premier League, known as one of the top leagues in the world, and the team that both my brother and I support is the Tottenham Hotspur. (pronounced "tott-num").  Since I get asked often about it, I'll just quickly tell you why I support them:
Why I Support the Tottenham Hotspur:
1. I didn't grow up in England, so choosing to pick a team near my home isn't an option.
2. I didn't want to pick the New York Yankees of the Premier League (i.e. Manchester United)
3. I wanted a team that has a big history, but has struggled to win championships in recent years (i.e. the Green Bay Packers of the 1990's).  I like a challenge and watching a team try and reclaim its past glory.
4. I wanted a team that was at least big enough to afford a championship.  Similar to baseball in the U.S., without money, championships are near impossible in top tier football.  Not IMPOSSIBLE, but very unlikely.
5. Tottenham has many small similarities my NFL team, the Green Bay Packers.  One being the look and feel of their stadium, another being the blue-collar reputation of their fan base.  Hey, I never said this was a scientific approach.
6. Last but not least, I wanted a team with a big enough fan base where I could find people all over the world to watch games with, especially in the U.S.  We watched matches in 15 different countries, and we always were able to find a local Tottenham following to meet up with at a bar.  The social aspect of watching football is unmatched by any other sport.
Finally, a trip to London
Something unique about the Premier League is that there are millions of fans around the world who follow it, many of whom have never, and will never, make it to England to actually see a game in person.  Up until this week, I had watched hundreds of Tottenham games on TV, but had never seen one in person.  So to finally book a trip to North London to see this team compete in person was on the top of my list of places we had to see when planning this trip.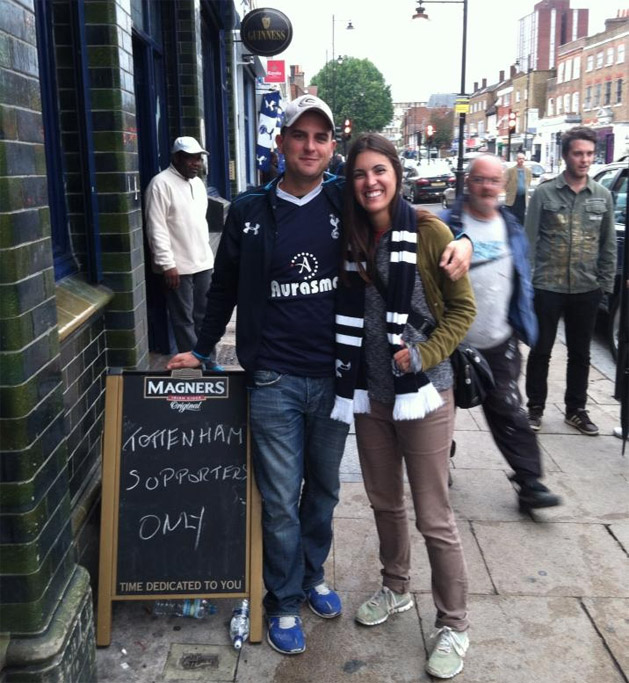 While the game isn't until 3pm, we've headed to the neighborhood around the stadium at about 11am.  Four hours should give us enough time to have some pre-game drinks and see the local atmosphere.  Tottenham's stadium, White Hart Lane, is located in a North London residential neighborhood, and walking around before the game reminds us a lot of Lambeau Field.

And just like Lambeau Field got an upgrade in recent years, there are also plans here in London for building a brand new stadium here in the same small neighborhood.  Because my expectations are so high, I am not surprised that there are also disappointments.  The pre-game scene is relatively mellow, especially when compared with American football pregame parties.  There is no tailgating, and even inside the bars, the scene feels more like an after-work happy hour than pre-game drinking.  So, although I enjoy soccer more as a sport, I will give the nod to both American football and baseball in the pre-game ritual categories.  I'll take tailgating at Miller Park over these London pubs any day!
Inside the Stadium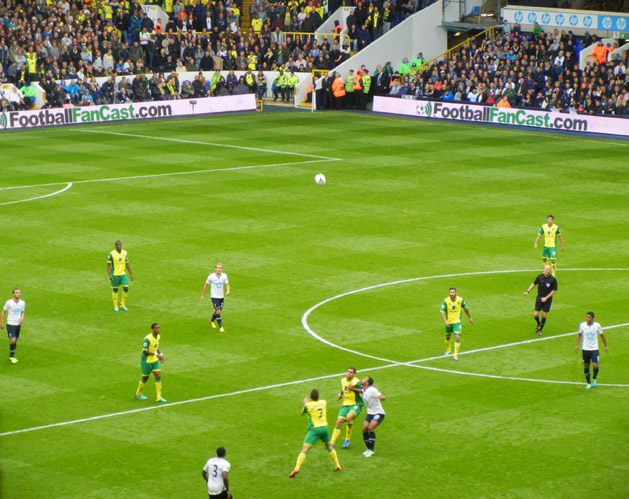 Once inside the stadium, things pick up quickly.  The atmosphere feels much more lively, and it is exciting to see so many Tottenham regulars walking around.  I'm only used to being around 10-20 Tottenham fans at a time.  A few observations that I found interesting about the stadium:
– No drinks are allowed in the seats.  If you buy beer, it needs to be consumed in the hallways.  I'm assuming this is so people either don't get too drunk or so they don't throw beers onto the field.  I'm used to Miller Park and Lambeau Field where I can sit in my seat and enjoy a $8.75 MGD.
– Betting on sports is legal everywhere in the U.K., even online.  There are sports betting shops everywhere in London, and the league and teams actually encourage fans to place bets.  There are even sports betting counters INSIDE the stadium.  Could you imagine a betting counter inside a baseball or football stadium in the U.S.  I think Roger Goodell's head would explode.
– People dress much more formal for soccer games than they do for sporting events in the U.S.  In America, people where football jerseys to work on Friday, to the bars on Saturday, and then to the game on Sunday.  In the U.K, you won't see a jersey on any day but game day, and even here at the game there are jerseys are rare.  Many people are wearing Tottenham polos and jackets or scarves, but there are also many in plain old clothes with no mention of who they support.  Just an interesting difference, not better or worse.  We were in London the next weekend when the Vikings and Steelers played here, and there were Americans walking all over London with football jerseys on.  The locals here were probably looking at these people like they were crazy.
Final Thoughts
One of the best parts about a soccer match is that there are no time-outs, and definitely no TV-timeouts, other than halftime.  So the game constantly flows, and actually ends pretty quickly.  The entire thing is over in less than two hours.  Today was a success, as Tottenham defeated Norwich City 2-0 (proper English would be to say two-nil, not two-zero.  I learned the hard way.)
Since we were in London for a week, I actually was able to catch two games at White Hart Lane, the Norwich City game and then the big rivalry game between Tottenham and fellow London club, Chelsea.  The experience at White Hart Lane was everything I expected, and I am already planning a return trip!