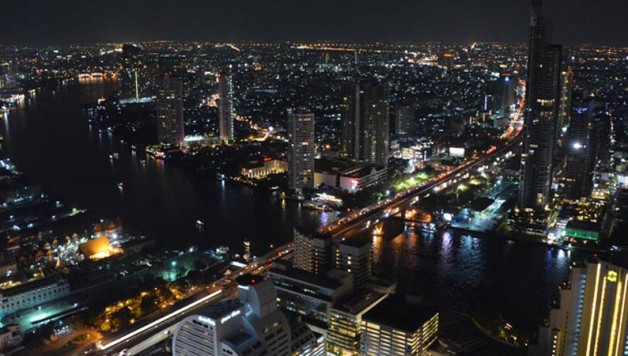 Where to Stay in Bangkok: An Overview of Six Bangkok Districts
Bangkok can be an overwhelming city to visit for the first time, and choosing where to stay is always the first stress test to face.  After over seven visits to the bustling Thai capital, we've put together a quick recap of six of the areas we've stayed in.
Where to stay in Bangkok?
Silom
Silom is Bangkok's financial district and is all business during the day, but at night becomes the the place people imagine when they think of Bangkok – alleys full of street vendors outside of skanky go-go bars advertsing "ping-pong" shows and other dirty demonstrations.  Lots of pubs and music bars  have deals to rope in customers.  Hotels can be pricy,  including the iconic Lebua hotel, with its golden dome and Skybar (featured in the Hangover II). Budget hotels and dorms are available, though rooms are usually small.
Sukhumvit
Popular with expats and wealthly locals, Sukhumvit Road and surrounding sois are filled with bars, nightclubs, restaurants with a large range of cuisine, and shops and markets of every kind.  Many BTS Skytrain stops and an MRT station make this area the most accessible for a visitor.  Ma
Khaosan Road
Khaosan (or Khao San) Road is backpacker paradise, packed with budget hotels and hostels, cheap food and drinks, and tourist shops to get you to the must-do day trips.  Room quality can vary greatly, but here, cheap doesn't always mean shabby. Do your research and check out the room before you pay.  Our preference is always to stay a few blocks off of Khao San Road on one of the side alley.  The Four Sons Village is located in one of the side alleys and is always our top choice when we want to stay near Khaosan Road,
Yaowarat and Phahurat (Chinatown)
One of Bangkok's oldest districts, Phahurat Road and Yaowarat are home to a large number of Chinese and other multicultural neighborhoods. Orientation is even more confusing than the rest of Bangkok, with many alleys and pedestrian streets, and a few large streets that are often in traffic gridlock and hard to safely cross. The traffic and lack of public transit can make it a tricky place for serious sightseers, but there is a tourist boat on the river that is just a few stops away from the BTS Skytrain.  Hualamphong MRT and train station is technically also in this district, on the eastern edge. There is plenty to do nearby however, with plenty of temples, Chinese and Thai street food, and endless alleys of street market shopping.
Rattanakosin (Grand Palace, Riverside, "Old Bangkok")
Just south of Khaosan, this area houses most of the famous temples, museums, and historical buildings.  Nearby river piers offer access to tourist ferries and cruises. Accommodation is limited, but the boutique hotels, especially those with river views are very nice.
Pratunum (Victory Monument)
North of Sukhumvit and near the BTS line is an up-and-coming neighborhood near Victory Monument.  Home to several universities and large apartment buildings, this area has all of the needs of a traveler – public transit, restaurants, shopping – without the tourist experience.  Street vendors line the streets and alleyways, especially around meal times, and many malls and markets sell goods at local or wholesale prices.