An American in Cuba: Part Two
This is part two of a two-part series on our fellow traveler Justin's visit to Cuba.  Click here for part one.
After a few days of tension in Havana, I decided to take Lisa's advice — I should ride a city bus from downtown Havana to a nice beach about 20 clicks to the east. Not a bad idea, I figured. Every other attempt I had made to exit Havana had to be scrapped because the risk of running out of cash seemed very real. For an American, there is no way to use your debit cards, credit cards or travelers cheques in Cuba. You travel to Cuba with a (small) pile of cash, and unless you want to bother the nice people at the U.S. Interests Section, the pile will only get smaller. Lisa's idea to take a 45-minute city bus ride was practical, low risk, and not a very touristy thing to do. Perfect.
When I got on the bus, I paid with the only coins I had: Cuban convertible pesos. This is the currency for foreigners and is roughly equivalent in value to a U.S. dollar. Cubans generally use the national peso. It is far less valuable than the convertible peso, but that is the money they are paid and that which buys staple goods at artificially low prices. Cubans cannot easily buy foreign products because they have currency that is basically worthless relative to others. If you happen to get convertible pesos from tourists, you would think it's a blessing. In small amounts, this is probably true, but if you are raking it in, you could get into legal problems. It's confusing. On the bus, using a convertible peso was highly unusual. Judging by the driver's reaction, I might have been the only tourist on his bus in a month. He looked the coin over and decided it didn't belong in the bus's payment box — it belonged in his pocket. Perhaps the machine could not accept convertible pesos.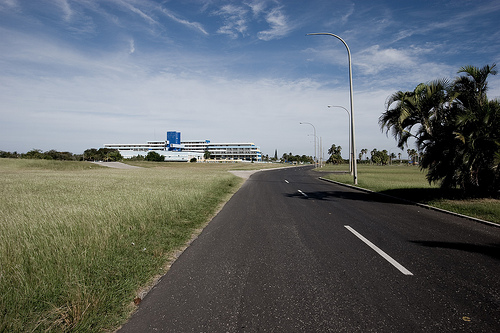 The bus was incredibly crowded. I had heard Cuba could not provide bus services to meet demand. Parts for all vehicles — cars and buses alike — are in very short supply, so if a bus breaks down, it may not come back into service. Despite the discomfort, people on the bus were reasonably accommodating and polite. When I got off the bus, I had to trust other riders that it was the right stop. From my vantage point, I was still a good 25 minute walk to any beach, and who knew if it was the beach Lisa had told me about. What I saw from the bus stop was a road going downhill to a big, blue drab-looking building and no people. Thankfully, I was in the right place for a strip of sand, clean ocean, and a few peaceful hours in the sun. I felt much better walking back to the bus stop. Unfortunately, the bus to go back was so crowded that I could not board. Without the patience to wait 30 minutes for another crowded bus I hitchhiked because I noticed that was common. A car pulled right up to me — not the five or six Cubans waiting with me — and I do not remember extending my hand to solicit a ride. Brilliant…this guy knows he is getting convertible pesos. I got in anyway. The more I talked to the driver, however, the less I trusted him. Among other things, he spoke so fast that I understood little of the Spanish he was speaking, and that made him angry. Ten dollars got me a 30-minute ride back to Havana in one piece. Shutting the car door and watching him drive away was a thrilling relief.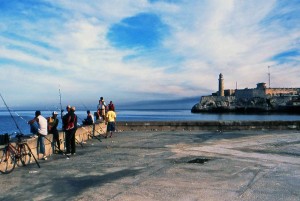 On my last night in Havana, Lisa suggested we go across the harbor to La Cabaña fortress. According to her, it was right next to El Morro castle, which I had numerous photographs of already. I knew nothing about this place before we got there, but I was thinking why not go to the castle? She explained they have a ceremony at 9 pm every night that was worth seeing. Truthfully, there was no reason to refuse so long as I could ask questions about Cuba. She could have said it was a puppet show … it didn't matter. We got there two or three hours early to check out the large fort. There was a small exhibit of Fidel Castro and Che Guevara photos, and a few rooms of older military articles like suits and swords. After that, we sat down on a concrete ledge to wait for the ceremony. We talked about many things: her family, her work, Cuban music, and her plan to eventually travel off the island. For most Cubans, this was almost impossible. It seemed unlikely at the time, but I found out later her job in Havana led to a yearlong posting in Kiev. She has since traveled to several countries, including Poland and France. At about 8:30 the ceremony began. This was the custom from colonial times. Every night, Old Havana's city walls would close at the end of this ceremony. It consists of drummers and guards and marching, and I wasn't sure why so many people had turned out. My own daydreams were more entertaining. I had a vision of the USS Maine sitting in the harbor just before the beginning of the Spanish-American War. I suppose the soldiers in colonial style uniforms made the vision lucid. Lisa whispered something about a cannon, but no thought registered. So it came as a surprise to hear real cannon fire! Without question the loudest sound in my entire life, the single shot took my breath away, and for about three seconds you heard the reverberations coming back from across the harbor. The crowd reaction was like they had been lit themselves. Shrieks, then cheers, and within ten seconds, people were walking out smiling. The thirty minute ceremony meant almost nothing to the crowd without the cannon shot. They needed those three seconds of pleasure, and that was just enough to forget all the rest.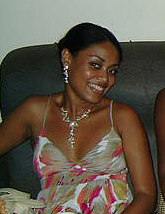 Thank you Lisa for your help and hospitality.