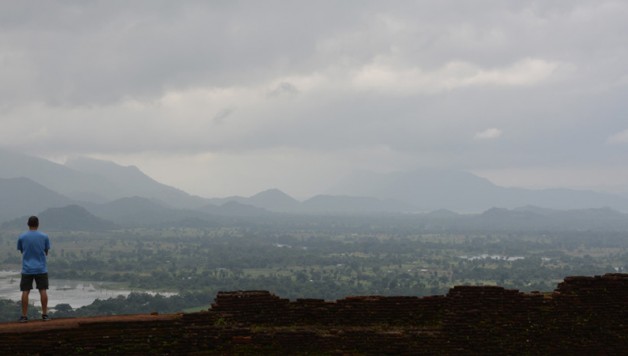 Our First Impressions of Sri Lanka: Wow!
Entering a country for the first time is always full of surprises for us, both good and bad.  Entering Sri Lanka somehow felt like a bigger surprise than usual.  I am not sure if our expectations were too low or if the country is just that good, but from minute one we have loved everything about this island.  Sri Lanka has been the most surprisingly great country we've been to so far on this trip, and I hope to show you why over the course of the next week of articles.
After spending the last 30 days in India, it is nearly impossible for us not to compare everything in Sri Lanka to India.  It isn't a fair comparison for many reasons, and I will do my best to try and not do that.  However, I have to mention a few things on the differences between the countries solely because I had previously, and incorrectly, assumed that Sri Lanka was very similar to India, and even thought that Sri Lanka would feel sort of like an extension of India.  Kind of like how Hawaii is different from the Continental U.S.A, but still feels like the U.S.A.
I was dead wrong.
The differences in these two countries are so numerous that I am actually struggling to find similarities.  I could ignorantly say that the people of each country look alike, but really that isn't any truer than saying Indonesians look like Filipinos.   The food also seems similar at first, but once you dive in you start noticing bigger differences there too.  After a few days, the only real similarity I still feel confident in stating is that both countries love cricket and both drive on the left side of the road.
Our first impressions of Sri Lanka after three days:
–       Sri Lanka is the cleanest island country we have ever been to.  I blame India for the misconception that Sri Lanka must also be full of streets of garbage, endless messy construction projects, people peeing in the streets, etc.  However, we knew we were wrong about this assumption from the minute we left the airport and drove onto the the brand-new freeway, passing miles and miles of green landscapes.  The country is not only beautiful, but it is so clean.  Sure, there are back alleys here and there, hidden from view, that are just as dirty as the alleys in India or Myanmar, but overall the streets look great and they even have sidewalks!  There is very little garbage, and we haven't seen one garbage pile so far on this trip.
–       The wildlife is amazing.  Sri Lanka rivals any country in the world in terms of seeing exotic animals in the wild.  There are wild elephants, leopards, spotted deer, monkeys on land, all kinds of colorful birds in the sky, and turtles and whales in the ocean.  We passed two elephants on the side of the road already while driving, visited a turtle rescue/hatchery, and have plans this week to do a whale watching tour.
–       The diversity in cities, climate, and scenery is perfect.  Sri Lanka features a large cities and rural towns, tropical beaches and cooler mountains, ancient ruins and a brand new Burger King.   It has something for everyone!  During our drive yesterday through Nueva Ewla, we actually felt like we were in New Zealand.  Yet today we woke up on a beautiful beach after only a five hour drive.  Three more hours in the other direction and we'd have be able to do a safari through the plains and jungles of Yala National Park.  For travelers looking for a destination that features diversity in attractions, look no further than Sri Lanka.  Sri Lanka alone has eight UNESCO World Heritage Sites.   More than Egypt, Thailand, New Zealand, and other popular destinations.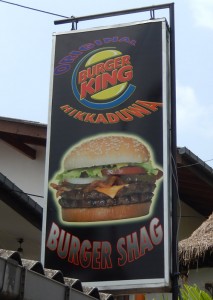 –       Fake fast food joints are everywhere.  There have been some pretty comical restaurants that we've driven by so far.  Some try to sneak by using a slightly modified version of an American fast food chain logo, while others just blatantly post the logo on their sign as if they are affiliated.  There was a place called Subway King Foods that featured the actual Subway logo with the words King Foods written below it.  It served rice dishes and I assume sandwiches too.  There was a place called Olive Hut with the exact logo of Pizza Hut, but with the word Olive instead of Pizza.  It was closed, but I assume they either sell pizzas or olives?  There was a Starbeans coffee with a near identical logo to Starbucks (pictured below).  There were a few places with the words Burger King, including this one pictured to the right that actually used the Burger King logo and says ORIGINAL.  What is so funny about this one is that there is a REAL Burger King that just opened less than 100 meters from this fake place.   We also saw a fake Best Buy with an identical Best Buy logo, a Google store with no affiliation with Google, and even a hotel who used the famous McDonald's arches in their logo.  I think the hotel was called Mama's.
What makes this interesting to me is that these big fast food chains are now all starting to open stores in Sri Lanka.  We saw real Domino's, Pizza Hut, McDonald's, KFC, and the newest addition, Burger King.  It makes me wonder if these chains are going to try and do anything about these logo thieves.

–        Everything in Sri Lanka costs money.   Wherever we go, Alissa and I are constantly on the look-out for free attractions.  Places to visit, things to do, and cultural experiences that cost nothing to enter and require no spending.  For example, in Mumbai, we spent an entire afternoon walking along their bay walk and checking out cricket matches in a nearby park, and spent $0.  In Goa, we could spend a whole day walking along the beach and maybe buy one or two beers.  However, once you are into what the Sri Lankans call "the Cultural Triangle", you quickly learn that no attraction, no temple, no wildlife area, no ruins, NOTHING can be seen for free.  The most famous attractions now have government entrance fees of up to $30 USD per person, per place.  In the first two days, we've already spent $120 on entrance fees alone.  Not good for our budget!
Come back later this week for an update on our travels in Sri Lanka.  Here is what we have planned so far:
– Hike to the top of Sigiriya Rock
– Visit the cultural center of Kandy, Sri Lanka
– Hit the beaches in the south
– A whale watching tour off the coast
– And more!