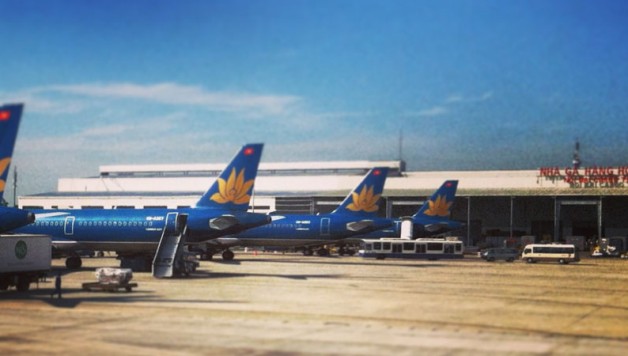 Good Morning Vietnam: First Impressions
After 3 days in Hanoi, we're starting to get a sense of the city, and hopefully its a indicator of good times to come in our total of 20 days in this country.  Here's what we've noticed so far.
Traffic is complete chaos.  Sure, we were warned by fellow travelers and guidebooks, but we've been to Indonesia, Thailand, Laos, and Cambodia already, how much worse could it be? The answer is a lot.  In this city of over 8 million people, I've seen more uncontrolled intersections than ones with any sort of light or sign.  Motorbikes, pedestrians, cars, bicycles, and cyclos (bikes with passenger benches in front) criss-cross each others' paths wherever they need to, with no regard for lanes.  There is no such thing as right-of-way.  Interesting, it seems to work, and better than it should. There is no waiting at most intersections, or backups, just slowing cruising toward your destination.

Our first guesthouse is in a residential area, in a narrow alley bustling with activity.  Ladies sell fresh fruit and vegetables on tarps on the ground, while motorbikes swerve around their customers.  Men work on buildings in various stages of construction, or cut hair in chairs under a sign outside their front door. Its similar to sights in Bangkok, but somehow very different and interesting.
We learned from our guesthouse manager, a mother of three daughters, that Vietnamese children are expected to be able to read and write before starting school, and there is a strong emphasis on writing perfectly and beautifully.  Check out the notebook of her 8-year-old – that is her handwriting! (Note the '10', a perfect score.)
Vietnamese cuisine is living up to expectations so far.  Phở (noodle soup), bún chả (noodles with grilled pork and sauce), bahn mi pâté (sandwich with meat spread) are all delicious.
We also are realizing how big the country really is, as we plan our next few destinations.  More overnight trains and buses await!
Any recommendations about Vietnam? Comment below!