Three Days in Singapore the Budget Way
We planned on only three days in Singapore because of everything we read about how expensive the city is, but when we got there, we found that it doesn't have to be. The most expensive thing in crowded, small city-state is land, making hotels and apartments pricey. We found a last minute deal in Geylang, a cheap area that is also known as the red light district. We didn't spend any time in this area since it was kind of dirty, but we never felt unsafe walking to the bus or train.
On Sunday, after checking in to our sketchy-neighborhood-but-clean-enough hotel, we set off to explore the city. We started in Little India, a cool area to walk around in and get lost. Streets of shops, restaurants, and temples were crowded with Indian families relaxing on their day off (although we mostly saw men and very few women and children). We ate an Indian lunch (SG$4-5 each) on a banana leaf with our hands then wandered around some markets. We found a dessert food stall, and ate our treats at a nearby park, where locals were playing a pick-up game of cricket and a few groups gathered to play some kind of card game, which seemed to involve gambling.

In the evening, we found a bus to Clark Quay, a somewhat touristy road of bars and restaurants on the river. We found the London bar we were looking for to watch the Tottenham game, and had a drink with the Singapore Spurs fan club. A beer here was SG$10, so we stuck with just having one.
We had a great first day, unfortunately the memory card in my camera stopped working when Dan tried to copy the photos to his computer. No idea why, but I blame his MacBook.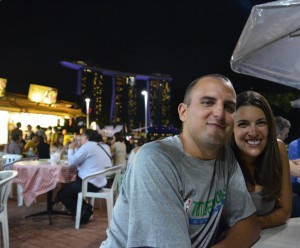 The next day we met up with Robert from Another Traveler for coffee and a stroll around Arab Street, a little hipster neighborhood of unique cafes and shops centered around a beautiful mosque.  For the rest of the day, we discovered Robert's temporary home by walking (a lot!) around downtown, Chinatown, Sentosa Island, and Marina Bay Sands. We found our meals – chicken and rice at lunch, dinner at Glutton's Bay hawker food stalls – to be much cheaper than we thought they would be, about SG$10 each.
On our final day in Singapore, we checked out Orchard Road, a ritzy shopping area. I was picturing Chicago's Miracle Mile, but what I found was easily 10 times that: every high-end fashion shop had a full mall behind it. Every block was like its own Mall of America, the huge mall near our home in Minneapolis that is tiny compared to this street. (Ok, I didn't see a theme park, but I wouldn't be suprised if there was one somewhere on Orchard.)
Finally, we gathered our bags and took the MRT to the Woodlands train station to board the sleeper train to Kuala Lumpur, Malaysia. My first sleeper train, and the first of several on this trip!