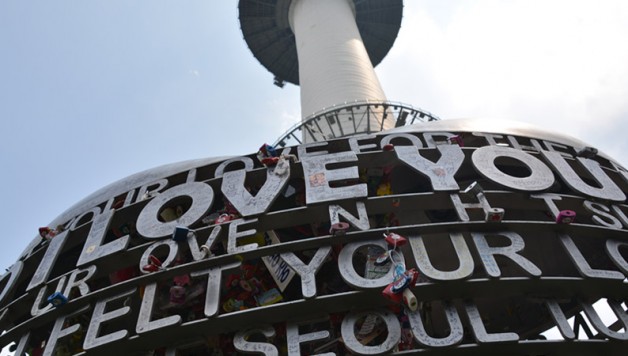 Four Days in Seoul, South Korea
We took the express train from Busan to Seoul (which has on online booking process and is very simple to figure out from Busan station) and arrived here in Seoul with no plans. We are staying in the Hongdae area which meets our requirements of a lively neighborhood near a metro station.  After four nights in separate bunk beds in a 10-bed room in Busan, the double bed room in this guesthouse is luxurious.
For our first dinner in Hongdae, we go with a popular option in Korea – fried chicken.  For 7,000 WON per person (about $7 USD), we get unlimited plates of fried and baked chicken with various sauces, and of course a order a few draft beers.  Perfection.  It almost feels like Buffalo Wild Wings.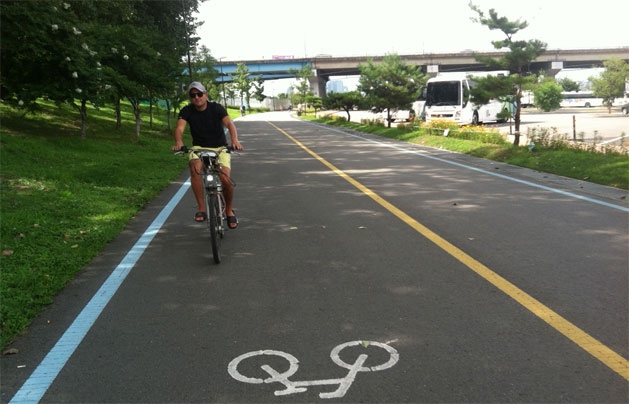 Getting Active
On our itinerary is my plan is to bike along the Han River, which I've read has miles of trails and dozens of park areas.
I read a few articles online about free bike rentals, but somehow direct us to the wrong metro station. We do find some public bike racks, similar to the ones in Minneapolis, that even have English as an option on the screen to check out a bike. (We both used my phone to remember the activation code to check out a bike after payment; I think the photos are cute.)
The trails are nice, though a bit hilly for our 3-speeds.
Also on our quest to stay active, we climbed to Seoul Tower, about 1.2 km and 1000 steps through Namsen park.  Our timing wasn't great, as we got caught in a flash rainstorm on the way down, but the foggy views at the top meant less crowds, and we still had a nice time.
FC Seoul Match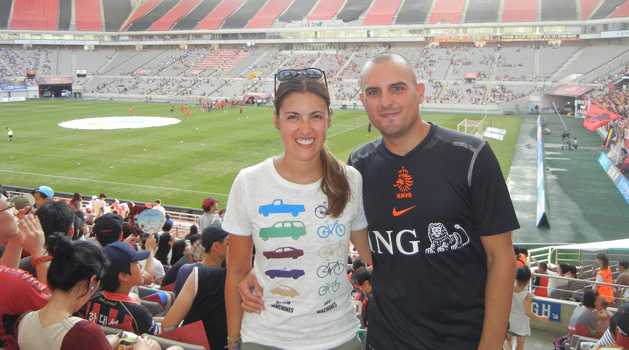 Korea loves its sports, and not only has hosted the Summer Olympics (1988) and World Cup (2002), but is the host of the 2018 Winter Olympics.  We headed to the World Cup Stadium, now home of FC Seoul, for a match against its rival, the Suwon Bluewings, titled 'Super Match'.  General admission tickets were around $12 each, and dinner was cheap too – $4 for a slice of pizza and a beer.  Much better than the professional stadiums in the US or even the baseball game we watched in Hiroshima.
However, there was a catch to the cheap food.  The concession stand was basically a Seven Eleven store, and all the food was in freezers behind the counter.  After ordering our food, we had to walk it over to a nearby microwave stand and heat it up!  I've never thought I would ever see something like that at a sporting event.
In case you're wondering, FC Seoul, 'Soul of Seoul' won 2-1.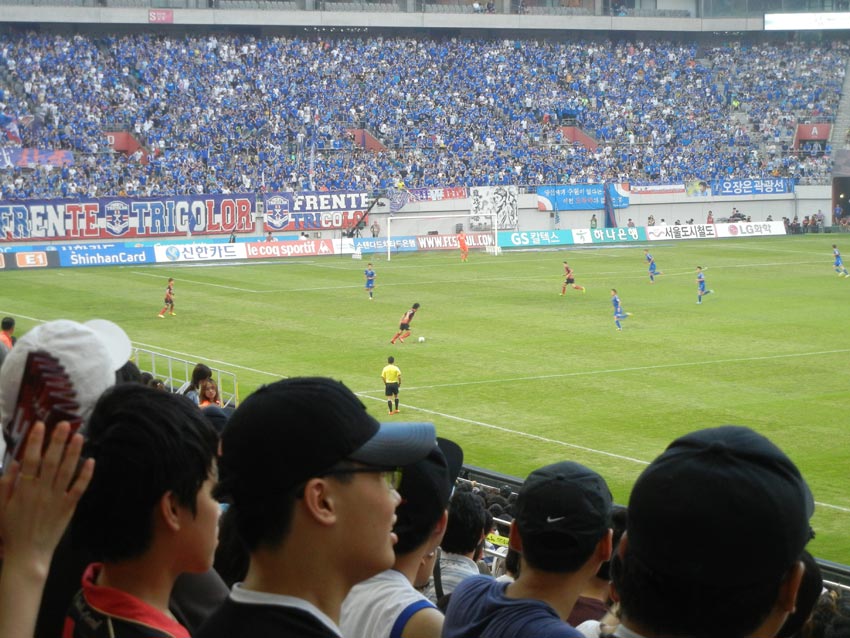 Culture and Shopping
At home in Minneapolis, Dan and I often had date nights to see touring Broadway shows, and have been on the lookout for them in the bigger cities on our trip.  We just missed a few in Tokyo, but saw online that one of our favorites, Les Miserables, is in Seoul! Upon further research we learn that it's entirely in Korean (for the first time), but we still go to see it, mostly out of curiosity.  It's a little frustrating to not be able to understand the songs, but we know most of the words anyway so we follow the plot and jokes just fine.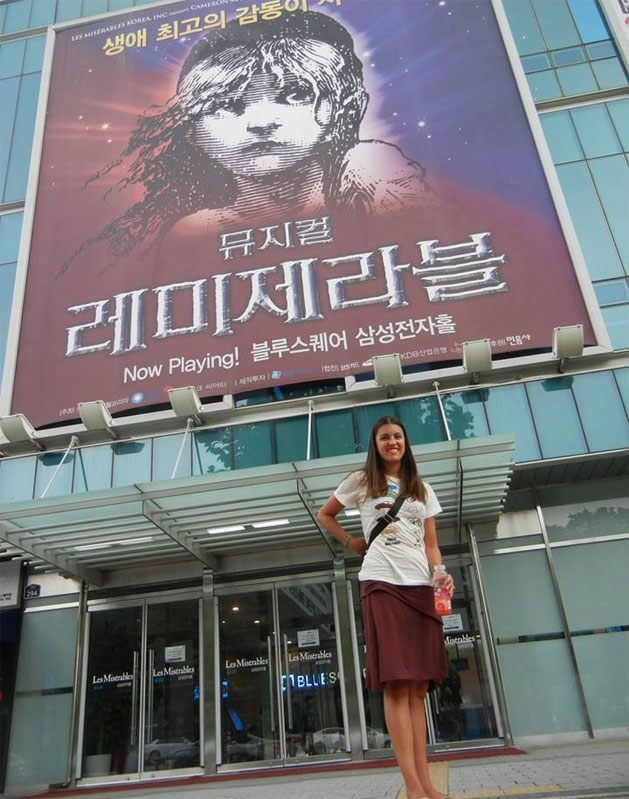 Afterwards we head to City Hall area, the main downtown filled with skyscrapers full of offices, hotels, department stores, and restaurants. To our surprise, it also has several blocks of pedestrian alleys with markets stalls selling clothes, accessories, food, and trinkets.  It gives us some great people watching, and reminds us of Southeast Asia, without the merchants yelling at you to buy everything.
Overall, we enjoyed Seoul. It has everything we love about cities – sports, theater, huge restaurant variety, and great public transportation – and also has more green space and outdoor activities than many other Asian cities.  Next time we might venture up one of the actual mountains nearby!