Fashion, Fast Food, and First Impressions of South Korea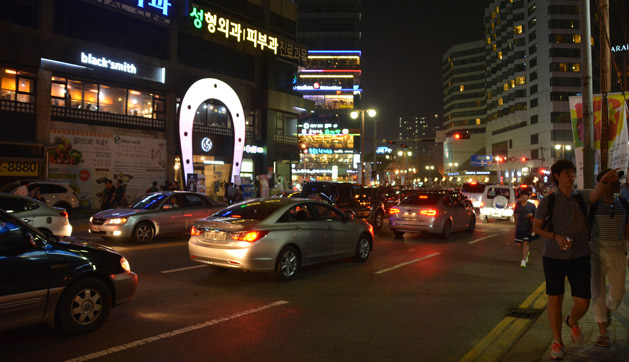 A few days ago, Alissa and I completed the travelers superfecta, having now traveled between two cities using all four of the main forms of travel: Road, Air, Rail, and Water.  Water was our last item to check off the list, and the overnight ferry from Shimonoseki, Japan to Busan, South Korea took care of that.  For those who are transportation traditionalists, spare me the hate mail, we also checked off animal-transport by taking a donkey-cart ride to our hotel on Gili Trawangan island in Indonesia.
The ferry to Busan was sold-out of first class cabins, which was actually a blessing, as we didn't have the desire nor the funds for such an expenditure.  So second class it was.  Second class cabins consist of 12 "spaces" on the floor, each with it's own one-inch mat, blanket, and pillow.  Although the pillows reminded me of those black blocks that photographers use when taking formal pictures.  You know, the ones you have to either sit on as a child, or put your foot up on for an awkward 'hands on knees' photo.
First impressions of South Korea
Compared to the 10 other Asian countries we've visited, South Korea is by far the most Western, and it actually reminds us more of the United States.  There are fast food and coffee shops on every corner, and nearly everyone is walking around with either a soft drink in their hands or some sort of sugary treat from a local desert shop.  What's crazy about the fast food places is that they are obsessed with packaging it.  It's almost like an art form or sport.  Who can package fast food the fastest, the most efficient, and most beautifully.  If you order a chicken sandwich, french fries, and a soda.  You will receive the following: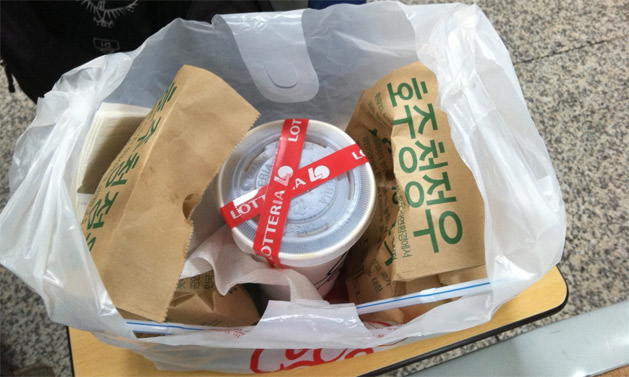 – Chicken sandwich wrapped in paper package, placed inside of paper bag, placed inside of the main plastic bag.
– French fries placed in paper package, placed inside of paper bag, placed inside a tied-up plastic bag with ketchup packets, placed inside main plastic bag.
– Soda in paper cup with a lid, two pieces of heavy-duty packing tape on top, inside a small plastic bag, placed inside the main plastic bag.
– So many plastic bags!!  Which is just adding to the Problems with Plastic Pollution!
South Korea Fashion
Japan also felt very Western, except that you still see many women walking around in traditional Japanese kimonos.  As you'll see in a minute, the fashion here in South Korea is a lot different.I am not a fashion expert.  It is obvious by the way I dress.  After five days in South Korea, I have attempted to put together a quick fashion guide so that others don't make the same mistakes I have.
1.  You must be a fan of the Cleveland Indians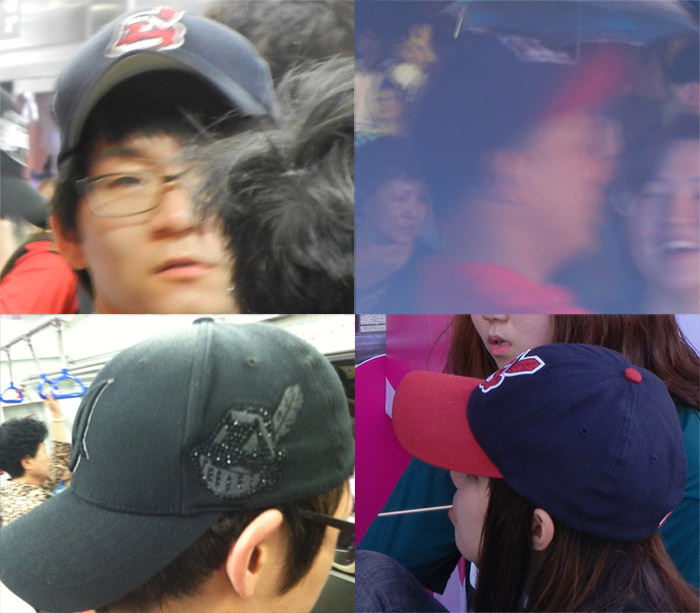 Koreans love baseball.  They have their own decent pro league here, but I seem to only see MLB hats.  There are a few Yankees hats, a couple Pirates and Giants hats here and there, but no team is more popular than the Cleveland Indians.  I think they just think the cute little indian logo guy looks like an anime character or something.  In four days, I've seen at least 50 Cleveland Indians hats.  In South Korea!
2. You must enjoy hiking
Well actually you don't need to enjoy hiking, just hiking gear.  Not cheap hiking gear.  Expensive, top of the line, state of the art, breathable, wearable, waterproof, you name it, hiking gear.  It is the number one style in South Korea.  Dress up like you are about to climb Mount Everest.  Not only is everyone wearing hiking gear, but there are hiking gear shops everywhere.  There has to be at least 15 North Face stores just in Seoul alone.  The funny thing is, I doubt any of these people actually hike, and even if they did hike, who wears their hiking gear to go out for a drink?  Every day we go outside, it almost feels like a competition of who can wear the most expensive, best-matching hiking outfit.
Even ran into to 60 year old guys in all out hiking gear, completely drunk, just riding around on the subway.  If they went hiking today, then they did it while carrying a lot of booze: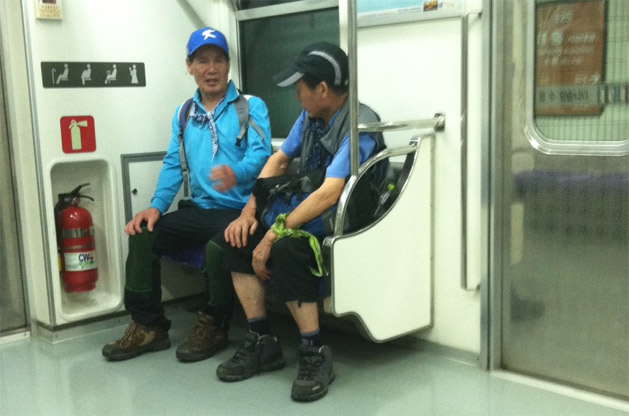 3. Once you turn 50, you must buy a fishing vest
The hiking gear is popular for ages 30-49, but once you hit 50, everything changes.  Because you are now older, you of course have so many more things to carry around with you on your way from the grocery store to home.  So do what 70% of the 50+ men in South Korea do: Buy a fishing vest and wear it everywhere.  I honestly can't believe how many of these vests I've seen in the last five days.  Hundreds.  Every subway car has at least four men in it with fishing vests on.  The only explanation is that they just love pockets.