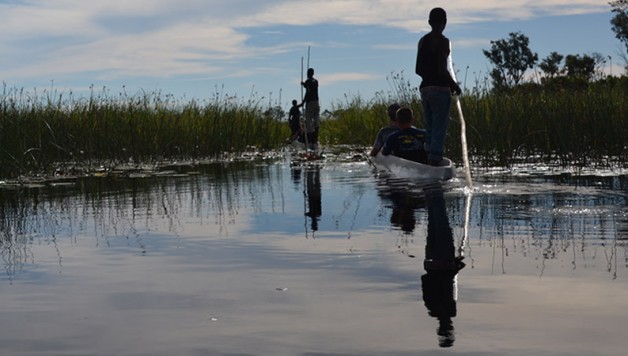 Navigating Botswana's Okavango Delta in Mokoro Boats
We're now over a month into our overland Africa trip, and after another day of driving on our Oasis Overland truck, we've found ourselves in Botswana.  Our first activity in Botswana is will be a three day trip into the famous Okavango Delta.  This delta is pretty unique in a couple of ways.  For one, at 15,000 km² in size, it's extremely large.  Also, while most river deltas eventually flow into a lake or ocean, the Okavango is actually absorbed by the Kalahari Desert.  It's even one of the Seven Natural Wonders of Africa!
Heading out to the delta
We start the day early, loading our food, cooking supplies, tents, and gear into the truck of our guides from Afro Treks.  The ensuing bumpy drive through water-logged village roads gives us a glimpse into the local community here.  This community provides the guides and boats we've hired and therefore receives much of benefit of our fees.  Over the next three days, we find out from our guide Kaizer that the community has really benefited from this tourism program.  Both male and female locals have the ability to train to be a guide, and they rotate the work evenly and fairly based on how much each guide wants to work.  It really seems like a great program to ensure tourism dollars get into the right pockets.
When we get to the boat launch point, we are introduced to the most unique boat of our African trip so far: the mokoro.  Now made of fiberglass, these traditionally wood canoes are long and narrow, and ride very close to the water.  Instead of oars, the boats are propelled by pushing off the ground with long poles, taking advantage of the shallow waters in the delta.  The person pushing is called, what else? A poler.
We set off, two passengers per boat, into the delta.  The ride is smooth and relaxing, surrounded by reeds, water lilies, and the occasional river frog.  We soon arrive at our little island and set up our campsite.  Our itinerary for the day is a bush walk at 5 pm (once the animals come out).  The time now: 9:45am.
We chat for awhile and prepare our lunch of pasta salad.  We kill time by reading, napping, playing cards, swimming near the boats, and a few of us even opt for a lesson in 'poling'.  After a good hour of practice, I'm still only zig-zagging into reed clusters. On my way back to camp, I see Dan similarly struggling with steering, so it must be hard.
Back at camp, it's still only 2:30. We start thinking this may have been a better one or two day trip, rather than the three we've booked.  Then again, the peace and quiet here in the delta is also very relaxing, even therapeutic.
Eventually we set off on our bush walk. We learn more about our guide, Kaizer.  He's the father of four children, ages 10-22, and supports both his parents AND his in-laws.  Could you imagine doing that?  Supporting yourself, your children and two sets of elderly parents.  It makes us feel good about where our dollars are going.  He teaches us a bit about native plants, including some of Kaizer's family medical remedies and other useful tips.  He shows us how his grandpa used to make rope by hand.  He points out that no one makes rope this way anymore now that you can buy it at the supermarket.  It makes you wonder how long people in this country will know about these ancient ways of living.  Hopefully Kaizer will pass this knowledge on to his children so they will know how their ancestors lived.  We even study some animal prints, but the only animals we see are a few zebra in the distance.
The next morning's activity is a short mokoro ride to a bush walk on another island.  It's beautiful scenery, but the wildlife that is commonly spotted in dry season is spread all over the delta in rainy season and are hiding from us today.  It makes us even more thankful for the amazing elephant experience at Elephant Sands a few days before. Our afternoon activity is a bit more fruitful: a 45 minute mokoro ride takes us to a hippo pool.  Three hippos are swimming around, submerging and surfacing as close as 20 meters to us.

After a pasta dinner cooked by three of our own group members, we are treated to some of the best entertainment of the trip. The 11 guides and polers sing and dance local songs for us as we clap along.  They clearly enjoy themselves, and continue on long after they announce "last song". Another group of guides from a nearby camp join in, and the dances grow more extravagant as the singing gets louder.  There is something special about performances like these.  It really makes you appreciate other cultures and the unique music and dancing styles that each has.  Dan ranked it as one of the best moments of the trip.
All in all, the Okavango Delta trip is just what our Oasis tour leader, Joe, said it would be – what we make of it.  A lot of down time forced us to entertain ourselves, but the few activities were an amazing local experience and well worth the trip.