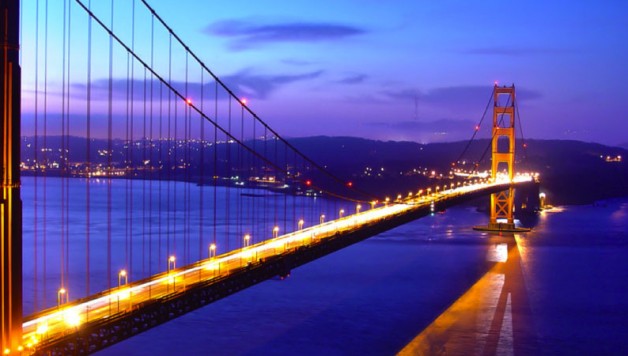 The Must Take Family Road Trip in the United States
The US is arguably the ultimate destination for a family road trip. With such a variety of different scenery and attractions, pre-planning is essential to ensure you get the most from your visit. You are best of visiting during summer, so you can cruise the iconic highways with your window down, shades on, with the Beach Boys or The Doors blasting out of your stereo to complete the vibe (let the kids listen to One Direction on their IPod!). There are countless routes to take, but here are some suggested hot spots between San Francisco and Los Angeles.
West Coast Dream: California and Nevada
Starting off in San Francisco, you can explore The Golden Gate Bridge, check out the sea lions basking in the bay, and visit the famous island prison Alcatraz, which is incredibly eerie and filled with interesting tales of previous inmates.
Next, head South down the coast where you can stop of in the picturesque town of Monterey, which is awash with art galleries, great restaurants, bars and shops.  If you have time, try out the picture perfect town of Carmel, where you can soak up the atmosphere in one of the most immaculate looking places I've ever visited.
Yosemite National Park offers breath taking scenery and you can choose to visit for the day, or spend a few days hiking or even skiing. The landscape changes dramatically once you drive on four hours through to Death Valley, which is home to the fascinating Furnace Creek visitors centre and museum.
Next stop is the bright lights of adult's playground Las Vegas, which is awash with casinos, flash hotels and entertainment. Although aimed more at adults, there's plenty to keep the kids happy, including Adventuresome, an indoor theme park at Circus.
Moving onto Los Angeles, home to Universal Studios, Hollywood, Disneyland and Venice Beach to name just a few attractions, you are spoilt for choice with things to do here. If your kids are a bit older and you consider yourselves thrill seekers, I highly recommend you take a detour trip to Six Flags Magic Mountain in Valencia. By far the best theme park I've ever been to, it is not for the faint of heart.
Heading back to San Francisco for your flight home, wine lovers should definitely check out Napa Valley, home to many award winning vineyards. Film lovers should note that Francis Ford Coppola has his own winery here, and visitors can not only sample some fantastic wine, but view props from some of his legendary films, such as The Godfather.
Get more for your dollar
It goes without saying that a trip of a lifetime such as this one does not come cheap, but there are a few ways to make your bucks go that little bit further. Always book car hire prior to your trip, the earlier the better to get the cheapest prices. Using credit cards abroad can often add a 3% charge onto each transaction, however there are certain cards on the market that do not load this fee so you'll end up getting rates that beat even the best bureau de change. To keep the kids happy for long periods of time in the car, don't forget to download a free booklet of games and puzzles useful especially for kids enjoying puzzles such as Tic-Tac-Toe, hangman and other road trip.