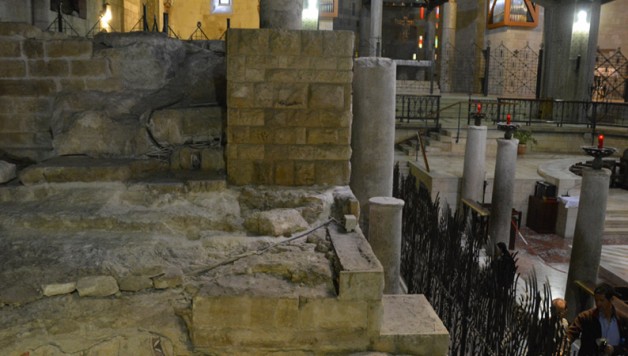 Jesus Would Shop at Wal-Mart: Tel Aviv to His Home Town of Nazareth
One of the best ways for Alissa and I to cure travel burnout is to convince people to come visit us somewhere.  Having a familiar face or faces around for a week or two always makes us feel like our normal selves again.  We got to spend a few days in South Africa with my aunt, and it didn't take us long to convince my parents to come visit us in Israel after we added a tour of the Holy Land to our trip itinerary.  We were even able to match up our flights so that we all arrived in Israel within a couple of hours of each other, giving us the theatrical Hollywood-style airport reunion.  The four of us have signed up to do a tour with a company called Israel Christian Tours, and will be spending the next eight days making our way from Tel Aviv to Nazareth, around the Sea of Galilee before heading back south to Jerusalem and the Dead Sea.
A quick stop in Tel Aviv
We flew into Tel Aviv a day early in order to spend some time in Israel's most-modern city.  We spent our day walking along the beach in Tel Aviv and just experiencing the city by foot.  We were all impressed by how nice the beach is here, as it reminded us of being in Miami or San Diego.  Even the weather today felt like we were in Miami.
We walked to the southern tip of the city where the ancient port town of Jaffa is located.  Jaffa is basically the city that was here in ancient times before Tel Aviv, and it even has some original buildings left from those times.  It is also the port where Jonah supposedly left from when he was swallowed by a whale.  Jaffa also has a great flea market that we were able to explore.  There were some great antique shops scattered around the flea market that sold a lot of interesting and creepy things.  Like babies in cages (pictured on the right).
Tonight, we had hoped to find a sports bar to watch Wisconsin's first round NCAA tournament basketball game, but sadly the sports bars here don't get the TruTV channel.  Instead, we had to watch Ohio State lose, which was almost as good as watching Wisconsin win.  The sports bar was over-priced and didn't have the Wisconsin game on, BUT they did have wine and Mexican food, making the night just fine!
Nazareth: The Rhinelander of Israel
In the morning, we are picked up from our hotel by our tour guide Mark.  He is originally from the Netherlands and came to Israel for a two-month trip that turned into a 12-year permanent trip after he met a girl.  It is great having him as a guide since he has both an insider's and outsider's perspective on to this country.
We head to Nazareth, the boyhood home of Jesus.  It's interesting to try and think about what the town must have been like 2,000 years ago.  For one, it wasn't really a town.  In fact, 2,000 years ago it was barely a village.  Based on archeological findings here, Nazareth could have been no larger than 100 or so people, all of whom lived in caves.  There's a funny quote in the Bible where a man learns that Jesus is from Nazareth and says "Nazareth! Could anything good come from Nazareth?" The guy in the Bible is basically the equivalent of a New York City resident who thinks he is the center of the universe and is poking fun at a guy for being from a small middle-of-nowhere town.  It reminds me of when Alissa has to tell people she's from Rhinelander, and they give her the "Where's that? Canada?" response.  Knowing that Jesus was a small-town guy, I think it's also safe to assume that if he was born today under the same circumstances, that he would enjoy country music, trucks, PBR, and shopping at Wal-Mart.
The city of Nazareth is obviously much different today.  The population has grown to over 80,000, and although it's been the center of some religious tensions between Christians and Muslims, it has really become a nice and safe modern city.  It's even known as the Arab Silicon Valley due to it's high concentration of tech companies.  Although we are here to see the ancient ruins part of the city, it is hard to imagine this as a tiny village as we drive past modern building after modern building—Yes, even a kosher McDonald's.
The main Christian site here is the Basilica of the Annunciation, located on top of the ancient Nazareth ruins, and what is to believed to be where Mary, Joseph, and Jesus would have lived.  The church built a courtyard directly over the ruins so that archeologists could still dig below.  We are unable to walk through the ruins, but just see them from an observation point:
Built in only 1964, the Basilica of Annunciation is actually quite new relative to other churches in Israel.  It was dedicated by Pope Paul VI and it's actually the largest Christian sanctuary in all of the Middle East.   The church itself is built on top of the ruins of a 4th century chapel which was believed to have been built on the cave where Mary was visited by the angel Gabriel.  There is an alter placed in that spot, and visitors are allowed to walk past and see it, or stop to pray and reflect.
What I love about this church is that it is really three churches in one.  The first church mentioned above was built in the 4th century and was just a small shrine on top of a cave.  The second church was built around the year 1100 by the Crusaders on top of the shrine which by then was in ruins.  That Crusader's church was destroyed and rebuilt many times over the next 800 or so years, until it was finally decided to build this new basilica in 1964.  However, they decided to keep parts of the first two churches in the designs.  Look at the picture below—The middle cave-looking structure is the 4th century shrine, the wall in the very back is the only remaining part of the Crusader's church, and everything else was built around it in 1964.  A most-unique church that is visually spectacular.
We end our time in Nazareth by heading across the courtyard to the section of the ruins where they found an ancient workshop, now believed to be the workshop where Joseph would have worked back in those days.  Another church has been built on top of that site, known, of course, as St. Joseph's Church.
Tomorrow we head to the Sea of Galilee!
.
.
ABOUT THIS TRIP:
Alissa, my parents, and I are currently on an 8-day Holy Land Tour with Israel Christian Tours.  See our other posts about Israel.