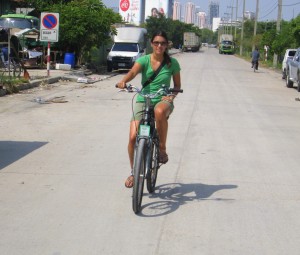 After over a week in Bangkok, I still feel totally lost all the time. The road are winding, and the addresses and street names totally confusing. I looked for a bike tour to explore the city more without having to venture out on our own. I found one near our hotel, Follow Me Bicycle Tours, and booked a spot for this afternoon. (Dan opted to stay at the hotel)
I find the tour place ok, with my phone's google map directly in front of my face the whole time (it was 3 turns, but still, so confusing). I take off with the guide, Tob, a couple from New Zealand, and a Russian girl. We start on a very busy road, staying single file on the left with cars swerving around us. We make a few turns with Tob blowing a whistle and holding his hand up to stop the cars, and make it to a calmer area. Our first water stop is at a home of a famous local politician and writer turned into a museum. Its one of the few green spaces near the city center, and full of shrines, books, and fountains.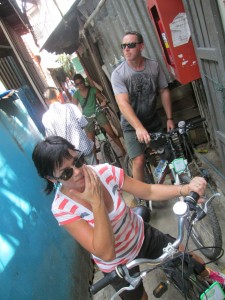 The next leg of our journey is a strange one – the roads we are on turn to alleys, and we make our way over bumpy, broken cement through what feels like people's homes. The photos don't quite show how narrow it is, or the people sitting in the doorways inches away from our handlebars. We come to a clearing, then follow Tob's lead and pick up our bikes and carry them over railroad tracks. I read that Bangkok is trying to be more of a bike friendly city, and so far, I'm not buying it.
We take another break on a canal where a friendly local serves us soda. We then pick up our bikes again, this time to put them in a boat and cross the canal! We land on the other side, and follow Tob into a jungle of tall trees and canals, splattered with homes and fruit trees. We learn that this area is Phra Pradaeng, and is nicknamed the "Lung of Bangkok". Its a protected national park and agriculture area, full of plant cleaning the air from the dirty city.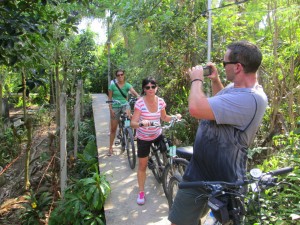 We tour the northwest part of the lung, stopping to throw fish food into a pond in the national park, then again a bit later for the best pad thai I've had so far. We head back to the canal on a different road, this time seeing more of the local village. We cross the canal in the same long-tail boat and bike another 30 minutes or so through even more narrow alleyways. The Russian girl in our group looks a little nervous on a bike still, and tips over after swevering around a woman who stepped in front of her (use that bell!). She has a small scrape, but really, I'm not surprised it didn't happen early in the tour, or to me!
Compared to my last tourist bike tour, in the bicycle capital of the world, Amsterdam, Bangkok is not a city I like biking in. But I did have a great time seeing new areas of the city and getting some exercise!  The people on the tour were amazing too, including a couple who were here to find teaching jobs in Thailand.  They seemed really excited about moving to Bangkok, and I had a great time hearing about all their future plans.