Gili Trawangan Island First Impressions
Travel days bring conflicting emotions – the sadness of leaving a great place (Ubud, in this case), the excitement of the journey, anticipation of the new destination, and the physical discomfort of being tired, hot, thirsty, and sitting on a range of rock hard surface on a vehicle with little to no shock absorption (we'll get used to it eventually, right?).
We arrived in Gili Trawangan (Gili T for short) on Saturday via a typical string of transportation methods – bumpy shuttle van, disorganized ferry boat, and local taxi, in this case a horse-drawn cart.  My forehead is instantly sweating as I notice how much warmer it is here than Ubud, which we already thought was hot. We meet our hosts from Gili T & B Homestay and get a quick tour of the place.  The room is sparse but nice and clean.  We chat with Lol and Mark, the British expats who just recently left their homes to pursue their dream of opening this guesthouse, a cool story we can relate to. We look forward to getting to know them better.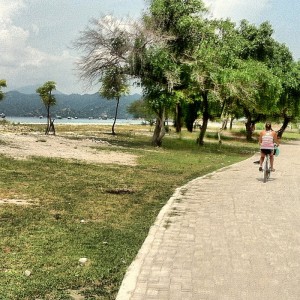 We explore our tropical surroundings the way we always do, a long walk with very little clue to where we are going.  It turned out to be pretty simple: there is one main road that goes all the way around the island, and most of the hotels and restaurants are on a strip of this road about 1 mile long.  We are sharing a side road with a Thai restaurant (that happens to be #1 on TripAdvisor) that comes out about in the middle of this main strip.
We walk the entire length of the strip, staring at the awesome beach-side bars and restaurants, pounding club music (how far do I have to go to escape Flo Rida's Whistle Song?),  sunburnt tourists, and shopping stalls with owners beckoning us to take a look.
We rented a bike and booked for the next 5 days, then navigated the road through the horse-cart/biker/pedestrian chaos. Seriously, does anyone know what side of the street we are supposed to be on around here? All I've gathered so far is everyone picks a side of the road, rides until they run into someone else, plays an awkward game of chicken, the rides on the other side of the road until it happens again.
We head back to our room, eating dinner at the Thai place on the way.  We intended to go to a bar for a few beers after sending a few emails, but I passed out with the computer on my lap, so our bar night is postponed for now.  Dan stayed up late watching the Tottenham game on his computer. Tomorrow its more exploring and maybe surfing!