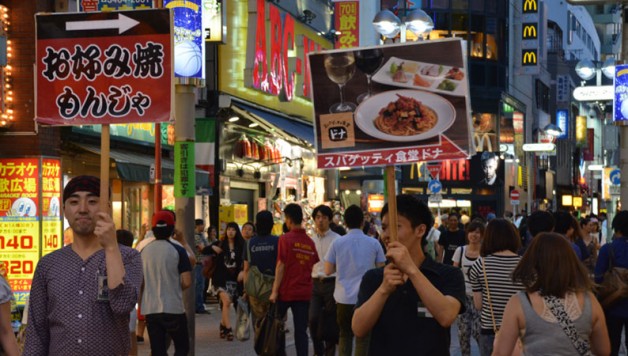 A Return to Tokyo: First Impressions of Japan
OK, well technically these are not our first impressions of Japan.  We spent 24 hours in Tokyo back in 2010, but back then we barely had time to truly see much of Tokyo, much less develop any sort of impression of this country.  This time around, we have four days in Tokyo and five days in Southern Japan, which is still not much time, but we are excited to get a better sense for Japanese culture while we're here.  Getting to Tokyo involved two more flights on AirAsia, bringing our total number of flights with that particular budget airline to six in the last three months!  Cheapflights on AirAsia is quickly becoming our most popular way to get from city to city, and we are sadly starting to get used to no free beverages, little legroom, and crappy terminals!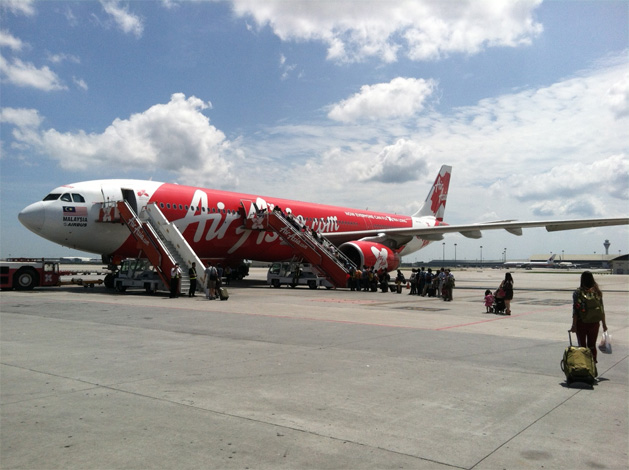 We've spent two days of wandering around this mega-city, and here are the first thoughts that we have: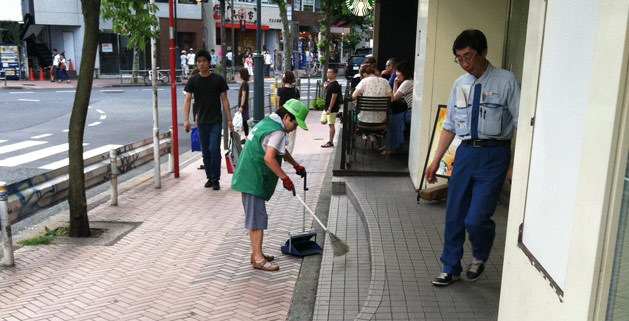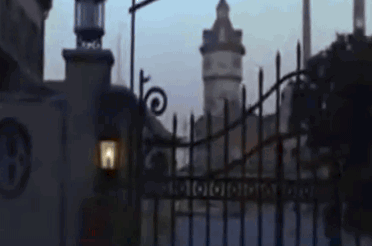 After four months in Southeast Asia, the contrasts in Tokyo is total culture shock.  The biggest difference is the overall cleanliness of the city, especially the sidewalks.  The sidewalks in Southeast Asia (if you can even call them sidewalks) are in terrible condition.  In Laos, we almost fell into large holes numerous times, in Myanmar we had to walk around garbage, in Vietnam we had to navigate around parked motor bikes and tree roots.  But here in Tokyo, the sidewalks almost feel like artwork.  They are so clean, you could eat off of them.  If any garbage is dropped on these sidewalks, it is picked up within minutes by one of the many sidewalk cleaners, all of whom are equipped with a creepy tinker's cart like the one in Willy Wonka & The Chocolate Factory:

 For the first time in months, we are no longer getting hassled to buy something every time we step outside.  By the time we got to Vietnam, we were experts in saying no.  But here in Tokyo, it's been quite the opposite.  There are very few street vendors, and the restaurants and shops that do have salespeople outside only seem to bother the local Japanese residents and tourists.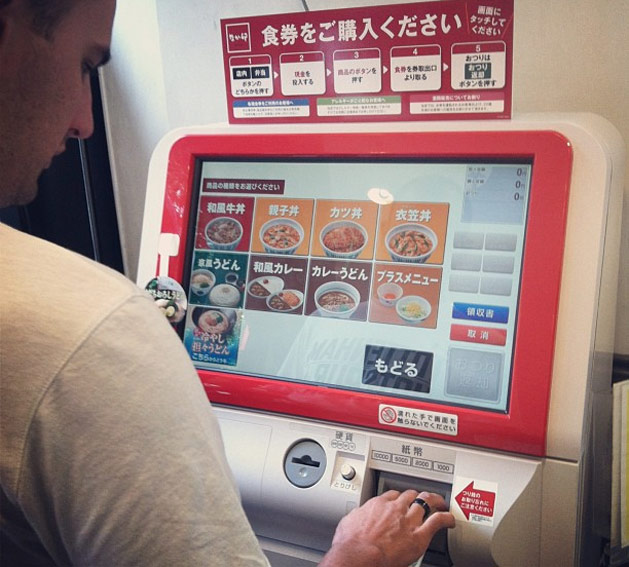 The language barrier here is harder than most places we've been, however even though we can't talk with many people, it is still very easy to do daily tasks like order food, get around on public transit, etc.  Most signs have Japanese and English, or are crystal clear what they say.  Something interesting thing about the locals here is that even after they realize you don't speak Japanese, they will continue to talk to you in Japanese as if maybe we'll eventually catch a word or two we understand.  I don't fault them for this because this is EXACTLY what people in the United States will do to someone who doesn't speak English.  I do it all the time: "Maybe if I just say it louder and more clear, this Chinese person will understand me…"  At restaurants we usually just say "I'll have what he's having, and point to something that someone else is eating that looks good."  A lot of the quick serve restaurants make you order at a machine first, then bring your ticket to the counter.  Some of the machines have pictures to press, which is easy, but several times we've had to just press a button to order a dish in which we have no clue what will come.  I got a big bowl of garlic, liver sausage soup last night for dinner thanks to this game, and although it tasted good I can't really talk to another human yet without immediately announcing to them what I ate last night through my breath.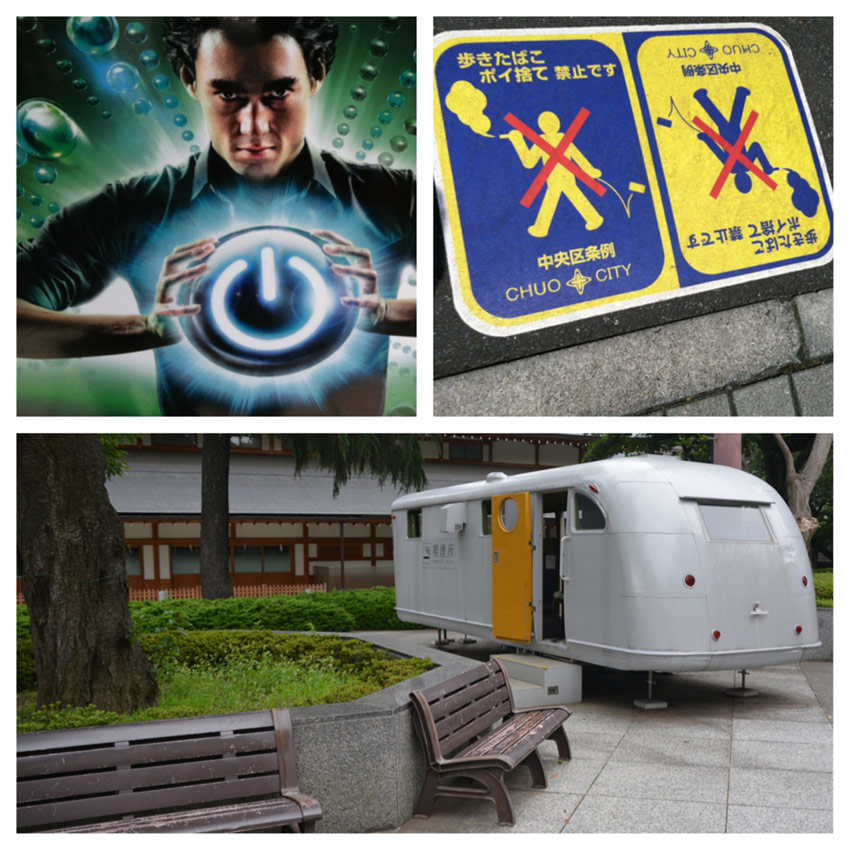 The smoking culture here is very bizarre.  Here are the rules I have figured out after two days:
You can't smoke outside in any public place, EXCEPT for designated smoking areas and rooms.  These range from little spray-painted squares on a sidewalk to actual smoking trailers like the one pictured above.  Many sidewalks are painted with "No Smoking" signs that face both ways so no matter which direction you're walking, you'll know not to smoke.
You can, however, smoke in most bars and restaurants.  I'm at a Starbucks now, and it appears coffee shops can ban smoking on their own, but every bar we've been in so far has had a lot of smoking.   In Japan, smokers have to go inside to smoke!  Although I must say, I have also seen those handheld vapes everywhere (Find out more about portable vaping at www.davincivaporizer.com). It has become the trend here in Japan too. People are vaping but not really sure if same "smoking rules" apply since it's really not smoke but vapor. I guess it should too.
There are cigarette vending machines EVERYWHERE.
The advertising of cigarettes is really amazing.  It reminds me of the old days in the U.S. with Joe Camel in his neon green sunglasses making smoking look awesome.  The ads on the cigarette machines make cigarettes look like candy.  One has a picture of the filter with glowing blue and green dots showing where the flavor bursts are.  Honestly, I've never seen smoking made to looks so damn fun and exciting!  The photo in the top left above is from a Japanese smoking ad and has something to do with smoking… Maybe it means "Turn on your life", who knows.

 Last but not least, how awesome are these two helmets, actually worn by Japanese warriors in the 14th century?