Our Favorite City in China: Xi'an and the Terracotta Army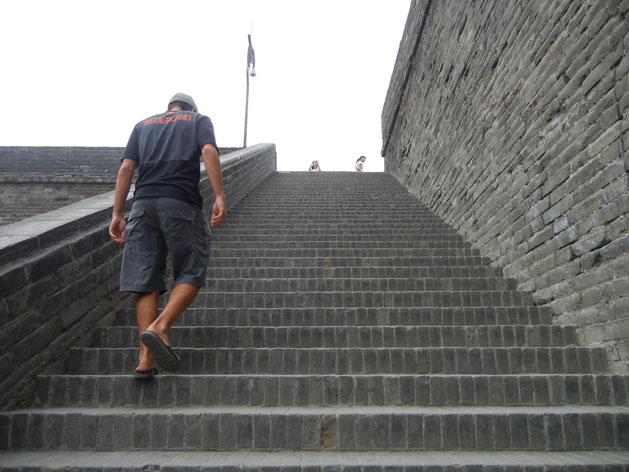 After a week in exotic rural China, we were ready for a little familiarity. Xi'an, China, is a city of 14 million people, and a really interesting mix of western influence and traditional Chinese attributes. For example, we started our sightseeing with a couple of Subway subs (that we'd been craving since eating our share of oily soups of greens and stewed tomatoes) and spent the rest of the day wandering around the Artists' Quarter. This ancient collection of streets has dozens of market stalls with handicraft statues and paintings, but also, unique shops selling scrolls and canvases with calligraphy, a Chinese art that has been around since the language itself, over 6,000 years.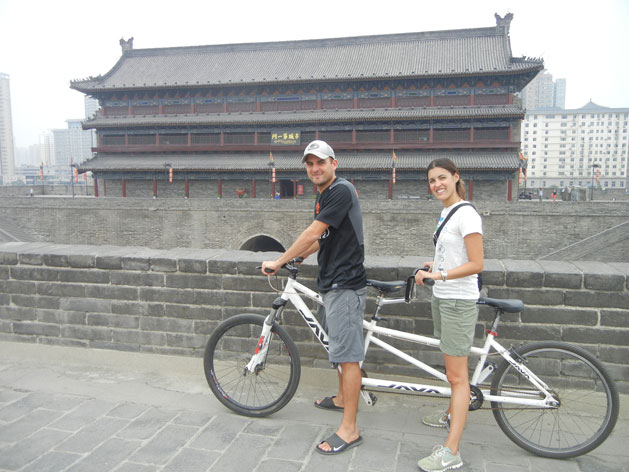 The next day, we rent a tandem bike to bike around the city wall. Xian has the oldest and best preserved city wall in China. It is 12  meters (39 feet) high, and has many original features. As we ride past signs explaining how archers shooting from the tops of the walls protected the city, we can hardly comprehend the age of this thing, and what the city might have looked like when it was first built.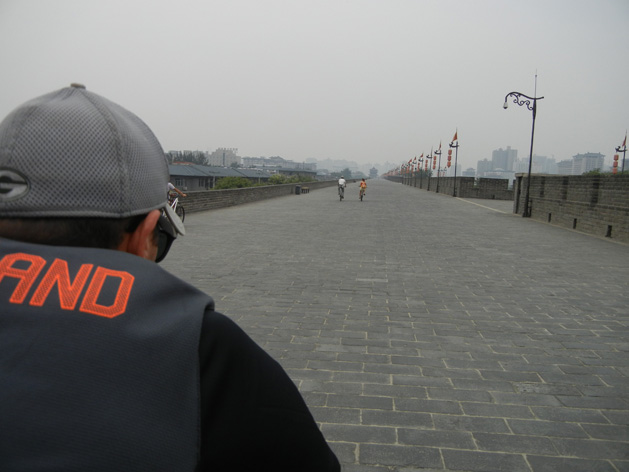 On our third day, we book a trip to see the Terracotta Army, which is the main reason we came to Xian. The visitor center is really well laid out, which is a good thing since there are hundreds of people that visit every day. Three "pits", large warehouse-type buildings, house archeological digs currently excavating over 8,000 terracotta clay soldiers and horses crafted over 2300 years ago by the first emperor of China, Emperor Qin. Qin was believed to have ordered these soldiers created to protect his tomb.  (Qin very much feared death, and, ironically, died by taking mercury pills that he believed would make him immortal.) An instructional video teaches us that each soldiers face is unique, presumably because each was modeled after a slave worker.  To keep the tomb a secret, all the slaves were then killed at the completion of the project.  Which makes it even crazier to see these life-like statues staring back at you.  They are the faces of the murdered slaves who built the statues.
The Emperor's actual body is in a nearby man-made mountain and remains underground until preservation technology progresses enough to safely dig it up, which is really incredible foresight in our opinion.  Another fascinating part about the warriors: the first was discovered by a farmer digging a well in 1974.  The warrior that the farmer found is the only fully intact sculpture found. What are the odds? The farmer went on to write a book, and now sits in the gift shop of the museum like another artifact.  Which is actually quite creepy.  He is 80+ years old, and spends all day sitting in a gift shop on top of his families old farmland.  He almost looks like a prisoner.
Beyond the typical sights in Xian, we had a great time thanks to our personal tour guides, David and Katrin, who we met while horse trekking in Langmusi.  They are currently teaching English here, and showed us a variety of local hangouts and interesting food.  Paomo (crumbled unleavened bread in mutton stew) in the Muslim Quarter, green noodles and grilled meat, and the best pizza in town at Traveller Cafe. And by the way, they have a beer pong tournament in the downstairs bar on Wednesdays, and I can proudly say that Dan and I still have some of our college drinking game skills still, and claimed the first place prize of a bottle of vodka for our table.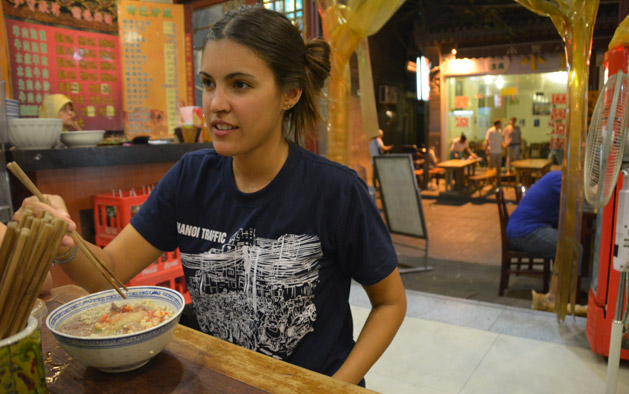 Our only bad experience in Xian happened the last day, at the train station.  I don't think I could adequately describe how awful this place is, but I'll try.  We get out of a cab and see a crowd of hundreds of people, some waiting or sitting with bags in the street and parking lot, some pushing and shoving into various entrances. We show an employee our tickets and he points to one of the "lines", which was more like a funnel, or a mosh pit with luggage. Dan gets to the front with me clutching onto his shirt behind him, we have our tickets checked and get into another funnel to have our bags scanned, and then a third shoving crowd to bored our train. I've never been so annoyed with humanity. Nowhere in China was this bad, although we saw our share of line-jumpers.
Here is our Facebook album from our trip to the Terracotta Army:
[fbalbum url="https://www.facebook.com/media/set/?set=a.439897702793332.1073741845.313060352143735″]