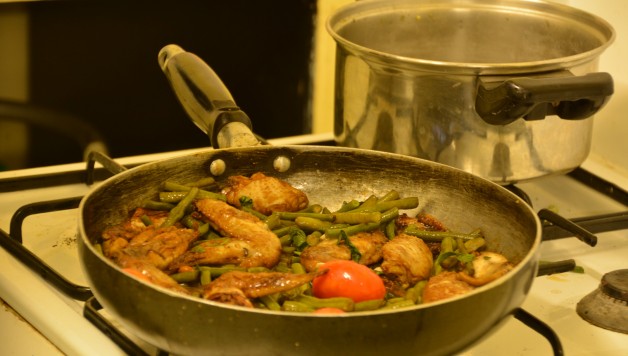 Cooking on the Road: Port Villa
This is the first post in my new travel cooking series.  Since we aren't usually in once place for longer than a week, my goal of cooking on the road is tasty meals with few, reusable ingredients.
Right now, we are just ending our first 2 days in Vanuatu, where we are staying at Jabsina Guesthouse in Port Villa.  We'll be visiting the island of Ambrym for a week starting tomorrow, and then we are headed back to this same guesthouse, which has a nice fridge, gas stove, pots, and cooking utensils. Our hosts also pointed out coconut, mango, orange, and breadfruit trees on their property, and invited us to pick some fruit.  (Fun!)
In Vanuatu, they have a large local vegetable market, as well as numerous supermarkets. I always buy local as much as possible, so I started at the market.  After an initial lap around to see what was common (therefore cheap, and likely the most fresh), I picked up sweet potatoes (bag for 250 VATU), string beans (150 VATU), and cherry tomatoes (300 VATU). (Total: 700 VATU, or about $6.30 USD). For seasoning, local basil (100 VATU) was my choice  for bargain flavor, since things like salt, sauces, and condiments are imported, therefore are more expensive and sold in a bottles that are much larger than we would need.
I then stopped at a supermarket to see what they had, and got a package of about a dozen chicken wings for 200 VATU. I also browsed the seasoning aisle just in case, and found a small bottle of soy sauce for 60 VATU, or about $.50 USD, so I picked that up as well.  I grabbed a small tub of margin for sauteing  and of course local beer, and headed back to the guesthouse to cook.
Here are the recipes I cooked for 2 of us.  For a total of about $11 USD, I made 3 meals, and have some ingredients left for when we return to Port Villa after our stay in Ambrym.
Sauteed Veggies
4-5 small sweet potatoes
1 cup cherry tomatoes
1 cup chopped green beans
Torn fresh basil, 4-5 stems or to taste
2-3 tablespoons oil, butter or margarine
Boil the potatoes for 15-20 minutes until tender, adding the green beans in the last 10 minutes. Drain.  Add oil or butter to the empty pot, then return the potatoes and beans to the pot.  Add the tomatoes and basil, and stir.
Island Chicken Wings
12 chicken wings
2 cups chopped green beans
Handful cherry tomatoes
¼ cup soy sauce
1 orange (preferably picked from a tree in theyard)
Torn fresh basil
2-3 tablespoons oil, butter or margarine
Fry the chicken for in the oil or butter in a large frying pan for 15 minutes or until well browned.  Meanwhile, boil the beans.  Turn frying pan heat to low, add the soy sauce and squeeze the juice from the orange into the pan.  Drain the beans.  Add the beans, tomatoes, and basil to the pan, stir, and simmer for 5 minutes.
I recommended enjoying both of these dishes with a glass of coconut water from a coconut in your yard, or some cold Tusker beer!