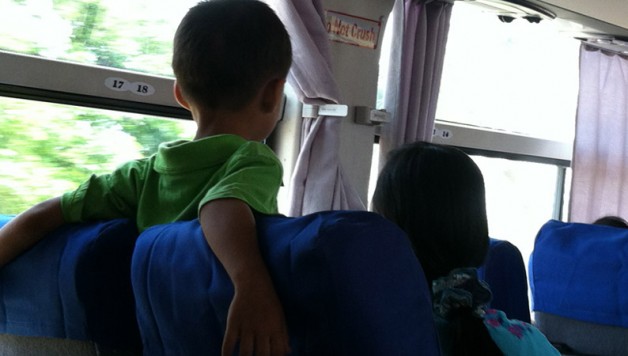 "Are we nearly there yet?"
Arrrrgggh!!
Who's heard this a million times before?
Traveling with children can be somewhat frustrating to say the least, as tiredness and excitement can turn even the most mild-mannered child into a Tazmanian Devil, however there are ways to keep a bit of calm in the middle of a frenzied storm.
When you're planning your holiday, if you can, try and pick a flight that is in the middle of the day. That way nobody is going to have their sleep pattern disrupted, as breaking routine can be one of the factors in over-tiredness. Of course, no child who has been promised a dream holiday to Disneyland will be sleeping that much the night before, but you never know your luck!
If you do have to go for an early flight, a good option is staying over at a hotel the night before, so you're settled well before you fly. Whichever option you go for, I can't recommend one idea highly enough, and that is driving yourself to the airport. Airport parking offers so many perks it's hard to pick the best one, but getting your kids into the car, with their own surroundings and maybe a DVD, will do wonders for settling them down, and avoids the stress of trains and coaches. Wherever you're flying from, you'll find a service, such as the fantastic facilities for Luton Airport parking that I regularly use, and have never had reason to complain, and always found a fantastic deal to boot. I've also found, more recently, that you can add a hotel to your booking for very little extra, with large discounts on packages. I went to Airparks when looking for Gatwick Airport hotels and found an absolute bargain.
Another good option for saving money is to fly from the capital, as this is where the cheaper flight prices are, you'll probably find you'll save money on a regional flight.
Once you're at the airport, it's all about keeping the little darlings occupied, and that can be difficult in a large and busy departure lounge. A sit down meal is always a good choice, so head to one of the restaurants in the terminal for a family meal, as this will add normality and routine to the day, and means everyone gets a good feed, and you're not flying on soggy sandwiches and crisps throughout your travel day.
A charged up Kindle or iPad can work wonders to pass the time, but if you're kids are too young to enjoy such technical gadgets then you can't go too far wrong with packing a small backpack of toys and coloring books etc. Basically it's all about keeping calm, and trying to instill a little normality into what is essentially a very abnormal day!
Hopefully sleep will come whilst you're on the plane, but again the iPad could save you with a few pre-downloaded movies, or alternatively, there will probably be inflight entertainment if you're going long-haul.
However you manage to get through your travel day, remember the end result, as family holidays really are something special and to coin a cliché, where memories are made.