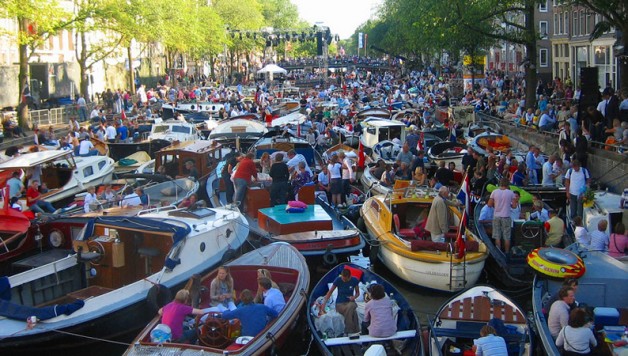 Events to Visit in Holland in August 2013
If you didn't have your summer vacation yet, don't get upset, you're not alone. I didn't have a chance to have mine either. But now I'm in the very process of planning one, so I'm going to share my thoughts with you.
Being a huge fan of music I cannot miss "A Campingflight to Lowlands Paradise" or as it is always shortened to "Lowlands".  It is one of the most popular summer music fests in Holland attended by approximately 55 000 visitors annually. This year it will be held on 16 – 18 August in Biddinghuizen. The festival focuses mainly on rock, pop, dance and hip hop. Alabama Shakes, Kodaline, The Lumineers, Polica and Slayer are expected this year. The rest are to be announced. Throughout the three days of Lowlands over 200 shows are held on different stages.
Among other great music events in Holland this summer is Luminosity Beach Festival.  Luminosity's 2013 edition will feature sets by New York-based producer Sean Tyas, Irish DJ John O'Callaghan, Paul Oakenfold etc.
The event will be held on the Amsterdam city beach Blijburg aan Zee on 17 and 18 August for a whole weekend.  It is fully dedicated to trance music. Even though I'm not a huge fan of trance music the location is pretty tempting.
Being a tourist in Amsterdam one should take tons of pictures of the city canals. You'll have such an opportunity during the Grachtenfestival Amsterdam (Canal Festival). It is a ten-day festival of classical music at different very interesting locations. Since the year 1998 it is considered one of the greatest cultural events in the city.
The locations for concerts are chosen really carefully. There will be about 150 of them in such awesome locations as hotel suits, tube tunnels, rooftop terraces, cruise ships and gardens. Moreover, very often they are free of charge. The main event of the festival, however, is the Prinsengracht Concert. This is a must see performance that will be held on a ponton on the canals. And the audience will admire it from the small boats.
If you are willing to head outside the city of Amsterdam and visit an extremely dazzling show, I think a great ideal will be to go to Rotterdam. On August 18th Rotterdam becomes one grand racing circuit during Bavaria City Racing.
The demonstrations at Bavaria City Racing present highlights that you've never seen before. In the very center of the city one will have the opportunity to admire the greatest machines and drivers. Formula 2, Indy Car, Super League Formula, Dakar trucks, and Formula 1 cars are included into the show. Ferrari's, Porsches, Aston Martins and countless other cars and motorcycles will put up quite a performance. Next to cars, trucks and motorcycles, Bavaria City Racing doesn't lack show and parties.
By Maria Silko
The author for Holland.net