Discovering the Tea Villages of Myanmar's Shan State
Mandalay to Hsipaw
Our second week in Myanmar has us exploring the Northern Shan State of this beautiful country. After a couple of days in Mandalay, we have now found ourselves on another train, headed to the town of Hsipaw to embark on a two-day trek into the hills to visit the local villages.  This train ride isn't as crazy as our train ride to Bagan, but it is definitely a close second.  This 11-hour ride does not have sleeper cars, but we are still in "upper class".  The train seats in upper class are actually old first-class airline seats from what appears to be the 1970's.  If you can't afford to fly first class back home, riding Upper Class trains in Myanmar for $8 is a great way to finally get your big comfy seat!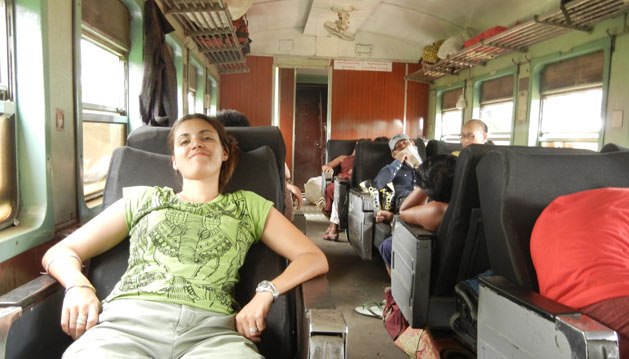 By far the coolest thing about the Mandalay to Hsipaw train ride is when we pass over the Gokteik Viaduct.  At 330 feet, this monster bridge was the largest train bridge in the world when it was completed in 1900, and was also built using American materials.  The British Empire wanted to expand their influence in Burma, and this bridge allowed them to reach further Northeast into the Shan State.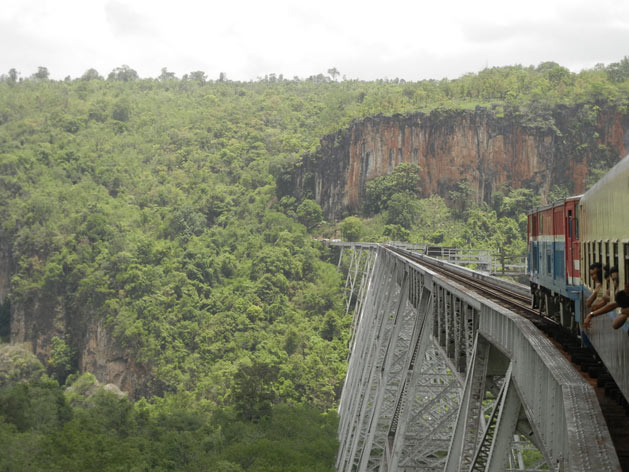 Trekking from Hsipaw
Our trek starts in the town of Hsipaw, elevation: 800 meters.  Our destination is Pankam, a Palaung village about five hours away, elevation: 1,800 meters.  We will be staying the night with some local villagers, then trekking back along another route back to Hsipaw.  1,000 meters up, 1,000 meters down.
We have hired a guide named Saw from our guesthouse, Miss Lily's, to help us not only navigate the mountainous path, but also to translate our conversations with the local villagers.  Anyone who knows me well knows that I am not the most savvy outdoorsman, and doing this trek alone would be a guaranteed night spent lost in some jungle swamp swatting mosquitos.  Right before we leave, a young British guy shows up at the guest house after spending the night on an over-night bus from Inle Lake.  He asks if he can join on the trek, and we are more than happy to add him to the crew that now consists of four.
We don't have room in our small backpacks for heavy-duty hiking boots, so we are wearing our light-weight running shoes instead.  We are told the first mile or so has a lot of rivers that we walk through, so Alissa is starting out wearing her trusty flip-flops.  Our guide is also wearing flip-flops, and is planning on wearing them for the entire two-day trek.  In this entire country, I don't know if anyone owns a pair of shoes.
It finally happend
The first hour is definitely as wet as Saw described it would be.  A few times we find ourselves wading in water nearly up to our knees.  Soaked shoes are normally very uncomfortable, but the 90 F / 32 C  heat makes the wet shoes somewhat of a nice relief.  And then it happens.  We knew it was going to happen eventually, but we were just not emotionally prepared for this.  Alissa broke one of her prized flip-flops.  Flip flops that have traveled with her for not only this trip, but countless other trips all over the world.  We need to stop and gather our thoughts for about fifteen minutes before we are ready to continue on.  These flip-flops were the closest thing we had to a child, or a pet… Alissa ties the flip-flops to the back of her bag, and changes back into her running shoes.
 Reaching the villages
The higher we get, the lower the temperature goes.  After 10+ days in hot, dusty weather, this cool mountain air feels like I'm breathing right out of an oxygen tank.  Like those old people at the casino slot machines.  The scenery also turns more beautiful as we climb higher and higher.  There is only one thing that is bothering me as we walk.  Many of the mountainsides have been completely stripped of their trees by slash and burn agriculture practices.  This is something we read about in Laos, but it's the first time I've seen it with my own eyes.  I am not an expert, but just by looking at these blackened hillsides I can tell it isn't good for the environment.  Laos has taken some steps to avoid this type of farming, but I haven't had a chance to read up on what, if anything, Myanmar is doing about it.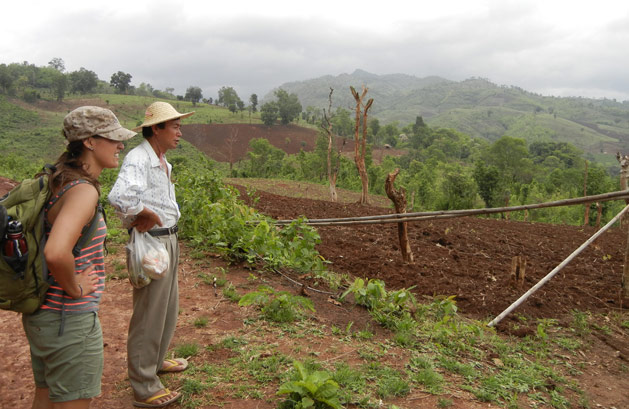 We now begin seeing villages every hour or so into the walk.  Each time we come to a village, we are invited in to someone's house to drink tea and rest.  The tea we are drinking was picked just days earlier and is some of the freshest tasting tea I've ever drank.  After 30 minutes at each village, we are back on our feet and back on the trail.  We are passing tea field after tea field, many of which are currently being planted by hand by happy, singing villagers.  It's so beautiful.  Just add a talking animal or bird, and we could easily be in an animated Disney movie.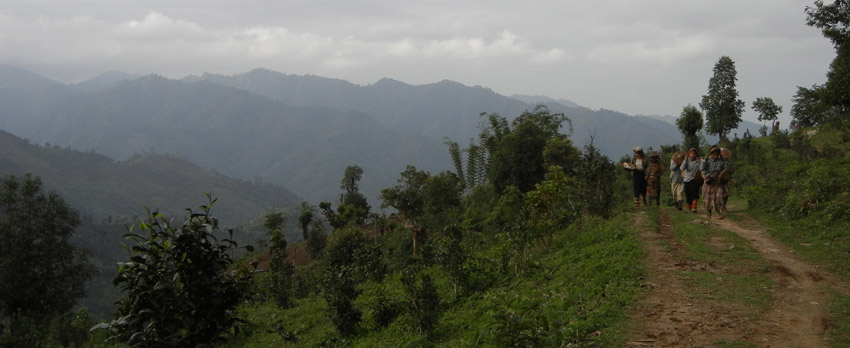 At about 6pm, we reach the outskirts of the Pankam village.  We pass villagers who are just finishing up their days work of picking tea leaves, and we find ourselves in the middle of their evening commute back to the village.  At least now we will definitely not get lost.  The villagers see tourists come here often, but they still seem genuinely happy to see us and curious about where we come from.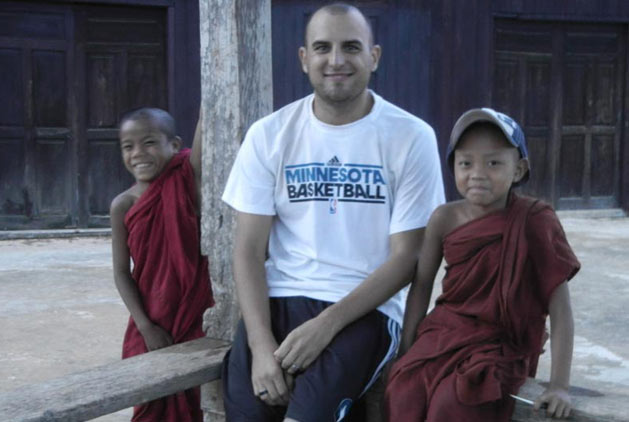 When we get to the village, we are shown to the attic of the chief's son.  There are four "mattresses" on the floor, each with a pillow and thick blanket.  I guess that will have to do!  We head out to explore the village a bit before it gets dark.  Our first stop is the monastery  where we get to interact a bit with the young novice monks.  They know a little bit of English, and it's fun to try and communicate with them.  They offer us some local fruit, which tastes awesome, although eating a poor monk's food is not something I want to get in the habit of doing.
Darkness has fallen, so we head to a local tea house to watch some of the village teenagers prepare the raw tea leaves into ready to consume tea.  The process is something I know nothing about, so it's fun to watch them steam the leaves, spin the leaves by hand, pick out the foreign objects, clean the leaves, etc.  I think I missed a step, but that's as close as this coffee-drinker will get to being a tea expert.  They let us each try our hands at spinning the tea machine, which is great.  Although, we only do it once and we're tired.  These 18-25 year olds have been doing this for at least two hours already, and there is still four more piles of leaves to get through.  Each pile needs to be processed and weighed separately since each was picked by an individual family.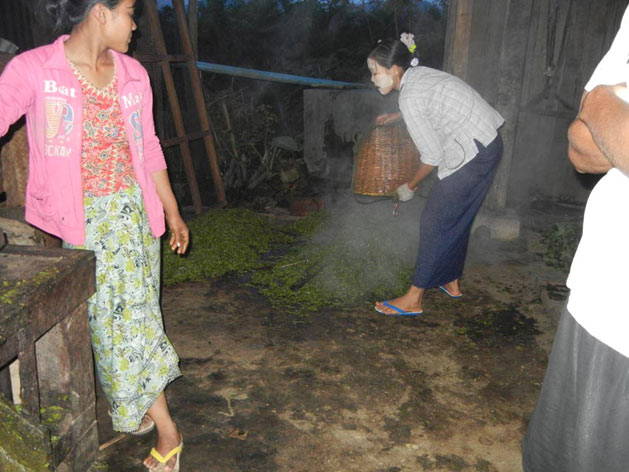 The night is actually more eventful than expected.  We get to sit with some of the village elders, drink some tea, and I pick their brains about what life in the village was like back in WWII.  I will save all those stories and answers for a separate Burma in WWII post that I'm working on.
Trying to sleep is hard as well.  It begins raining at about 10pm, and the sheer volume of water coming down seems to be impossible.  The roof begins to leak, and soon I am laying in a nice damp mattress.
Heading home
After a restless nice, our trek back to Hsipaw is pretty uneventful.  We again stop every few hours to drink tea with some locals, but this time around we are sore and tired, and the trek has turned into more of a chore.  We just want to get back to the guesthouse and have a nice shower.
But as in Southeast Asia travel style, when we finally arrive back at the guesthouse and turn on the shower, nothing comes out.  There is something wrong with the pipes, and we spend three hours sitting around in wet clothes before we can finally feel clean again.