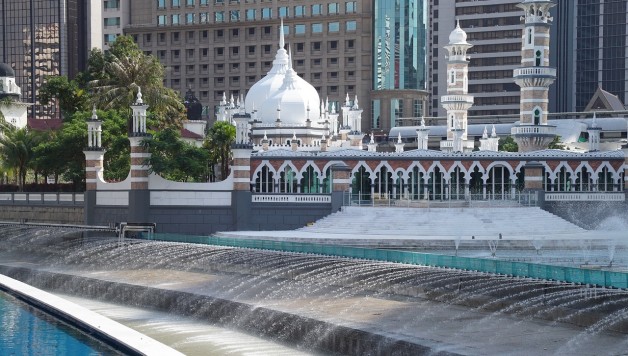 Top Spiritual Places to Visit in Malaysia during Christmas Holidays and New Year's Eve
New Year's isn't just about partying all night long and merrymaking. It's also about thinking long and hard on the choices you've made this year, and about the choices you're going to make next year. It's a time to take stock of everything in our lives. Malaysia is home to three highly spiritual cultures (Malay, Chinese and Indian). Many of us need to do a bit of soul-searching at the year's end – and what better place to do it than one of Malaysia's deeply spiritual destinations?
The Niah Caves
The Niah Caves, one of Malaysia's natural wonders and top item in Malaysia tourist places is must-visit. Human beings have lived in this cave as early as 40,000 years ago. It's one of the world's biggest caves; it's deep, mysterious, mystical and mesmerizing. When you enter, you can feel the vibe coming from the walls; you'll hear the strange deep sound of the deep cave system. Wear anti-slip footwear and carry a flashlight and water when you go. Breathe in the purely spiritual atmosphere of this amazing cave, one of the best places to visit in Malaysia.
Jamek Mosque
Located in the very heart of Kuala Lumpur at the confluence of River Klang and River Gombak is one of Malaysia's oldest mosques, the Jamek Mosque.  The mosque bears Moorish and North Indian influences. A canopy of shady coconut trees protects it from the hustle and bustle of the city. Be sure to soak in the tranquil, spiritual vibe of this beautiful old mosque on New Year's Eve.
Batu Caves
The Batu Caves is home to one of the oldest Hindu temples in Malaysia. The Thaipusam Festival draws crowds from all over the world every January to these caves. As you enter these enchanting limestone caves, you'll see the second tallest statue of Lord Murugan guarding the entrance, which resembles the lord's spear. As you go deeper into the cave, a feeling of immense peace settles over you. A visit to the Batu Caves is one of the best things to do in Malaysia.
Thean Hou Temple
On top of the picturesque Robson Hill in Kuala Lumpur is one of the largest Buddhist temples in Southeast Asia, the Thean Hou Temple. Dedicated to three Chinese goddesses, this majestic temple represents the best of grand Chinese architecture, a true amalgam of Buddhist, Confucian, and Taoist designs. Spend some quality time at the large, peaceful prayer hall and the blissful Chinese medicinal herb garden which has a tortoise pond and a wishing well.
Sri Mahamariamman Temple
This temple's intricate architecture and its impressive tower over the main entrance are mind-blowing. More than 228 Hindu deities are sculpted on the tower by skilled South Indian artisans. Enter the temple and you'll feel enclosed by the mantras and prayers resonating from every side; it's a place where people pray on a daily basis.  If you are in Malaysia during Diwali, you'll see the temple decked to the nines for the festival.
Mary's Cathedral
St. Mary's Cathedral is one of the oldest surviving Anglican churches in Kuala Lumpur, and one of the loveliest. It's stood there atop Bukit Aman since 1887, pleasing scores of devotees with its early English Gothic architecture. As with any church of that period, the insides are beautifully laid-out, with stained-glass windows and excellent woodwork. Let the peace of the church fill you with gladness during Christmas holidays this year.
Sultan Salahuddin Abdul Aziz Shah Mosque
This majestic mosque with its distinctive blue dome and blue-pointed minarets literally glows during the day and especially during the night. It's actually known as the Blue Mosque because of its glow. Explore this lovely mosque and feel peace fill your heart. Be sure to walk in the beautifully-landscaped Garden of Islamic Arts Park for greater spiritual resonance.
Harmony Street, Malacca
Several houses of worship sit side-by-side on this road, earning the road the name Harmony Street, one of the top Malaysia tourist spots. Check out the Kampung Kling Mosque, the Cheng Hoon Teng Chinese Temple and the Sri Poyatha Moorthi Hindu Temple located close to each other. Each house of worship has its own history; each has its own devoted band of worshippers and each is uniquely beautiful. Stroll along Harmony Street to feel the oneness of all religions, coming together in spiritual abeyance.
Gurdwara Tatt Khalsa Temple
Less than 1 percent of Malaysia's population comprises of Sikhs, whose place of worship is called the Gurudwara. The Gurudwara Tatt Khalsa in Penang has a peaceful, somber and prayerful atmosphere that is perfect for some soul-searching over New Year's. People sit on the floor in a Gurudwara to pray and sing songs in praise of the Sikh saint Guru Nanak.
Kek Lok Si Temple
The Kek Lok Si Temple in Penang is located in the lap of incredible scenery. In fact, the temple's name in the Hokkien dialect translates literally into "Temple of Supreme Bliss." The sprawling hills and picturesque landscapes form an excellent backdrop to the rows of Buddha statues on display. Spend some time playing with the tortoises in the Liberation Pond and light incense for the 30-meter tall bronze Goddess Guan Yin statue. Be sure to include this temple into your Malaysia sightseeing plans.
Sam Poh Tong Temple
About 200 kilometers north of Kuala Lumpur, you'll find the city of Ipoh, which is home to numerous limestone mountains and hills. An old monk chose one of these extensive cave complexes for meditation. A Buddhist temple was built at that cave 20 years later, which is now one of the top Malaysia points of interest. Seekers of peace and spiritualism are advised to spend some time meditating in the cave temple and strolling around the marvelous garden with its fish pond. Obtaining a Malaysia visa is worth it just to check out the limestone caves!
Conclusion
For a spiritual connection and some soul-searching before the New Year, it's not necessary to seek out only places of worship. Malaysia is rampant with incredibly-lovely mountains, valleys, rice-fields, waterfalls and the kind of natural beauty one mostly dreams of. Find a lovely little spot next to a sparkling brook and think about life; find your spiritual self.