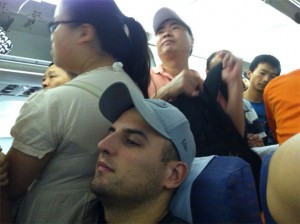 The Bucket List.  It's your ever-growing 'do before I die' list that is full of vacation destinations, adventures, and good times.  I don't have a bucket list myself, but that doesn't mean I hate the idea of bucket lists.  I don't.  I just hate buckets lists that suck.  This article isn't meant to keep you from having a bucket list, but it's meant to help you improve it.  If you are going to have a bucket list, then put some real thought into it.  Create detailed list items that can really be life changing.  Not predictable, broad items that everyone tries to do.
The only thing I hate more than crowds is crowds of tourists with iPads and Carbon Fiber Selfie Sticks.
 I have to admit that months of constant traveling have turned me into a bit of a tourist hater even though many times I am a tourist myself.   This post is the result of me realizing that the most famous tourist destinations always seem to leave me disappointed, whereas the small cultural experiences where few other travelers are with me always leave me in awe.
– Dan
Note: the picture above is me waiting for a plane in China to completely deplane before I even move.  It's not worth fighting a plane full of people running from an imaginary fire.
Check out my list below and let me know if you have any bucket list items that left you disappointed:

1. Visit the Eiffel Tower – Paris, France
What you imagine: 
It's early morning, Paris has what seems like an endless sunrise, and you and your soulmate have just finished a croissant and espresso at the same cafe where they filmed "Before Sunrise".  A quick five-minute walk from your quaint Paris hotel puts you right in front of the Eiffel Tower just in time to have a quiet, romantic kiss before taking a scenic elevator ride to the top where you can keep kissing while discussing how awesome Moulin Rouge was last night.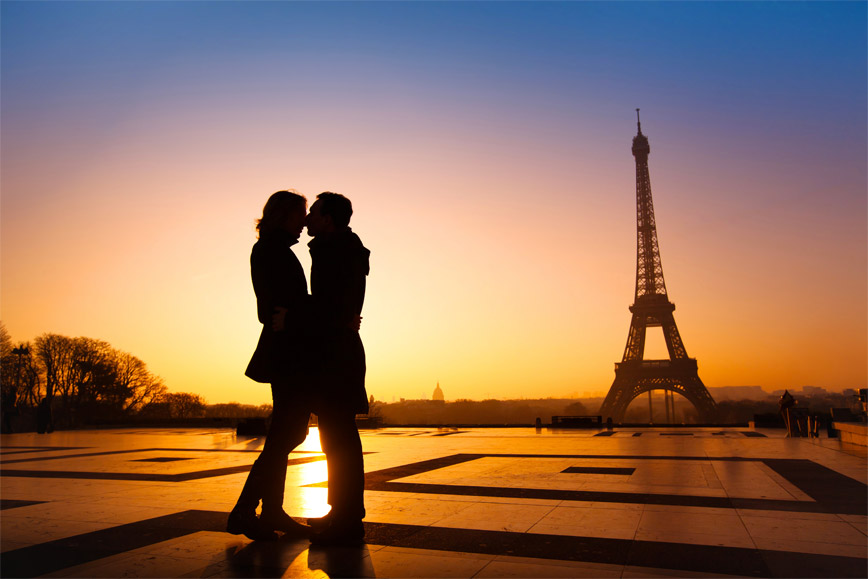 Photo source: Anya Berkut

What it's really like: 
You have to wake up at 4am since the only hostel you could afford was an hour-long metro ride from the city center.  You thought buying tickets in advance and getting there early would allow you some romantic time with your annoying boyfriend that might allow him to destress from his irrational complaints about your constant urges to check how many Instagram likes you've racked up since last night.
You were wrong.  You end up standing in line for hours with the world's worst collection of entitled tourists which gives you plenty of time to perfect your "I'm surprised this photo is being taken even though I'm the one taking it" selfie.
Oh, and it's about to rain.
Photo source: Instagram

2.  Walk The Great Wall of China
What you imagine:
You're the first human to explore these ancient ruins in over a thousand years.  There isn't a person in site other than you and your local guide as you enjoy the beauty of untouched China.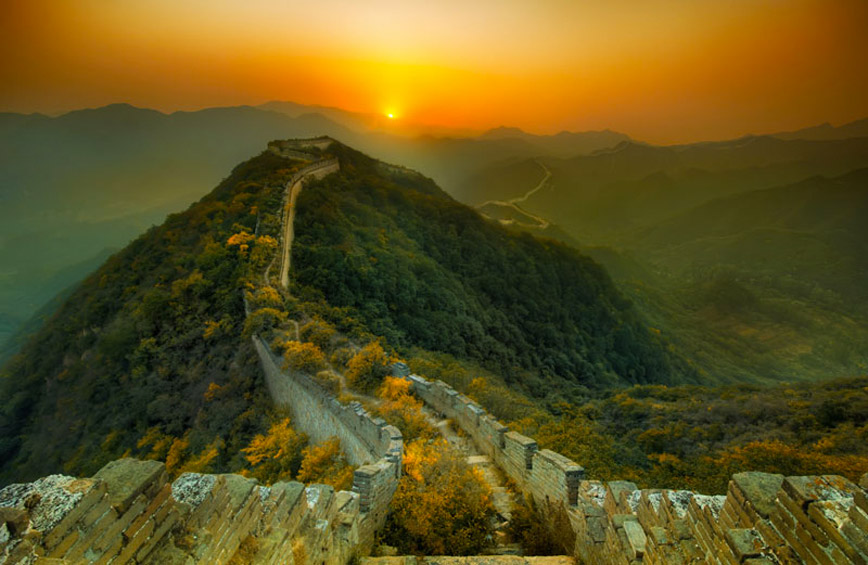 Photographer: Trey Ratcliff
What it's really like:
Welcome to tourism in China.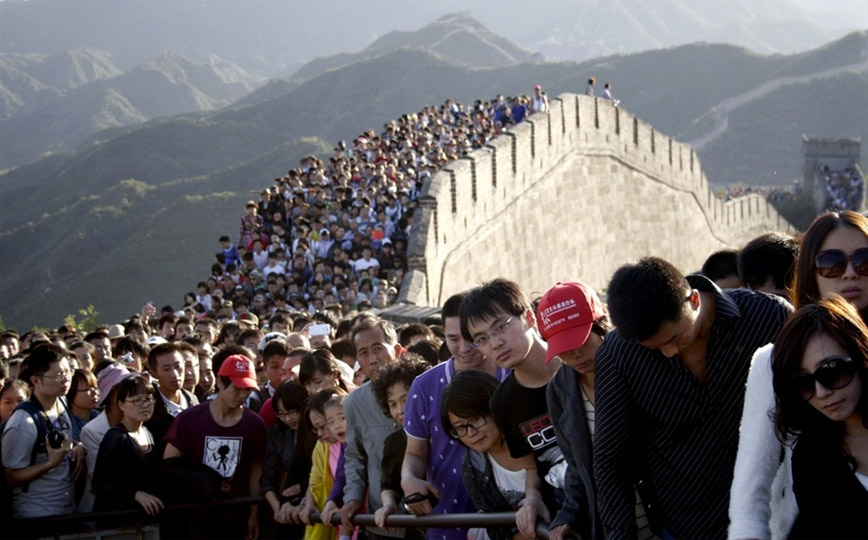 3. See the Pyramids – Giza, Egypt
What you imagine:
Your camel has been trustworthy during your two-day trek across the Egyptian desert to reach one of the greatest wonders of the world.  When you finally stumble upon these treasures, you spot archeologists working nearby, showing off their latest find.  After you eat some delicious local manna that you read about in the Bible, you head into the Great Pyramid to look for mummies.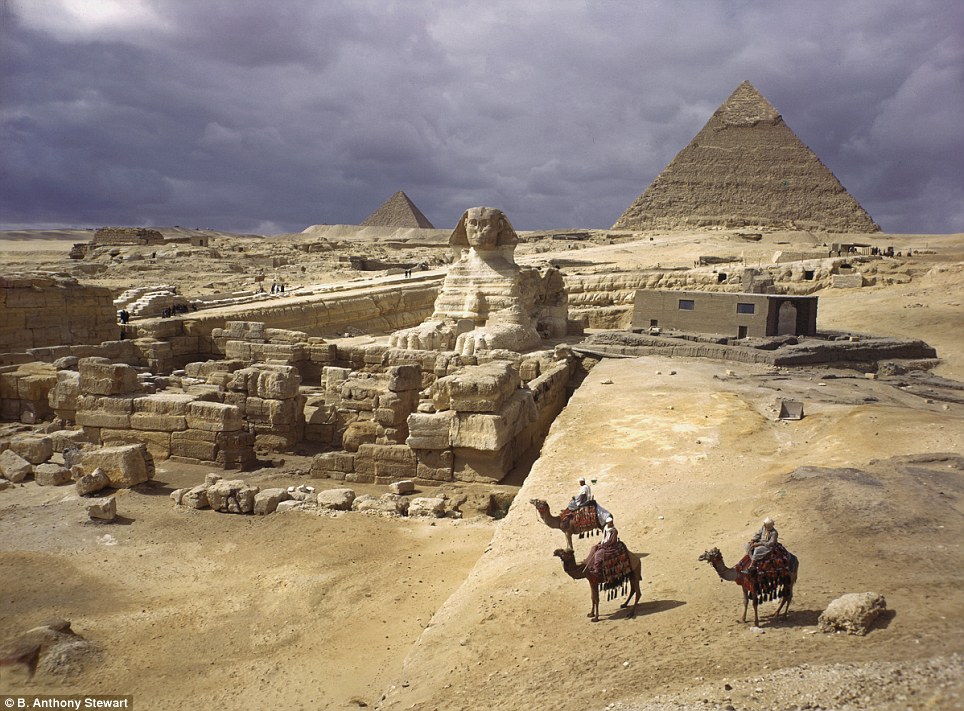 What it's really like:
How annoying is it that only Pizza Hut's inside the U.S.A have buffets?  What gives?  I hope the Sphinx is air-conditioned too.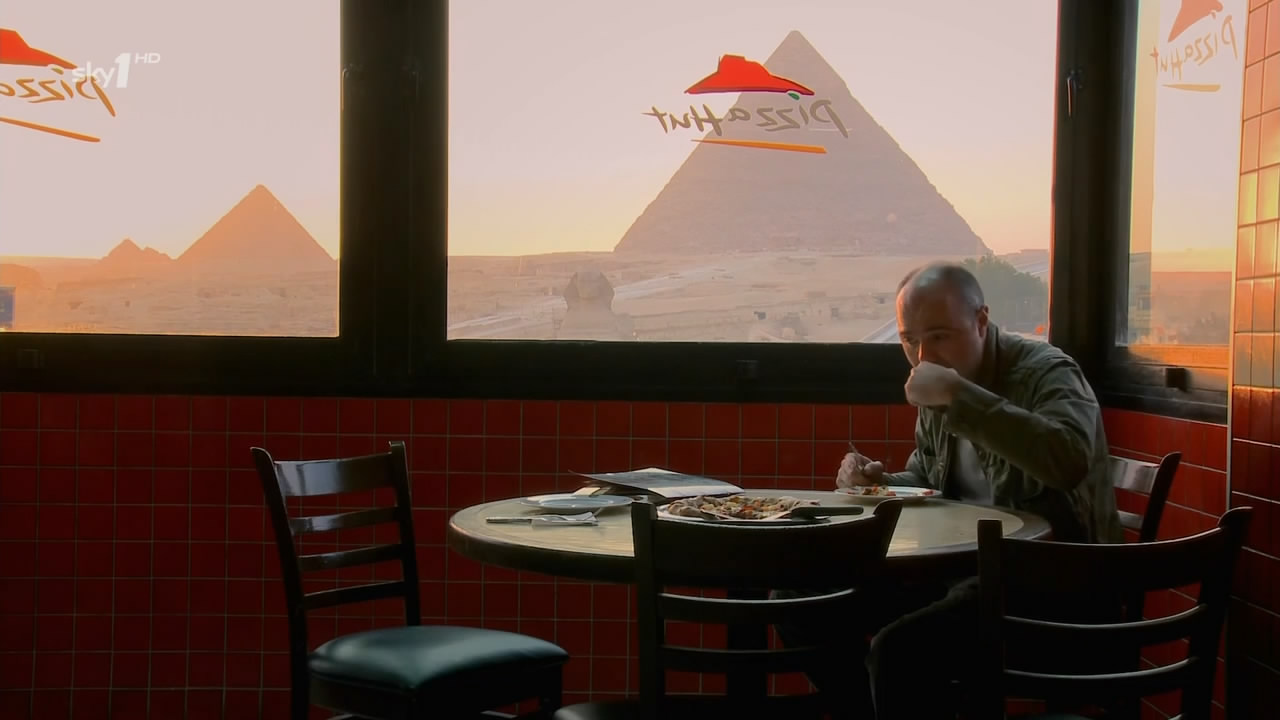 4. Swim with the Dolphins
What you imagine:
It's what you've dreamed of since you were a little girl.  The dolphins seem shy at first, but once they realize how fun you are they decide to come over and play with you.  One even gives you a big kiss!  You can't wait to be able to tell everyone you kissed a real dolphin and now you also have the perfect photo to use on your Tinder profile.
What it's really like:
You were a little nervous about whether you would get that perfect photo of you and your new dolphin friend for Tinder but thankfully the resort has a professional photographer on hand that can take one for an extra $50.  Hopefully he can get a shot that doesn't show the other 50 people in bright yellow life jackets and water-proof iPads harassing the other slave dolphins in the background.  Otherwise, people will know this wasn't real.
The dolphin looks nervous too, but it's OK because she is first given a tasty dose of antacids to treat her stress-induced ulcers that come from the never-ending, repetitive human interactions she must perform before being allowed to eat.  Don't worry, I'm sure your dolphin actually likes you and isn't upset at all that although she's smarter than you, she's stuck in a shallow, cement cage forced to kiss your gross sunscreen-tasting face.  Oh, and why is the water so brown and dirty?   Thankfully you only have to be in this water for 30 minutes since that is how long your $250 'is it my turn yet?' experience lasts.  At least your money is going to a good cause.  If only there was a company that allowed you to swim with dolphins in the wild…. Oh wait, there is.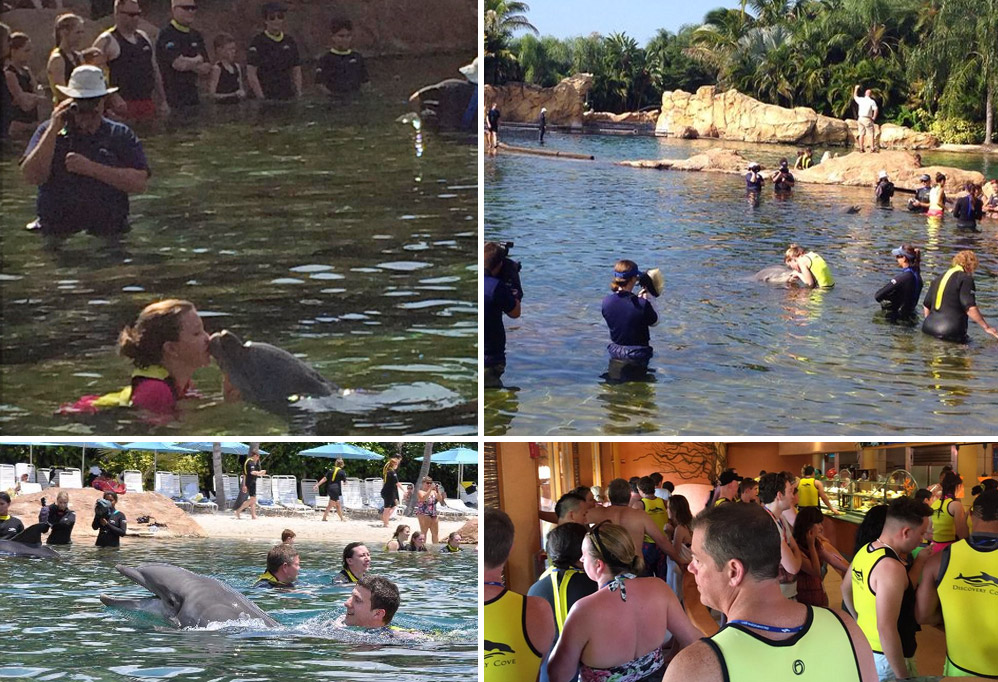 Source: Tripadvisor

5. Climb Mount Everest – Nepal
What you imagine:
Years of training and dedication have finally paid off.  You and your sherpa guide become one of only a handful of people to ever have reached the summit of Earth's highest mountain.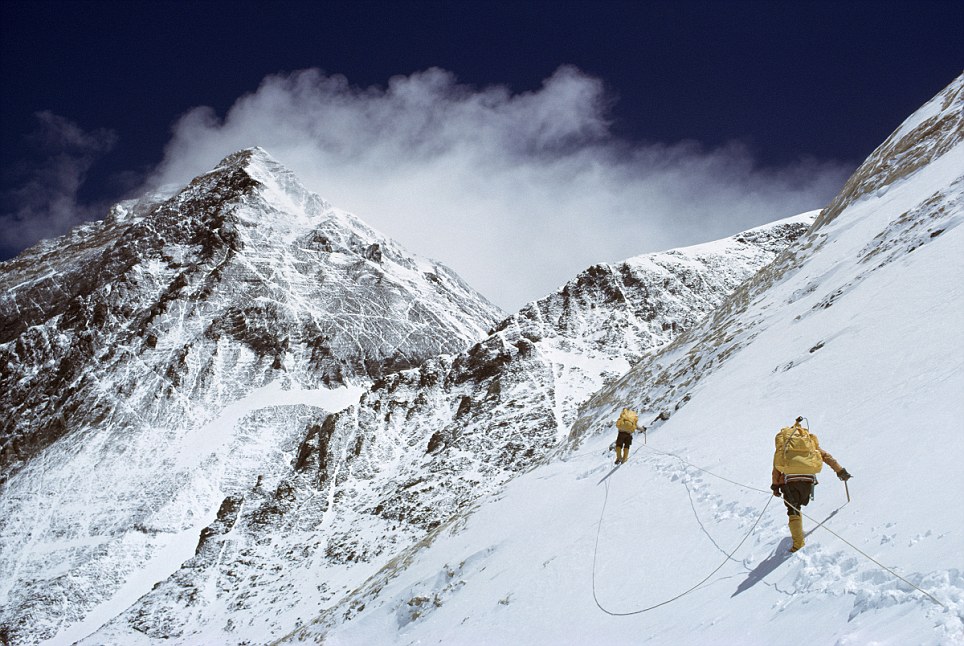 Photo by Barry Bishop – National Geographic "125 YEARS."
What it's really like:
You and 250 other rich assholes pay $75,000 each to wait in the freezing cold for their turn to litter and pretend to be a real adventurer.  As of 2012, 90 percent of the climbers on Everest are guided clients and most lack basic climbing skills.  I bet a lot of them are big game hunters too.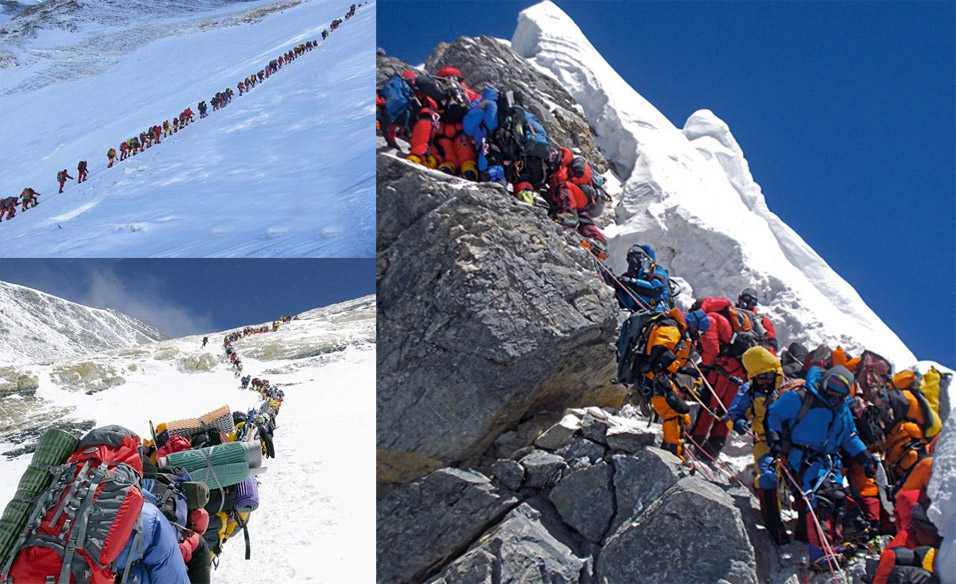 6. Explore Angkor Wat – Siem Reap, Cambodia
What you imagine:
After watching Tomb Raider, you couldn't wait to have your own abandoned temple experience.  After talking with some locals, you finally find someone willing to take a tourist to this holy site.  At sunrise, you find yourself alone with just you and your horse and you quickly take out your travel journal and sketch the beautiful scene.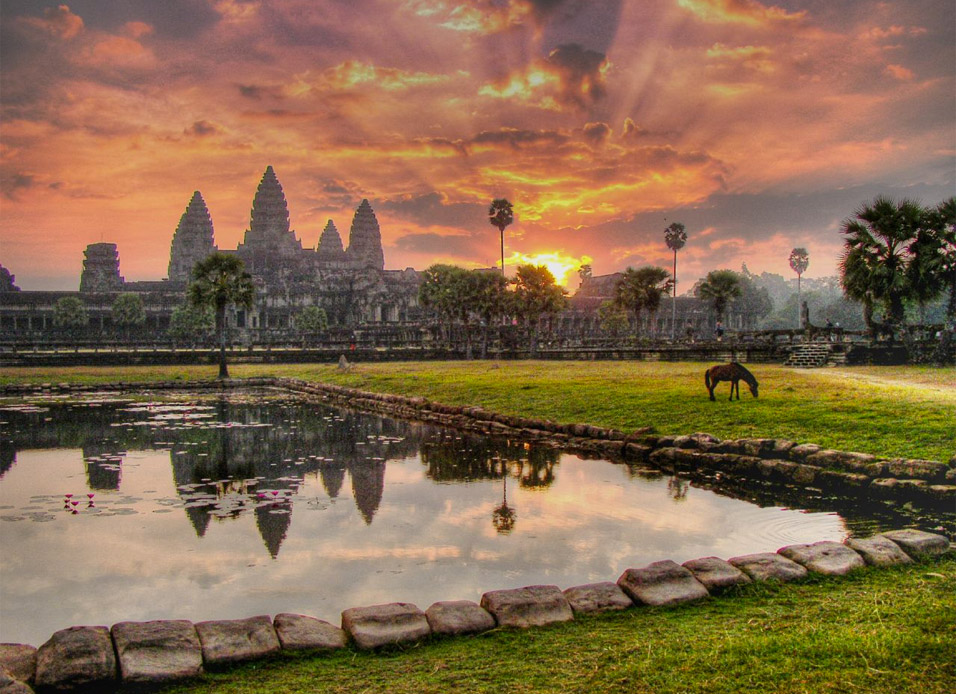 What it's really like:
After a local Cambodian breakfast at your hostel that consisted of chocolate cake and a banana pancake, you jump on one of the 10,000 tuk-tuks and get to the temples just in time to find yourself in the middle of 25 Chinese tour bus groups.  If only you hadn't left your selfie stick back at the hostel.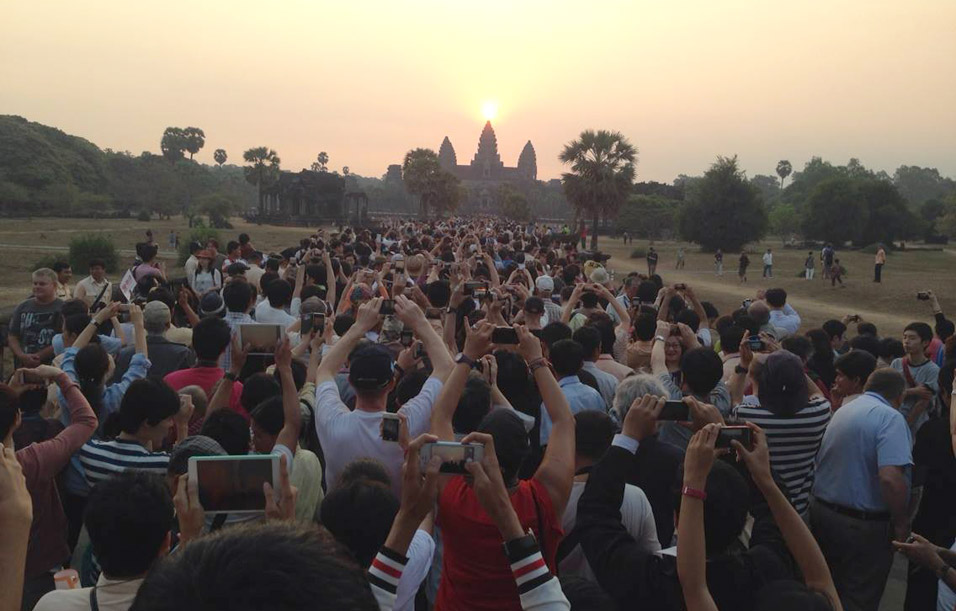 Photographer: Hang Meang Khou


7. The Beach – Ko Phi Phi Lee, Thailand
What you imagine:
Ever since you saw the movie The Beach, you've dreamed of taking that once-in-a-lifetime backpacking trip through Thailand.  But you aren't just a typical backpacker.  You are spontaneously unique and enjoy adventure even more than you enjoy sarcasm.  After hiring a local fisherman, you head out to the ocean in hunt of an undiscovered beach.  Just as you were about to get discouraged, the cloudy day turns into a clear sky right as you stumble upon the most beautiful beach you've ever seen.  Now it's just you, the beach, and 50 Shades of Gray on your Kindle.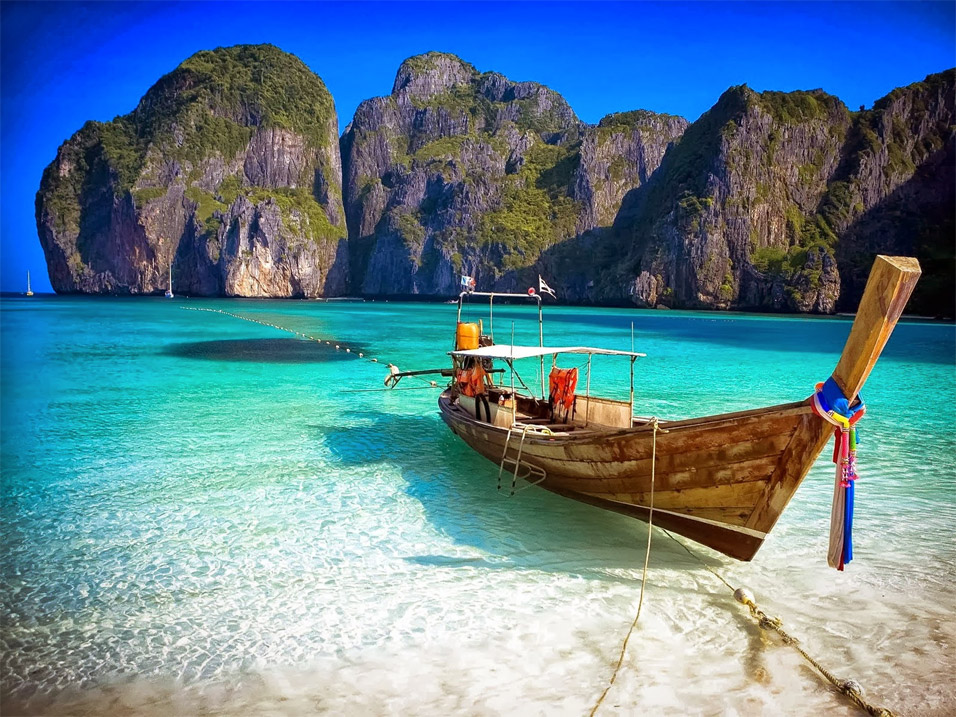 What it's really like:
Why are there so many people here in Thailand?  There must not be any beaches anywhere else in Asia where you and a couple of friends can find your own beach.  You would try those other destinations, but it wouldn't be the same if it was a beach that Leonardo hadn't been to.  After being pressured into buying a beach-hopping package in Phuket, you and 15 other adventure-seeking suburbanites get on a brand-new speedboat.  You immediately strap a GoPro to your head as the boat zooms past a bunch of local fisherman trying to catch fish in the polluted bay.  In no-time you show up at THE BEACH, and you are lucky enough to get the last bit of parking space on the beach to dock your monster boat.  Hopefully your selfie-stick can extend high enough to take a photo that makes it look like you're alone in paradise just like Leo.
This sucks.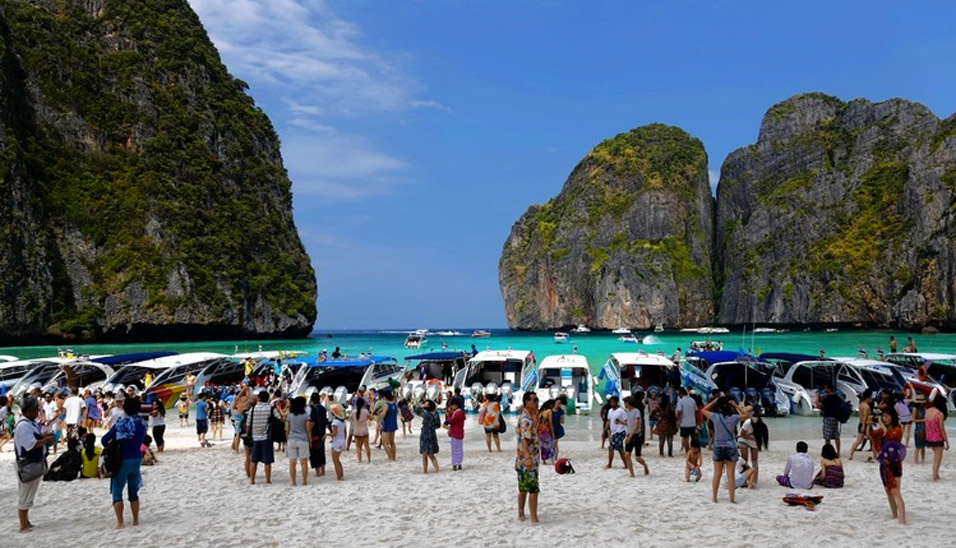 Source: The Wall Street Journal



8. Cross Abbey Road – London, England
What you imagine:
London will be so small and quaint just like in Notting Hill.  You'll simply jump on the tube from your affordable hotel in the West End and within minutes it will be just you and your three best friends at the famous Abbey Road.  You will ask a jolly-old English fellow to take your photo as the four of you become the first people to think of recreating this famous album cover.  It will probably go viral on Facebook too!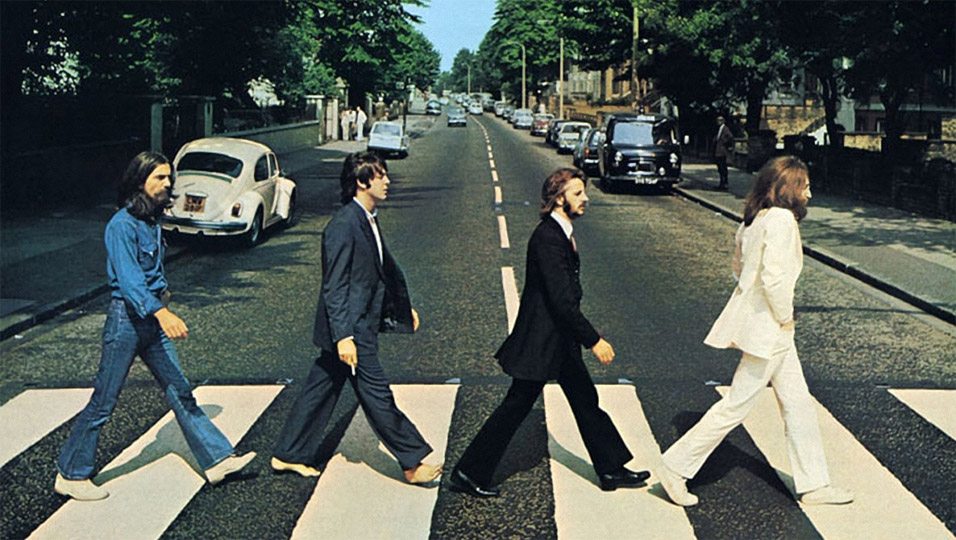 What it's really like:
Your feet hurt from walking.  Who knew London would be so big and spread out?  Why is everything so far away?  It's easy to find the crossing because of all the honking from cars.  Is there a system set-up to decide who waits in the photographer line and who waits in the "ready to cross" line?  Are the lines synced up or is it total chaos?  Maybe tomorrow it will be less crowded.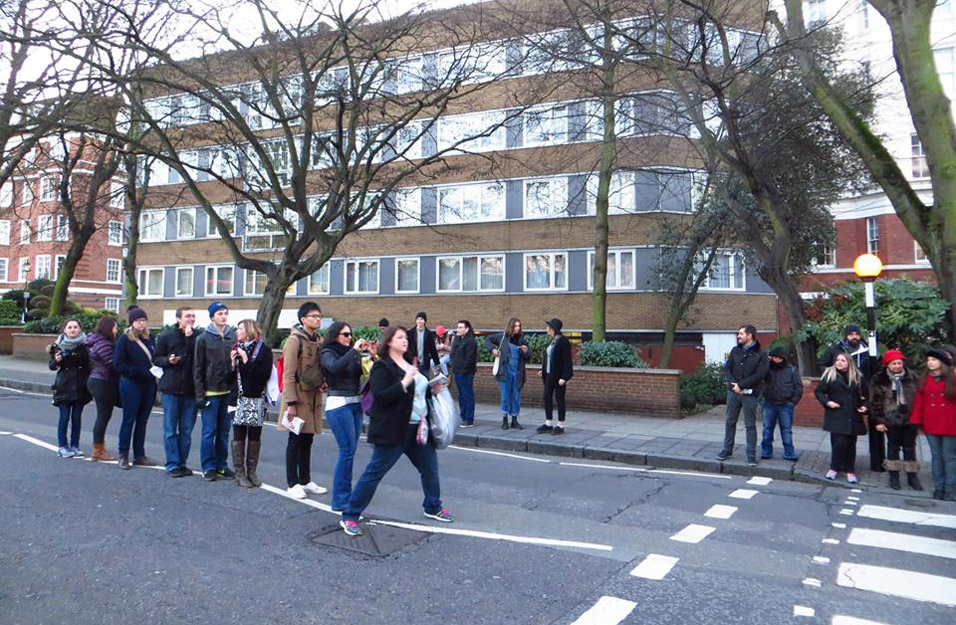 Photographer: Finding Hermione

9. Cuddle with a Tiger – Thailand
What you imagine:
What an amazing discovery.  A temple of monks who live with a couple of tigers that they rescued after finding them in the jungle as cubs.  Now, these monks have invited you into their home to cuddle with these tigers in an intimate, holy setting.  Imagine how awesome this will look on Instagram!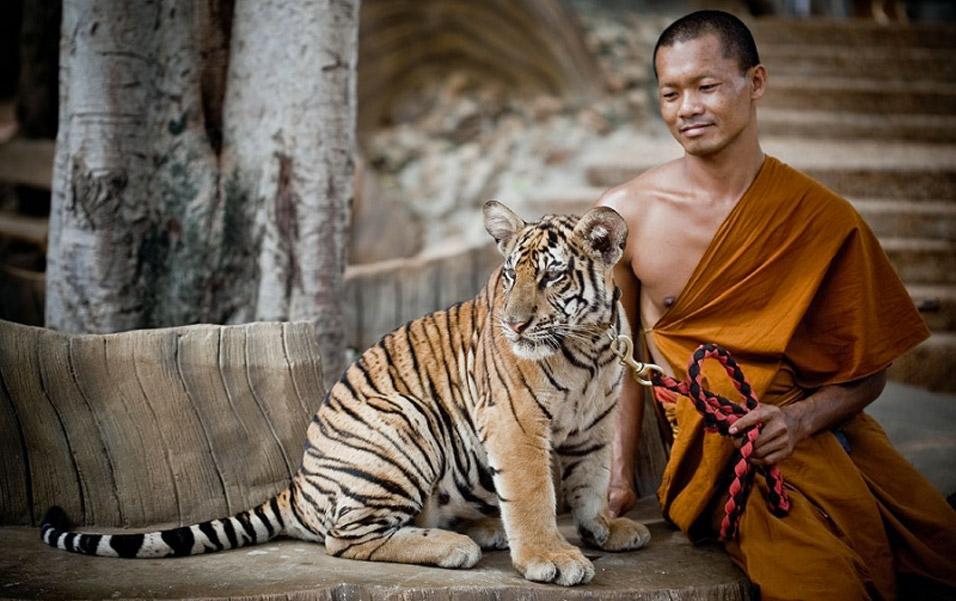 What it's really like:
The bus from Bangkok ended up being an overcrowded van full of backpackers from Australia.  The temple is less of a temple and more like a prison.  The day isn't totally ruined though, as in-between doses of sedatives the tigers get a chance to get teased by you and a group of idiots:

10. See the Taj Mahal – Agra, India
What you imagine:
The Crown of Palaces!  After an amazing first-class train ride in from New Delhi you find yourself staring directly into one of the world's most amazing structures.  You used the tips from your Lonely Planet book to avoid the crowds and now it's just you, the Taj, and your imagination.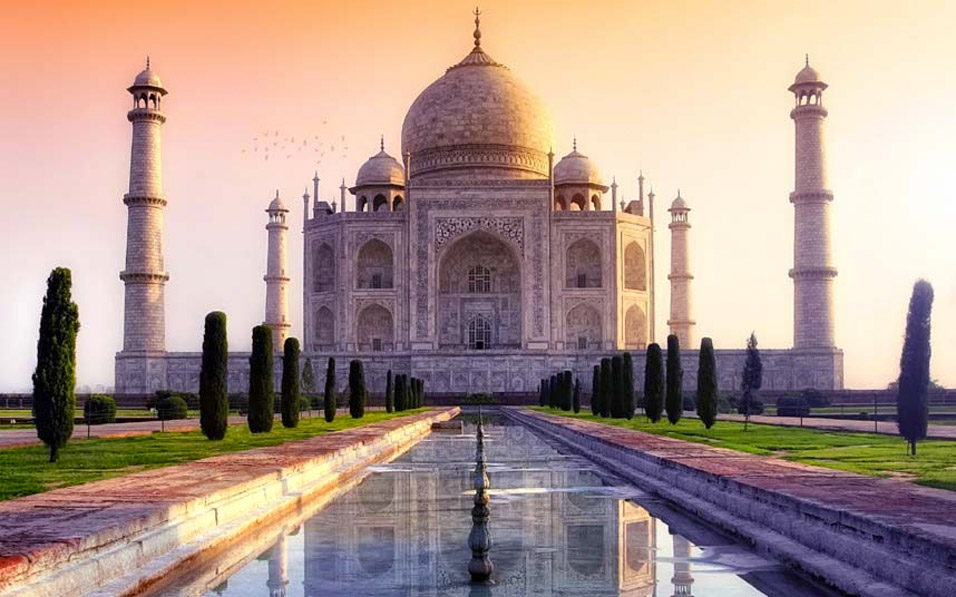 What it's really like:
Here is a good rule of thumb:  If bottomless-pockets Oprah isn't able to visit somewhere without avoiding herds of tourists, then you won't be able to either.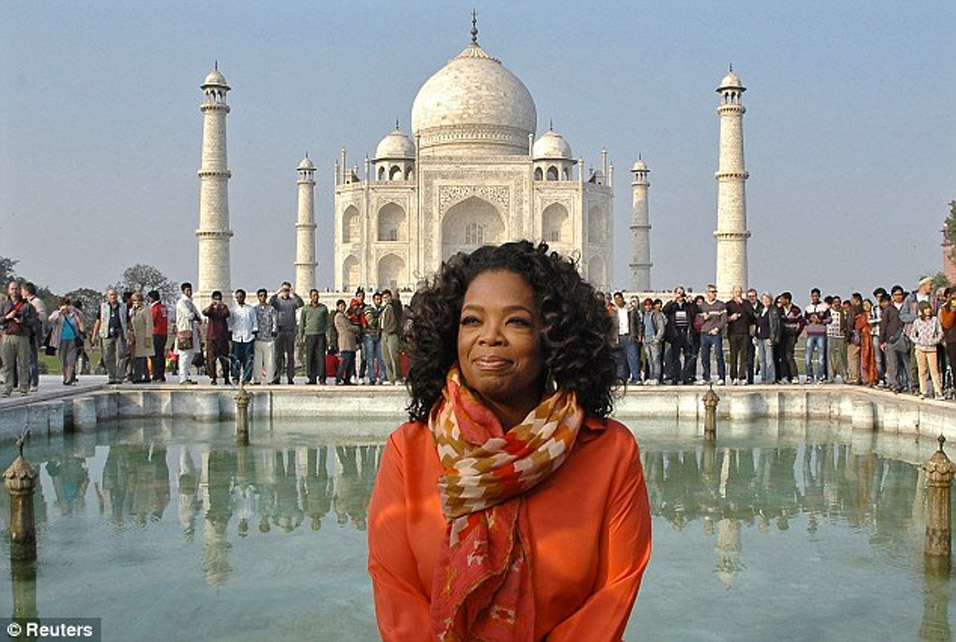 11. Watch the Sunset on Santorini – Greece
What you imagine:
The most stressful thing to happen all night is deciding which amazing bottle of wine to order next.  The sunsets here seem to last forever, and I can't believe we were able to find a room with a view that has a secluded roof-top restaurant!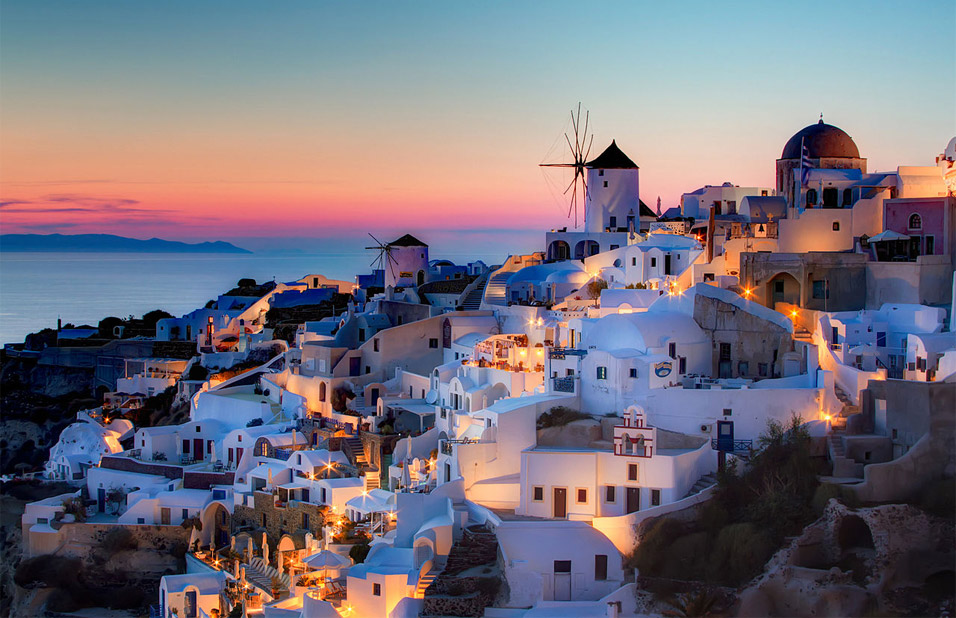 What it's really like:
Nothing is more romantic than pushing your way through a crowd in order to view the sunset with hundreds of other cranky couples.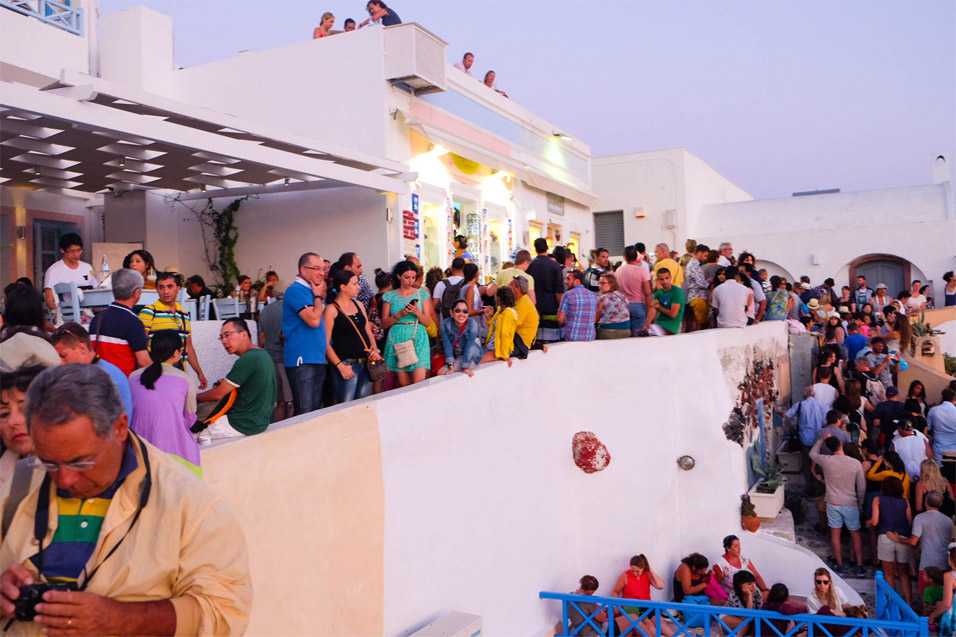 Photographer: Superwoman & The World

12. Take an Elephant Ride
What you imagine:
The land you're traveling to is so remote and so untouched by humans that the only transportation method is your trusty elephant.  Thank goodness you have your side-kick Short Round to help guide you through this unfamiliar country.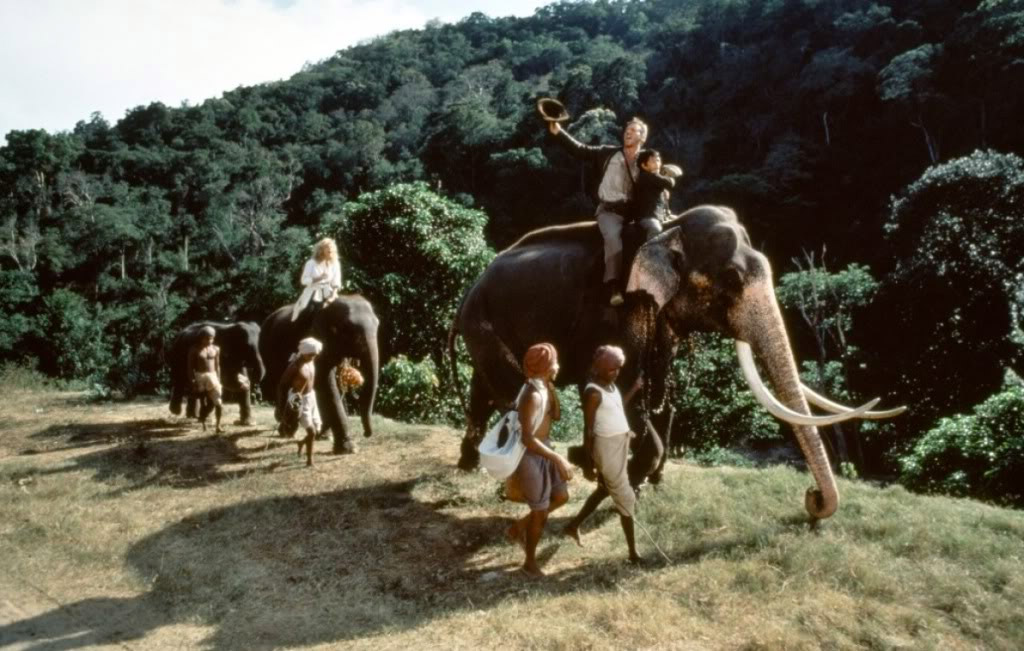 What it's really like:
You are trying to ignore the fact that the elephant you are about to ride and bathe is currently chained to a tree and looks a bit irritated.  The good news is that the elephant won't harm you after it's been unchained because he was previously 'broken' as part of his training to prepare for carrying around overweight tourists 12 hours a day.  The breaking of the elephant is called the Phajaan or the crush, and it includes being beaten by multiple men and stabbed repeatedly with sticks that have sharp nails attached to them.
If that wasn't enough security for you to ensure you get a great photo of you riding the elephant, the trainer is carrying a bullhook with him to force the elephant to spray water on you before you attempt each selfie.

13. Watch Old Faithful – Yellowstone National Park
What you imagine:
The grand finale of your great American road trip.  Your family of six has behaved perfectly as your fuel-efficient SUV  trekked across the Great Plains of the American West.  You sit quietly in the tall grass with bison grazing nearby and watch Old Faithful erupt in all her glory.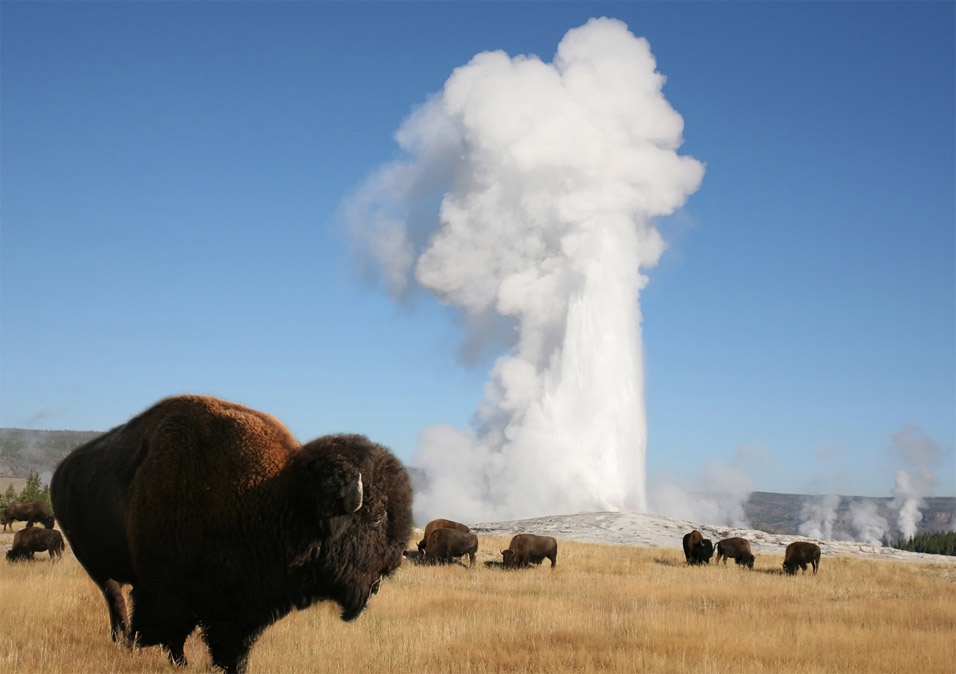 What it's really like:
The kids haven't stopped fighting since the moment your shitty van left the house.  Now, you finally reach Old Faithful and the only option you have to view it erupting is watching it on one of the six iPads that are being held up in front of your face.  It's better to leave before it's done erupting so you can beat the inevitable traffic jam.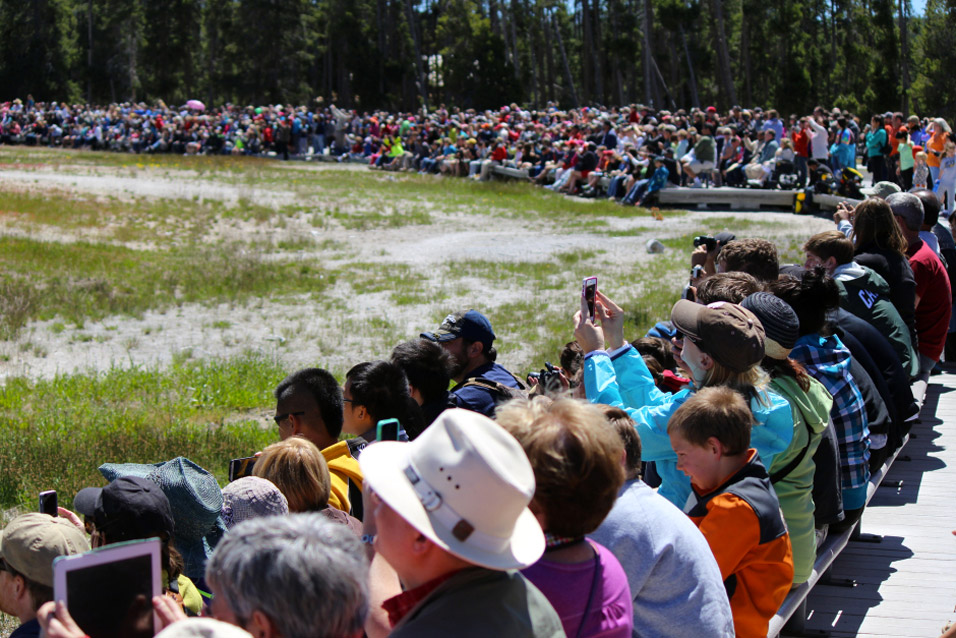 Photographer: Stephanie Lesser


14. See The Maldives
What you imagine:
It's your chance to experience how the top .01% of people travel.   Heaven on Earth.  A visit to the Maldives is pure beauty in every direction!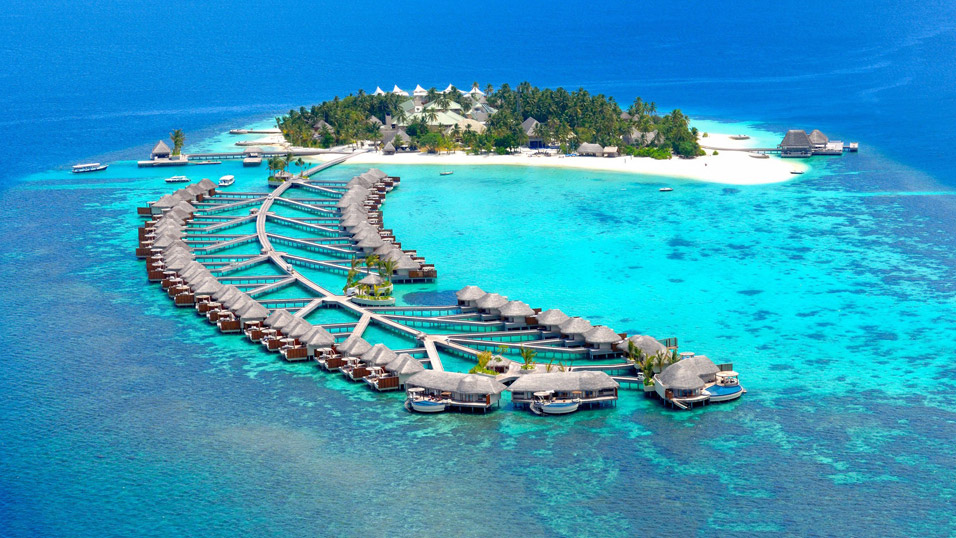 What it's really like:
Well… maybe it isn't beauty in EVERY direction.  This is evident after you see what is known as Thilafushi Island, the 4.6 million square foot artificial island made up entirely of garbage.   Don't worry, once you get back to your private villa, you will forget the rubbish island exists.  Until a plastic bottle floats by while you snorkel.  I recently found a cool community of people that look for unique ways to begin consuming less plastic.

15. Experience Ancient China!
What you imagine:
The world's most-populated country is just dying to be explored!  Imagine all the old cities with ancient buildings and bridges, full of little old ladies selling trinkets.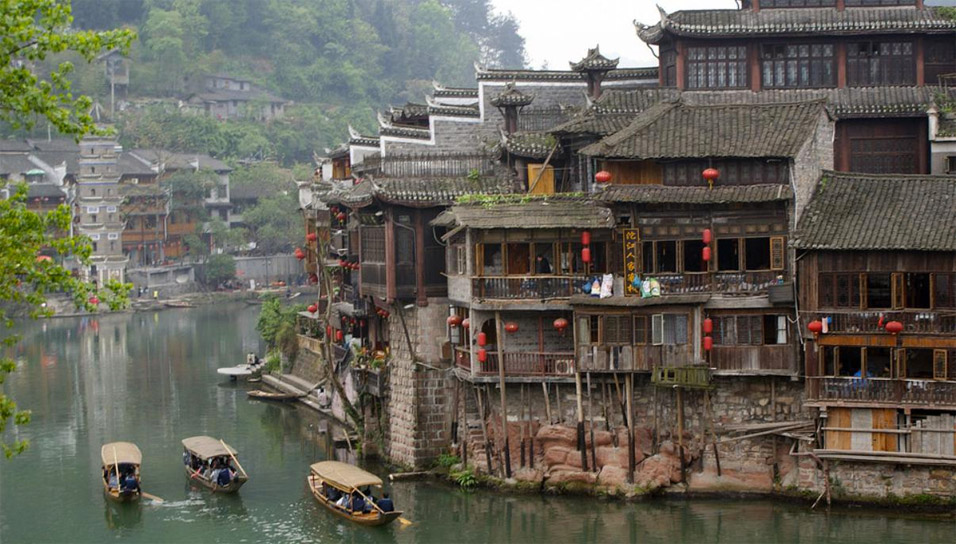 What it's really like:
Ok, this one is a bit of a stretch, but I just had to use this photo: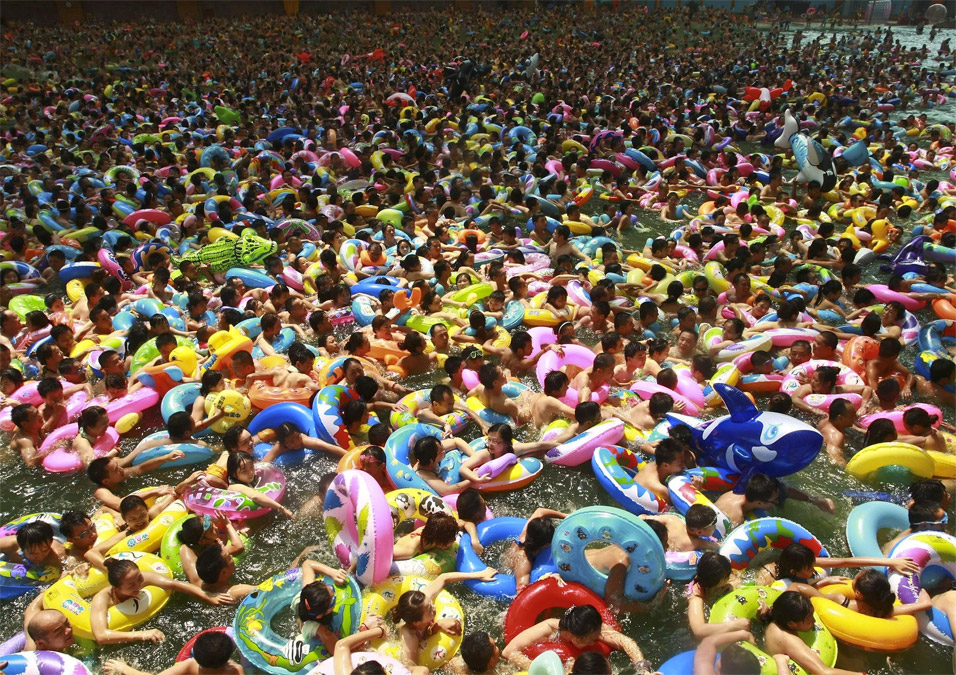 16. Take a Gondola Ride – Venice, Italy
What you imagine:
Your dream trip to Italy isn't complete until you treat your wife to a romantic gondola ride through Venice's charming canals.  Although it's a perfect August afternoon, the canals are completely empty and you have hours alone on the water as your gondolier serenades you.
What it's really like:
It's so hot out that even the stinky brown canal water looks like a refreshing escape.  The canals look like unhealthy arteries today, and you have spent more time stopped in between other gondolas than actually moving.  Your gondolier has informed you that he doesn't know how to sing, but it's OK because the four retired ladies from Nebraska in the gondola in front of you are singing Dean Martin's That's Amore.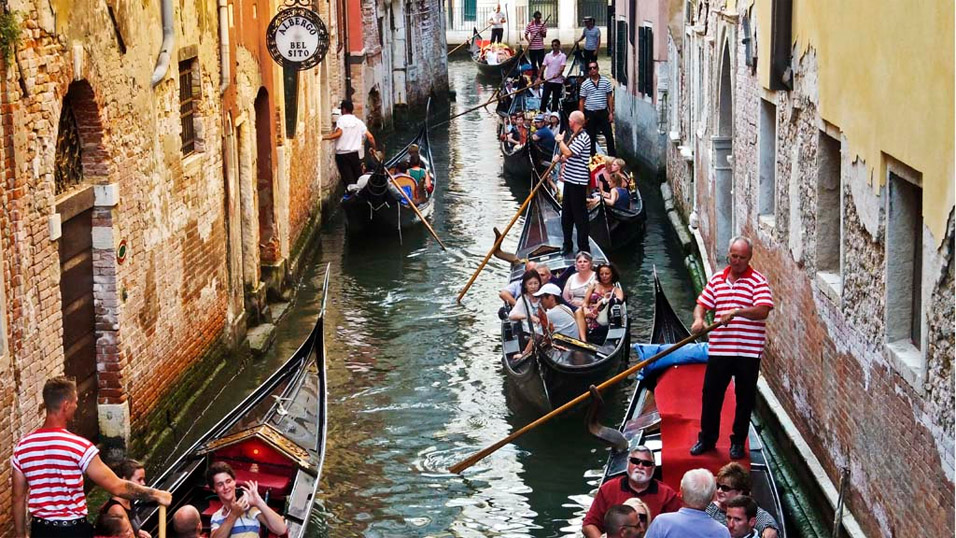 Source: The Cruisington Times

17. Take a Romantic Trip to Rome – Italy
What you imagine:
It's time to channel your inner Audrey Hepburn and visit all of Rome's magically romantic places.  The Spanish Steps and the Trevi Fountain are just two of the many spots you will hit up as you and your boyfriend rekindle your love just like in the movies.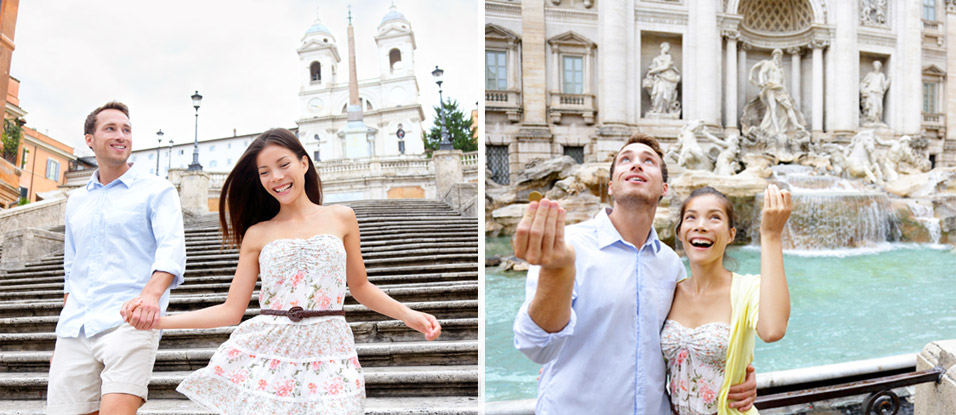 What it's really like:
Maybe some people will leave if you wait a little while… Probably not.

Photographers:  Team Turner and Newman & Hunt 

.
What bucket list items have left you disappointed?
.
Thanks for stopping by my blog.  Check out the highlight video from my recent RTW trip: