Landing in Myanmar: First Impressions
It's amazing how easy it is to stay in your comfort zone while traveling in most Southeast Asian countries.  Indonesia, Malaysia, Thailand, and Laos all make it very easy to explore the culture for a few days, and then find a nice air-conditioned western-style restaurant to unwind and regroup.  So far on this trip, there have only been two countries where we have been forced to only eat, drink, and experience exactly what the locals have. Vanuatu and the Solomons, both island countries, both isolated and removed from any corporate or mass consumer products. We left the Solomon Islands in late February, and have spent the last two months traveling without experiencing any more major culture shocks.
Then we got to Myanmar (aka Burma).
Instead of stepping off of a plane, it feels like we've stepped off of a time machine.
The City of Yangon
The taxi we are riding in from the airport is no newer than 1990, and has a steering wheel on the right side even though we are also driving on the right side of the road.  Apparently in 1970, the country decided to separate itself from the British by making an overnight change from driving on the left to driving on the right, yet there is no law requiring the steering wheel to be on the left side of the car.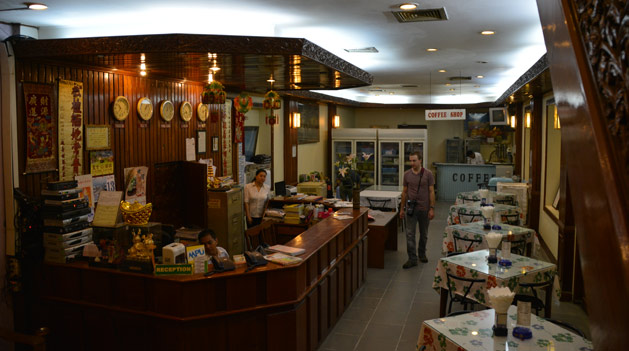 Walking into the lobby of our hotel makes me feel like Indiana Jones.  The two bellhops take our bags before we get both feet in the door, and there are about 10 employees scampering around to help us.  The crowd becomes confusing for me, as I'm having a hard time distinguishing between who is an employee here, who is a guest at the hotel, and who is just here to hang out and watch the lobby TV.  As the front desk clerk photocopies our passports on a copy machine that came off the factory line in 1966, I take a quick scan around the lobby.  In the back, there is a coffee shop counter that isn't actually a coffeeshop and a large, industrial-sized refrigerator with glass doors housing some furry inhabitants.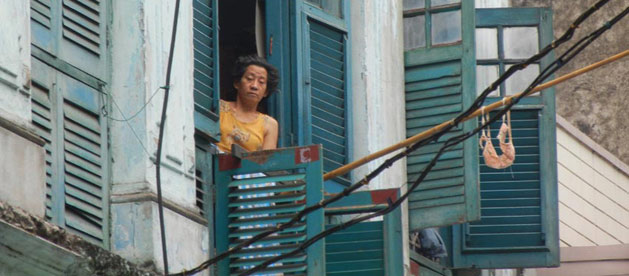 A walk down Yangon's city streets is a constant reminder of the country's interesting past, especially it's colonial days.  Nearly every building looks like it was built in the 1920's and received no maintenance since.  Even the shutters look original!  Each street is lined with 5-10 story buildings, all with the same crumbling look.  Truly a unique look that I have never seen before.
And about that time machine… one of the first things I notice when walking the street is a guy selling audio cassette tapes!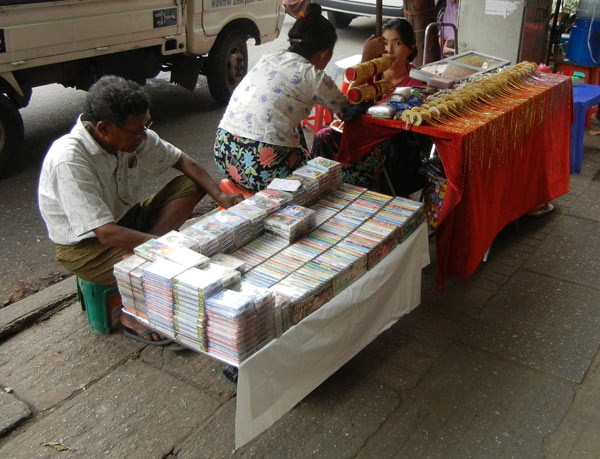 The Locals
One of my favorite parts of traveling the world is the response we get from locals in countries that rarely see tourists.  The 'shock-smiles' we get from their faces here in Burma as we walk down the street is something that I could never get enough of.  It's hard to find places to experience this, and when it happens, it's priceless.  It is not something that happens in every country we visit.  In fact, it's the opposite feeling when visiting Bangkok or Bali, where the locals almost see more foreigners than locals.  In those countries, the locals see us and immediately we are just dollar signs to them that they want to convert.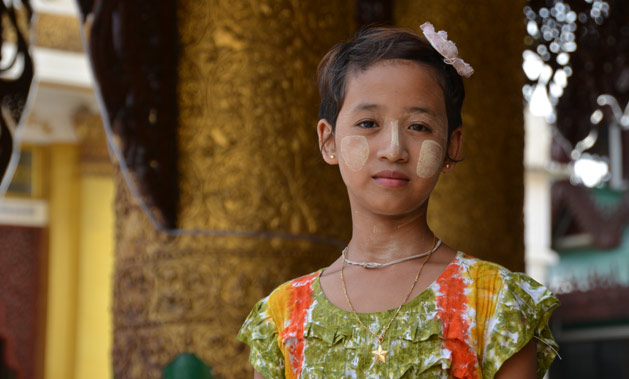 Something about the women and children stands out pretty quickly.  Many of them are wearing what at first appears to be face paint, but after a closer look and conversation with a local, we find out is actually a form of customary make-up called thanaka.  It has been a part of the Burmese culture for thousands of years and is worn by most women and both girls and boys.  It serves to both improve appearance as well as block the sun and soften the skin.
We also have enjoyed learning and experiencing the local fashion trends here.  The men and women all wear a form of cloth over their legs call a longyi (or lungi).  It appears to look like a skirt or dress, but we have quickly gotten used to seeing so many people wearing them that it looks so normal and casual.  So normal that we decided to get our own.  We headed to a local tailor and each picked out our own longyi.
Now as we walk down the streets wearing our longyis, the 'shock-smiles' are in even greater numbers, and many people have stopped us to tell us they like our longyis.  The interaction with the locals here has been my favorite so far on the trip, and I hope as we head from the city into the countryside that it only increases.
The Food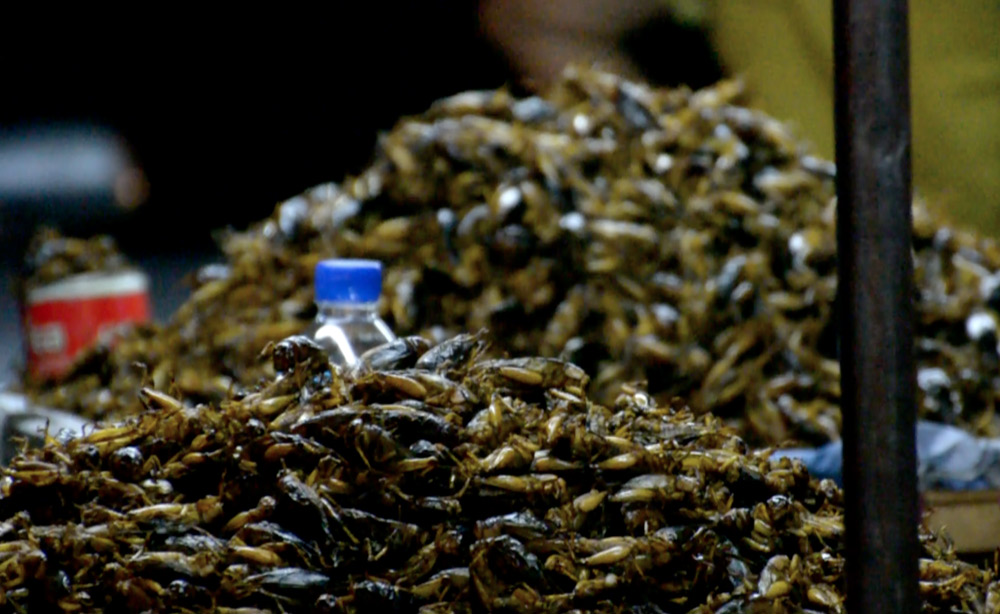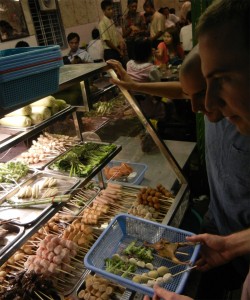 We were not sure quite what to expect in terms of eating here in Myanmar.  We decided to eat dinner at a local street(19th street to be exact) that is known for great street stall barbecue.  The walk from our hotel to 19th Street has us passing stall after stall of interesting options, the most interesting being the piles of fried crickets.
For dinner, we are given a basket and asked to pick out the different meats and vegggies that we want grilled.  A buffet unlike any we've ever seen.  For meat, we choose a combination of familiarity and mystery:  Chicken wing, chicken intestines, and some sort of small bird.  The WHOLE bird to be exact.  Our veggie choice is much more tame, and includes an entire stick of garlic.
We are shown to a nearby table, and a few minutes later, our basket is returned to us on a plate, but fully cooked, and cooked really well.  The vegetables and meat have been seasoned with some sort of local spices, and we quickly empty the plate.  The mystery bird has still not been identified, but unlike most mystery meat, this did not simply "taste like chicken".
Plans in Myanmar
We will be here in Myanmar(Burma) for the next 20 days, hoping to see Yangon, Bagan, Mandalay, Hsipaw, as well as tour some WWII sites in Southern Myanmar.  Our good friend Justin is also joining us for the first week here, and we have had a great time reconnecting with him the first few days.  He also writes for our site, and if you haven't read his two-part series on Cuba, I highly recommend checking it out.